THIS INSPIRING ARTIST MASTERS ENTREPRENEURSHIP 
Over the past number of years, I have met and interviewed many artists, and heard some of the stories of how they cope during the good and bad times of their lives. This has been a wonderful eye-opening experience. It is a great pleasure and privilege to tell you about a very special artist I got to know after befriending Hanli on Facebook.
Little did I know that when I went up to Langebaan to stay for a break, I would have a chance to meet Hanli.
Whilst having tea with a friend, she mentioned attending an art group run by Hanli Theron. I recognized the name immediately and so Jenny kindly set up a meeting between the two of us at Hanli's Art Gallery, The Pumpkin House.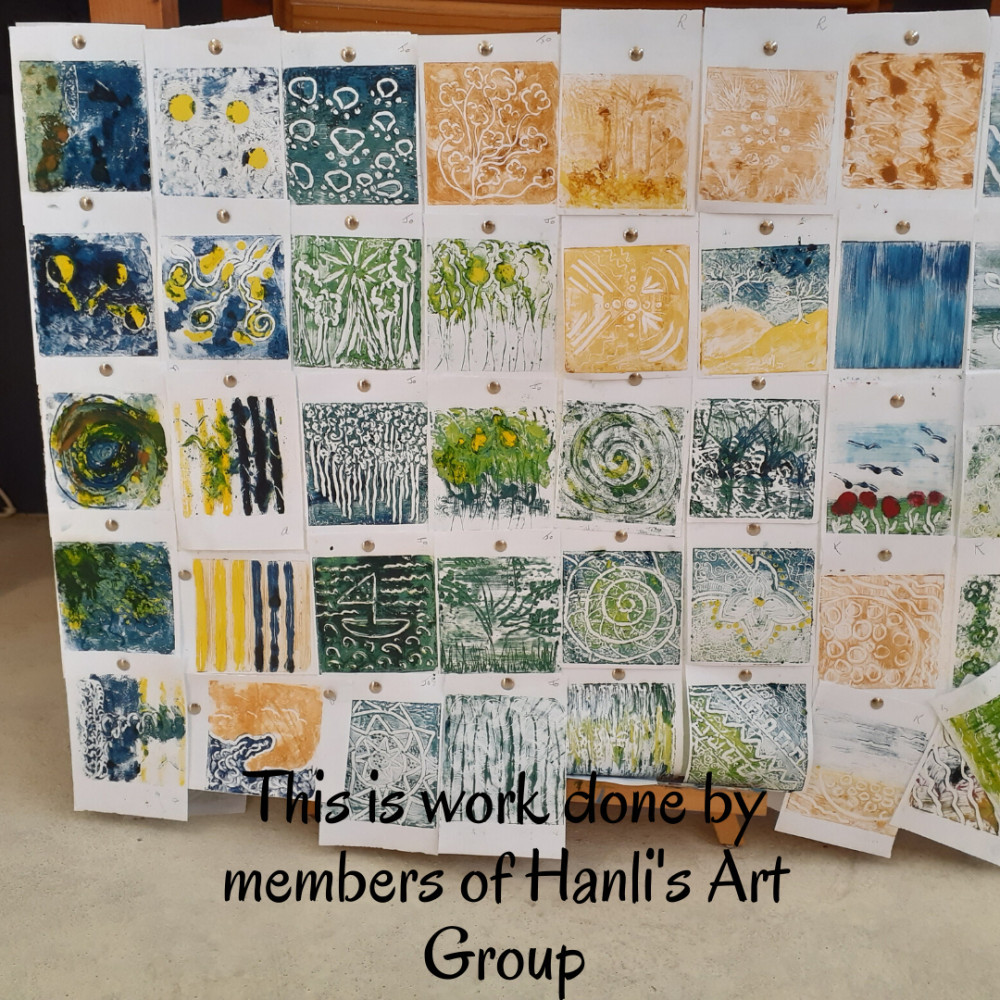 On that visit and subsequent chats with Hanli It became apparent to me that to survive as an artist, the importance of learning especially at this time, that unless the #artistmastersentrepreneurship, they will not be able to survive.
THE LOVE OF ART
Hanli was fortunate to grow up in a household where art was encouraged, there were always pencils, crayons, paints, paper available for them to use. The time they spent drawing, painting pictures was not frowned upon as a waste of time. She found her love of art early on in life, and when she left school, she studied jewelry design at university.
After marrying a pilot, living on an air force base, and having three children, her natural ability to paint came to the fore so she started an art group.
When Hanli moved to Langebaan, she and her father decided to purchase a plot to build a house as a guest house. They realized that being a much sought-after holiday destination there was a need for holiday accommodation.
The time came when the children had all grown up and left home, that Hanli decided it would be a good idea for her to move into the Pumpkin House, By doing this she was able to build her studio and be on hand to run her art group, and also ensuring that the paying guests were well catered for.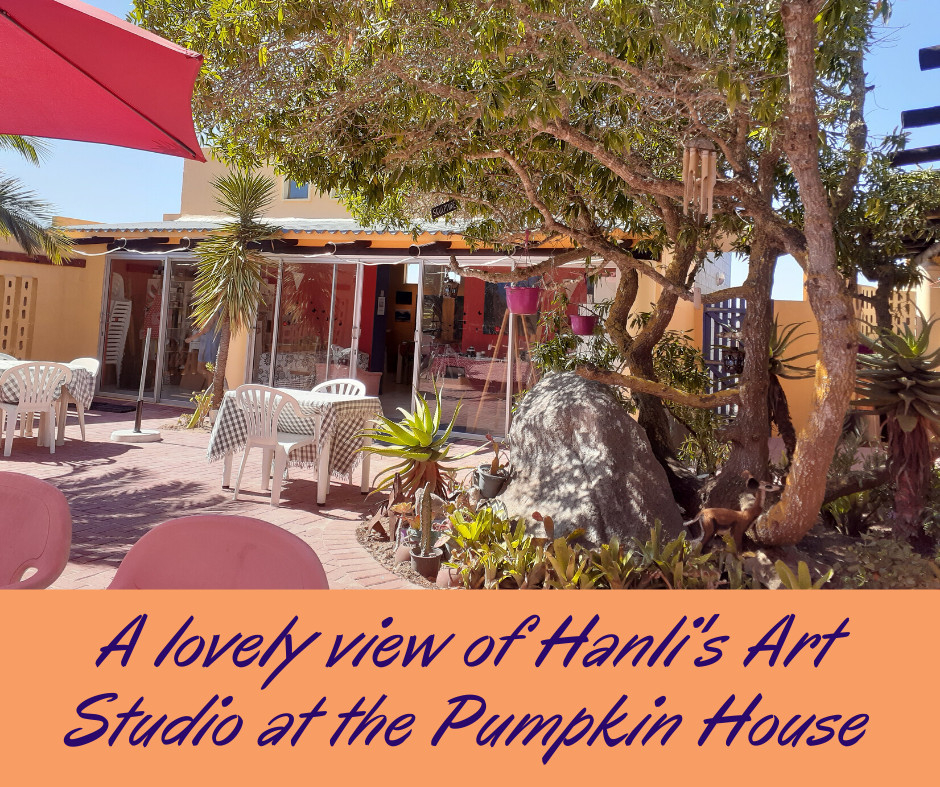 ENTREPRENEURSHIP ARTISTRY
When having the pleasure of meeting and spending time with Hanli, it became apparent that this is one very special lady. Not only does she run many classes for her groups of students, but she also has immersed herself in projects which help the community of Langebaan.
Upon learning of the Government's proposed Fish Farms to be set up in the Langebaan Lagoon many of the residents were most unhappy. Hanli and a group of ladies, the Floating Ducks, swam for 88 consecutive days to raise awareness and funds for Save the Langebaan Lagoon movement, (savelangebaanlagoon.co.za) to protest against the proposed Fish Farms and aquaculture n the Lagoon.
The aspects of an artist's life are many and varied. It is not standing at an easel and painting to your heart's content but also involves marketing your artwork, teaching. Sourcing stock of artists essentials. and so on.
It is essential that Hanli carries stock to have available which makes the life of her students easier as they are able to get the advice they need when making their choice of brushes, paper, canvas, and so on.
A TIME OF CHANGE
In this day and age, especially with the world crisis of the COVID 19 pandemic, it has become harder for any artist to make a living as it is not possible to hold the classes or have paying guests during this difficult time.
It would have been so easy for Hanli to lose heart, but not this inspiring artist-entrepreneur. She has used this time to make wonderful alterations and additions to her buildings, and changes to the accommodation.
Hanli has spent hours painting bright murals on the walls. This looks so visually inviting while also stimulating the senses. It just makes one want to paint.
The new gallery is almost complete. The artwork must still be hung but already you can see from the photographs that it is going to look absolutely amazing once all the paintings and other artwork are in place.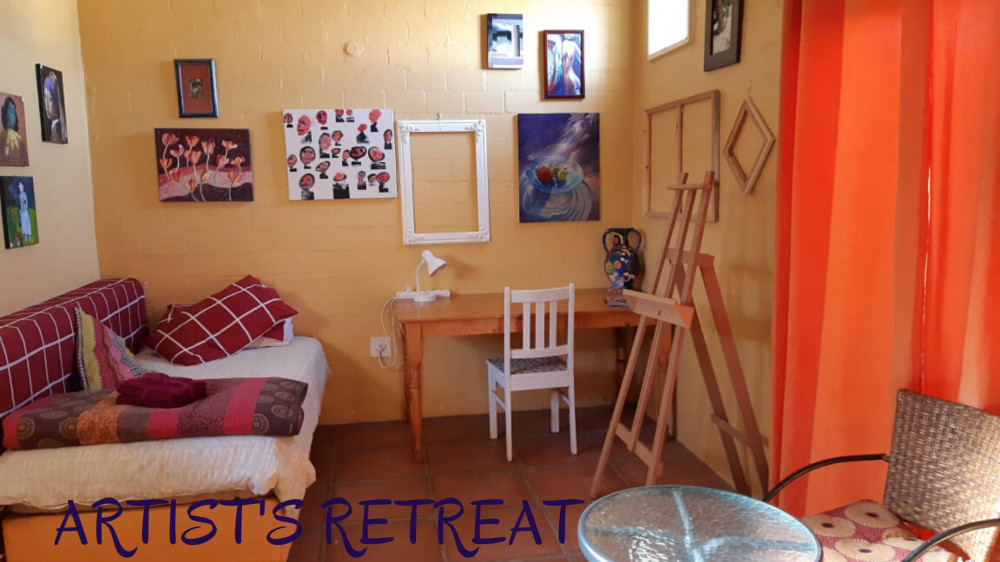 Another innovative improvement Hanli has made is to upgrade the accommodation units by allowing more space in which to paint and relax which makes these units perfect for an artist get-a-way.
The many visitors who once flocked to Langebaan have dried up due to lockdown. The blessing is that when this time of anxiety and uncertainty is over, they will be back, thankful to have the opportunity to enjoy life again.
Langebaan is a beautiful little seaside town and the surrounding area is perfect for any artist in which to find inspiration. This makes for a wonderful escape for any artist in need of time to paint.
Having an opportunity to attend Hanli's art class is a bonus.
A WARM WELCOME AWAITS YOU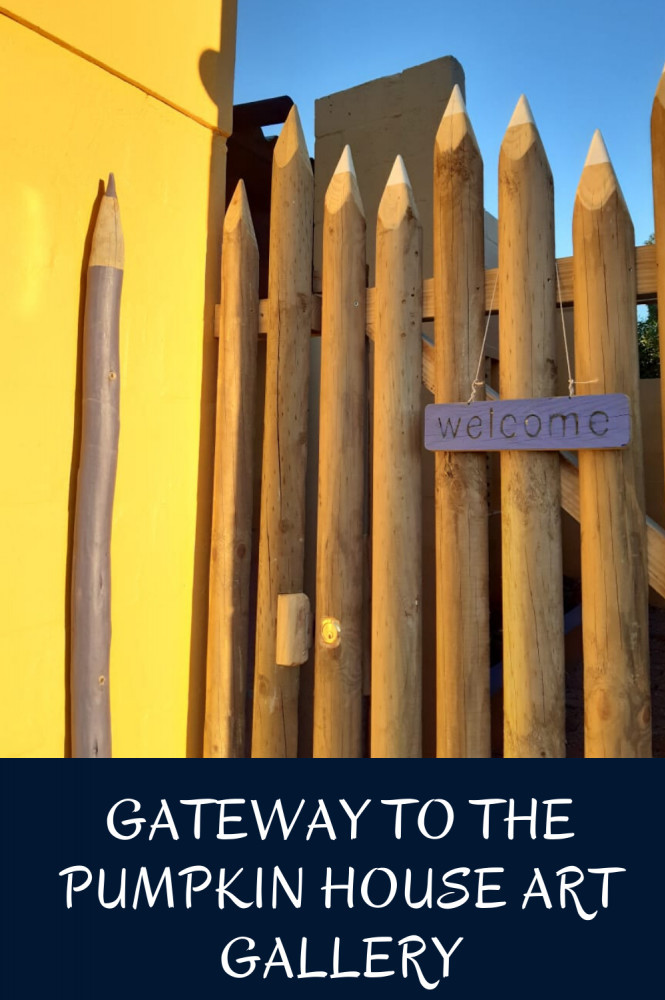 As I learned when meeting Hanli, a warm welcome awaits you at the Pumpkin House. It is all well and good to be friends on Facebook.
To learn about and visit the various art routes, of which there are many, is one thing. It is meeting and getting to know a wonderful artist like Hanli that makes the difference.
It is the warmth of the greeting.
The care and attention they take to make their workspaces so inviting.
Having art supplies available is such a help.
To know that while you enjoy an artist get-a-way you will have everything at your fingertips.
A time to forget, reflect, to follow your dreams as you paint in the serenity of your artists' retreat.
ARTISTS MASTERS ENTREPRENEURSHIP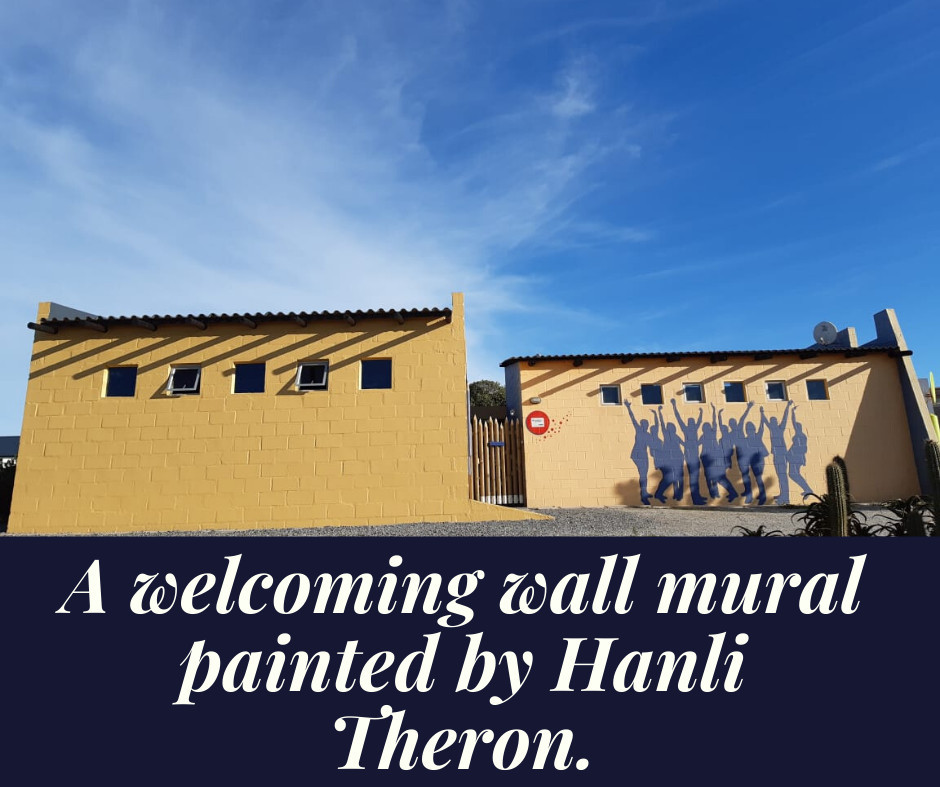 To all the artists, aspiring artists, or anyone who feels the need to take a well-earned break, this is the place to go to.
I, for one, cannot wait for the lockdown to be over so that I shall be able to visit Hanli and experience all she has in store for me to experience.
When you have read this blog, I am sure that you will be drawn into experiencing all that awaits at the Pumpkin House.
It will also be apparent that Hanli is an extraordinary artist-entrepreneur. Someone we can look to for inspiration.
The Pumpkin House is also part of the Langebaan Art Route, and the greater West Coast art route.
Hanli was one of the instigators of both these routes which I am sure will have been a big boost to the many artists becoming known and sought after by holidaymakers.
I'm sure you'll agree that Hanli is the epitome of an inspiring artist who has mastered entrepreneurship.
Related:  Arts and Crafts Ideas | 16 + New and Unusual Crafts to Try