There's no business like Sew business
From an early age, I have been mad about sewing. Making clothes for my dolls and poor, long-suffering, dog (this was long before it was the done thing to dress up your dog), with my kiddies' sewing machine.
Perhaps the interest began when my sisters and I played with paper dolls and drew and cut out the dolls and made new clothes for them. It was great fun as one could be so creative. We would happily spend the entire afternoon in this pursuit.
There's no people like sew people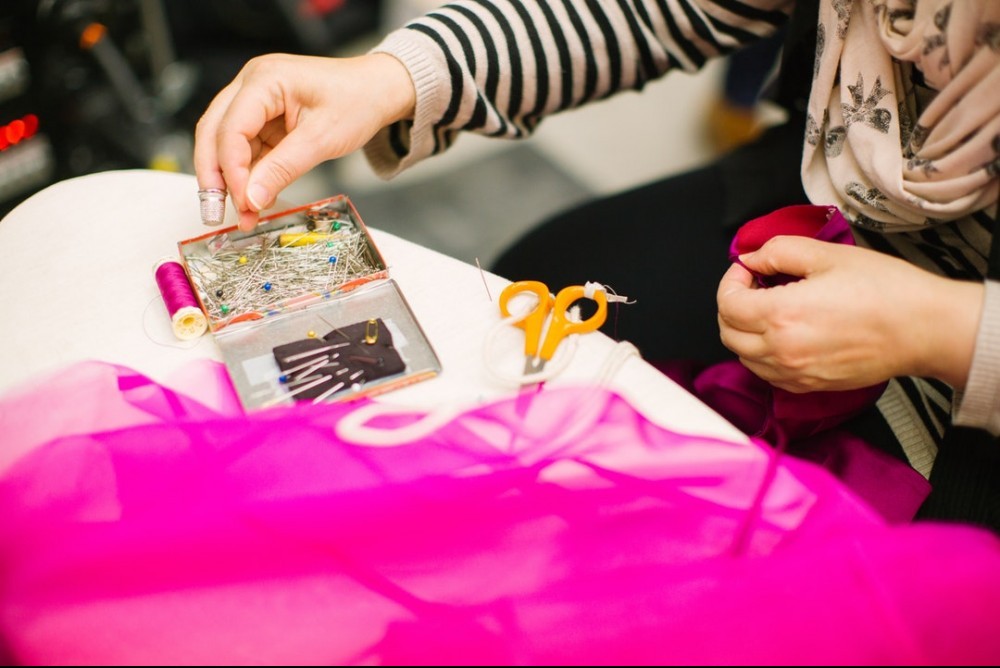 The other great influence was that I had two great-aunts and an aunt who were dressmakers and Milliners. We would visit them when in Durban. I was rather frightened of my great aunt Flo, she was pretty fierce. It could have been that as she was completely deaf, she spoke in a rather strange way, or so it seemed to me as a child. The other great aunt Ethel, was sweet but didn't say much, smiled a lot and made scrumptious cakes for tea. Think she was rather dominated by Auntie Flo.
They were always busy sewing when we got there. I don't remember ever sitting in the sitting room but always in the sewing area. Such a feast for the eyes. So many colors and threads and fabrics. Ooooh, could drool just remembering it all. I guess some people would call it clutter but to me was pure bliss.
It was fascinating to fiddle around with all the trimmings, buttons feathers, and all the other notions one doesn't see nowadays.
Of course, the great-aunts weren't too happy with me (playing) with their things but if I promised to roll up all the ribbons, tapes, rickrack, etc. Put all the glorious buttons and bits and bobs away, they would put up with it.
How I wish I had inherited their button bottles. What treasures there were in them. Unfortunately, I was living nowhere near them when they died and the aunt who cleared up the house threw all the (rubbish) out. She had no interest in sewing. Such a pity.
My Mother. Having three daughters, also sewed and knitted for her family. She had an old singer sewing machine which she allowed me to use. It was quite a while before I was allowed this great honor as money was in short supply and we couldn't waste it on materials that might be spoiled. When I eventually was able to buy some fabric with my pocket money, this took a while to collect enough as it was sixpence a week. It was such fun to pick out enough fabric to make myself a blouse. Naturally, I had to have Mom around when I used the machine.
My oldest sister, Pat, was exceptionally gifted at sewing, knitting, and crocheting, (she knitted a complete outfit, or layette as it was then called, for my brother. She was 5 at the time. I have yet to see anyone knit or crochet or knit, as fast as Pat. She sticks her knitting needles under her arms and just goes like a Boeing. When she came to me to fetch my 92-year-old mother to go and live with her in New Zealand, she stayed for a week and in that time knitted a jersey and beanie for each of my 5, at that time,( have 7 now) grandchildren. It was quite amazing.
When Pat needed to use Mom's machine she obviously had the first crack at it, being the oldest. Thank heavens Gaye, the next in line was not a bit interested in using the machine, or perhaps the yearning to sew might have passed me by.
My lovely cousin Joy, who was only 10 years younger than my Mom, so we all called her Auntie Joy, lived in a small holding outside of Que Que in Rhodesia (as it was then, now Zimbabwe). Having six children and being an extremely talented person particularly when it came to gardening and sewing, was also a great inspiration in my life.
She had a singer sewing machine but with the added bonus of having a treadle. That takes some getting used to but Joy was kind enough to teach me how to use it. She also made me a lovely red and white dress which became a firm favorite until I sadly grew out of it.
I took ballet lessons in Que Que and so would walk out to the (farm), as we children called Rangeview, and spent a wonderful afternoon with all the cousins until it was time to walk back into Que Que and catch the bus to travel the 10 miles back to Redcliff, where we lived.
The walk there was rather long but the road was lined with beautiful Jacaranda trees in the town and out on the dirt road was lined with indigenous trees which formed a complete arch over the road. It was no hardship to walk there and back
It was a huge shock to me to learn, when I grew older, that Rangeview was not a farm but a small holding of 10 acres or so. Gosh, how we all loved it. Such happy memories.
Sew Prop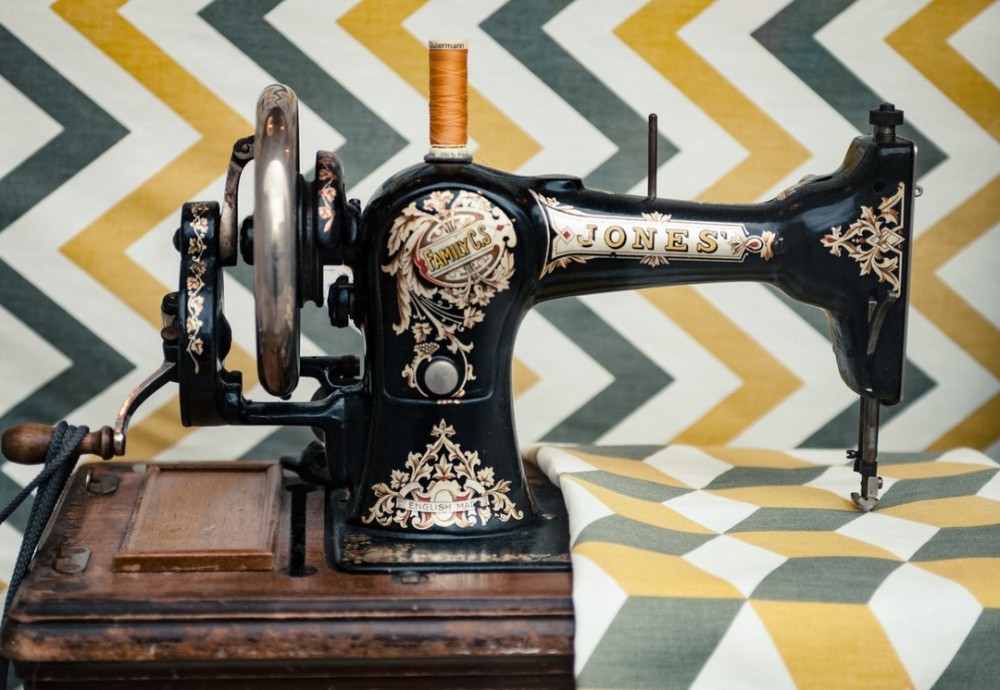 The first sewing machine I owned was an Empsal given to me by my parents for my 21st birthday.
Matt and I used to foster children from the Johannesburg Children's Home and also from the Queenstown Children's Home and whenever we collected them and I sorted out the clothes they had been sent with, I knew I would need to go shopping for fabric. With so many children to feed and clothe am not surprised that they sent clothes which were in such poor condition.
It was very sad but I really enjoyed the challenge and when they went back home I made sure they all had lovely new dresses, pajamas, dressing gowns, and panties to match their dresses, which was the usual thing in those days.
We loved those children and we were very keen to adopt but the law was that there had to be 25 years between you and the child you wanted to adopt and these were too old and we too young. It broke our hearts when we took them back.
They would be back with us for the next holidays and then the sewing would start up again. I often wondered who got all the new things I had made the holiday before as it wasn't possible that they could have outgrown them already.
The Empisal came to an untimely end when my second son took it to pieces when I was out. I was quite devastated as you can imagine.  One day I came home to find a brand new Bernina sewing machine on my bed, as a surprise from my dear husband. What excitement! That was all of 43 years ago and I can recall it as though it were yesterday.
My word, did I make that machine earn its keep? What joy it brought me.
When we moved to Port Elizabeth I became very friendly with our dentist's wife who was also mad about sewing and had a beautifully set up sewing room. For a few days each week I would cart my trusty Bernina over to Lorna, fabrics, patterns, and all the paraphernalia, we would sew until it was time for me to collect children from nursery school.
Variety Sews
Lorna and I then decided we wanted to go further with our sewing and enrolled at the Technical College in Port Elizabeth to do courses in tailoring, I had done a course in pattern making in Grahamstown, when Matthew, my husband, was studying at Rhodes to become a Presbyterian Minister.
It was time to learn a new skill, hence the tailoring. Many of the clothes we wore then were tailored. Suits, slack suits, dresses, and jackets, etc. So very chic.
While in Port Elizabeth a very kind soul donated 56 huge boxes of woolen knitted fabric to the church. I was asked if I could do anything with it or if it should be donated it elsewhere. Wow, what a bonus.
I should have recorded the number of tracksuits, dresses, tops, and jerseys I made but I didn't. All I know it was a huge number and all done on my Bernina which had never given a spot of bother.
I bought a cut-and-trim foot for my Bernina, which, as it overlocked the edges trimmed the excess fabric away, this helped tremendously. At that stage, I didn't own an overlocker.
The Church benefited and so did I with all that experience. The wife of the friend who donated the fabric knew how busy I was with the sewing and came and did my housecleaning while I carried on with the sewing. It was rather strange to me to have someone else cleaning up after me but she insisted and I was truly grateful.
We are friends to this day.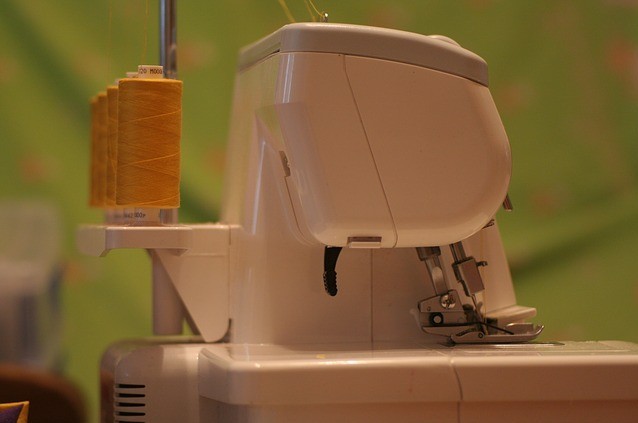 New Sew – Prop Change
The next move was to a small town in Northern Natal called Vryheid, which means Freedom. Matt had a call to the Church there and so off we went.
Shortly after we arrived in Vryheid, I started teaching gym classes in the Church Hall and saw a need for gym wear so off I went to Durban and sourced all the various fabrics which would be necessary to make leotards, more tracks suits and managed to find an outlet factory-shop in a town nearby who supplied us with legwarmers. Yes, they were very fashionable then!
It was then I realized as good as my Bernina was, I needed an overlocker and ordered one from Cape Town. It is a 3-strand Babylock. This great little machine has worked overtime for me for the past 36 years.
While we lived in Vryheid I began teaching dressmaking, also in the Church Hall. We had tremendous fun and I sincerely hope that some of my pupils are still sewing and making gorgeous garments.
At one time I decided to make a change and hinted at getting a 5-thread Elna which my dear husband bought for me for the next Christmas but unfortunately, as I have rather poor eyesight (that is putting it mildly) I could not cope with the threading and gave it to my daughter-in-law, Janet and she still uses it. Thank goodness I didn't get rid of my Babylock.
The next stage of my sewing career called for different skills as I was asked to make wedding dresses and matric (prom) dresses. This was such a fun time as was able to use my skills in pattern making and design.
The Drama of the Sew
It became difficult to make wedding dresses due to my eyesight and so many almost invisible crystal beads to be sewn on with invisible thread, with a thin needle with an almost invisible eye. Although I have a super light, with a magnifying glass, it was a battle for me to thread the needle. it was time to begin something new, hence my venture into the world of medical garments.
My word, what a change that was.
We had a very dear lady in our congregation who made breast prosthetics and she called me one day to invite me around as she wanted to speak to me about something. It was with great curiosity that I set off.
This dear soul had been making prosthetics for years and had clients from all around the world and she found her eyesight failing and asked if I would take over the business from her if she taught me how to make them. It was a wonderful thing to work with her and she taught me so much.
That day changed my life and for the next eight years, I had the privilege of being able to make garments for a great number of people all over the country who were in need of garments that would make their lives more comfortable and easier to bear.
The referrals were always from Doctors or Specialists. Had many very interesting and challenging cases and loved using my creativity and problem-solving skills to work out what would be best for each person.
These are some of the garments I made for those suffering from different problems.
Breast Prosthetics and bras and bathing costume
Stoma hernia belts for people who developed hernias after their operations for colon cancer.
Special wear for the problem of living with a prolapsed bowel.
Supports for keeping people secure in their wheelchairs.
Incontinence garments, Pretty with lace and bows for the ladies and normal-looking underpants for the gents
Draw sheets
gadgets for helping to hold a pen or pencil attached to the finger
I worked a lot with the Stomal Therapy Association of South Africa and also made various items for people with Multiple Sclerosis. Attended their meetings and conferences, to see what would be helpful to their members. It was such a fascinating and rewarding time.
I had this business, which was called Lexies,( Named for my Mother who was also Alexa) for eight or nine years and then gave it over to a friend of mine who carried on with it. At that time my elderly Mother was still living with me and she was requiring more of my time.
The Sew must go on
As I always need to have a project to hand and being involved in the Church Outreach Group we hosted parties at the Maitland Cottage Hospital, which is a hospital for children from all over Africa, who require long-term hospitalization. They are usually disabled in some way or have had orthopedic surgery.
I suggested to the group that we make pretty quilts for their beds to cheer the wards up. Not all of the group ladies are able to sew but they contributed by collecting fabric or donating money to buy suitable fabric.
When I was phoning around to find the best price for batting I spoke to Dot, who owned one of the quilting shops and she suggested I go in and see her. This I did and when I told her what we were planning, she asked when we wanted these done. When I told her, she offered that her quilter would quilt them for us when she wasn't busy with other work.
I was thrilled by this amazing generosity and once we had 20 quilts ready to be put together took them along only to find that the quilter had quit her job. I suggested that I learn to use the machine and do it myself. It ended up with me working there for close to two years and learning a lot.
Not only how to use the big quilting machines but also how to do free-motion quilting. I also did all the quilting on the big quilting machine, for the shop and ours in between. and on my off days.
Will always be very grateful to Dot of Dot's Quilts and Una, for their loving help. If it wasn't for their generosity I would in all probability still be hard at work finishing them off.  All in all, we made 68 quilts for the hospital.
Quilting became a passion of mine and I have made a number of quilts for family members and also for orders. All the quilts I have made since the ones for the hospital have been done on my little Bernina. All free motion quilted. Have made king-sized quilts which can be a bit tricky on a small machine but there is a knack to it.
A very close friend in Krugersdorp had begun to sew with an embroidery machine, a Husqavana and when we went to visit her, she introduced me to the joys of machine embroidery. What a great time we had.
Have spent so many holidays with Kirsty and usually took my sewing machine up with me and we would spend hours sewing together.
She gave me a new Bernina 1500 which although is not an embroidery machine has a lot of embroidery stitches on it. That was my introduction to embroidery on a machine. That Bernina is the machine I currently use as I have now given my original machine to my granddaughter Kate.
Kirsty wanted to upgrade her Husqvarna and instead of trading it in, she chose to get a Brother Embroidery Machine and gave me the Husqvarna as a gift. I think she now has a Brother Embroidery Machine again, but the big one.
I passed on the Husqvarna. to my daughter-in-law, Kelly when Kirsty passed the Brother on to me. This Brother is a pleasure to work with. Hope you can keep track of all of the to-ing and fro-ing of machines.
My one big sadness is that Kirsty is living so far away from me and we can no longer get together for our sewing sessions. She taught me such a lot about the embroidery machine and we have both made so many great items as gifts and for sale over these 45 wonderful years of our friendship.
She was the first friend I made when we went to serve our first Church which was in Krugersdorp. In all the years Kirsty and I have lived in different cities, I was able to travel either by car or fly to visit her and always took my sewing machine with me. I won't even mention the amount I have paid the Airways for excess luggage over the years.
We would happily sew together all day, having to remind each other to eat or have tea. Food was the last thing on our minds.
Such fun times.
Its Sew Time
Have always felt that there is a time and place for everything, especially sewing.
Did, however, learn the hard way that what might be the right time for me, was not always the right time for my neighbors. Soon after Matthew and I married (all of 53 years ago) we lived in an apartment block. I had made a shirtwaister dress and really wanted to wear it the following day and was finishing off the belt.
My dear husband gaily hammered in the eyelets not realizing how late it was. The next day we were buying something at the cafe, and we saw one of our neighbors who commented on the noise the evening before.
Only after we left her did we realize it was we who were disturbing the peace.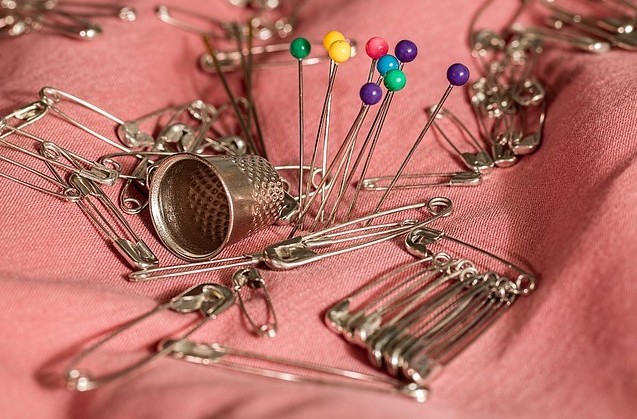 Forthcoming Attractions …….
Would love to hear from all you avid sewers out there. Perhaps you have unique sewing projects that you can tell us about.
What are the 5 things you can't do without in your sewing room?
Mine would probably be:
Bernina sewing machine
Overlocker
rotary cutter and self-healing mat
good scissors
tape measure (always measure at least twice, before cutting) and really good quality pins.
Happy sewing everyone.
CHEERS!
Jill