Quilting From the Heart
What a comfort to know that one doesn't have to be perfect when quilting. This is something I learned as I went along on my quilting journey. It bothered me if I didn't get it exactly perfect until it was pointed out to me that the Amish believe that a quilt should not be perfect, as nothing is perfect except the Lord.
Now as long as I am #quiltingfromtheheart, I am satisfied I have done my best and if the stitches are not exactly the same size when doing free motion quilting, it is not a train smash but perfectly normal.
Affiliate disclaimer: I get commissions for purchases made through links in this post.
Featured Image Quilt
The quilt featured above is one I made for Skyler, my second granddaughter. What fun it was to make.
Daniel, Lauren and I went out to a Quilting Exhibition in Stellenbosch and as I had been talking of making a quilt for Skyler we were very interested in what the vendors at the Exhibition had on offer.
We came across this pattern book for this quilt and decided that this is what I would make. It was such a different type of quilt to make with all the applique work but it turned out so well and Skyler was delighted with it.
Actually, I would really love to make this pattern again. Perhaps will make one and put it away in case I ever have a great-granddaughter. One never knows!
In the Meantime
Am so grateful for the quilting I have been able to do for my family and friends and that for many years after I am no longer with them, they will have a comforting memory of my love for them as they wrap themselves in their quilts. They will be able to recall the hours I spent #quiltingfromtheheart.
The joy I had mulling over the choice of fabrics and the pattern chosen with them in mind. They will also know the immense pleasure I had making the quilt just for them.
Is Quilting going out of Fashion?
The other day, am not sure of who it was, someone said to me that quilts are going out of fashion. I didn't argue but know that this is not so as I have a lot of dealing with quilters when I interview and write about them and know that the Quilters Guilds certainly in South Africa are going along very well and have a great number of members.
Judging, also from all the people I follow on Pinterest, Facebook and Bloglovin, there is an enormous number of extremely talented quilters in this world of ours. It is such a thrill to see the amazing work done by these wonderful people and not only women. There are also a number of men who are quilters and who practice other crafts.
My First Large Quilt – Free Motion Quilted – Made for Greg and Kelly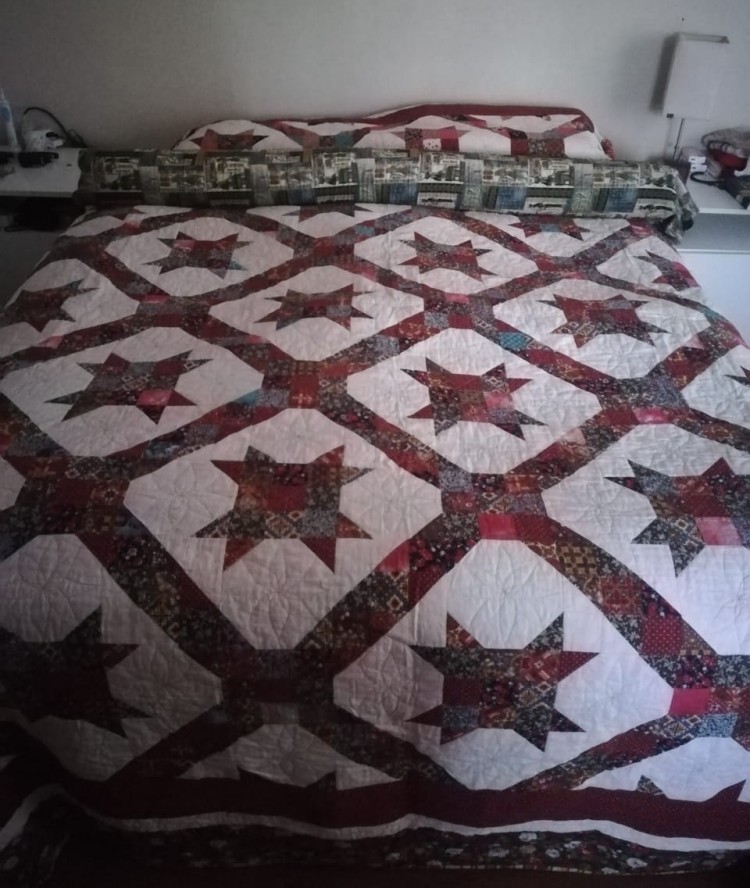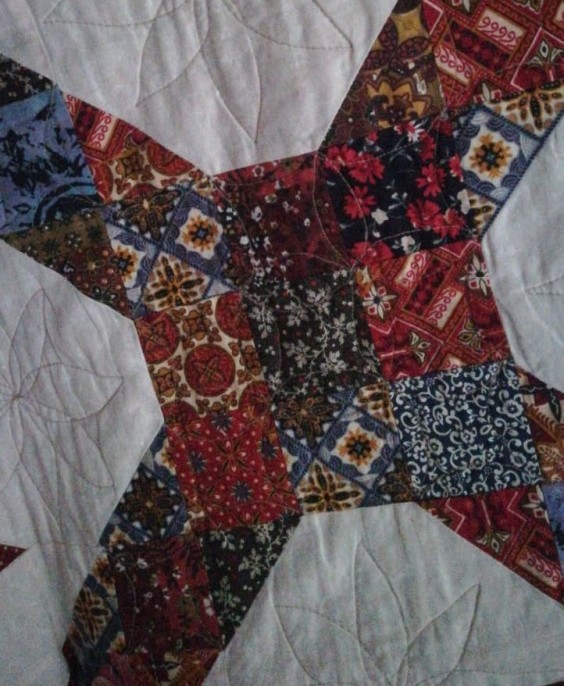 This pattern is called Jacob's Ladder and I just loved the fabrics I used. The colours are so vibrant.
The backing fabric was also absolutely fabulous. Such a good find.
What I should also have done was written the cleaning instructions onto the label but unfortunately forgot all about that.
Never mind, I know Kelly will know what to do.
When you know a person so well that you know exactly what interests they have and what will bring them joy, it makes choosing the fabric for their quilt so much easier.
That is not to say one doesn't have to travel far and wide to find exactly the right pieces of fabric, this is all part of the adventure one goes with when preparing to make the quilt as special as you can.
Piece Perfect Piece
My husband, patient soul that he is, would stop at any little far-flung country village if I happened upon a fabric shop. He would wander about while I chatted to the sales staff and picked through the fabrics until I was certain of what to buy. Sometimes I was really fortunate and came across just the right piece but if that was not so, knew that there would be other places to visit. What fun.
Lauren's 40th Birthday Present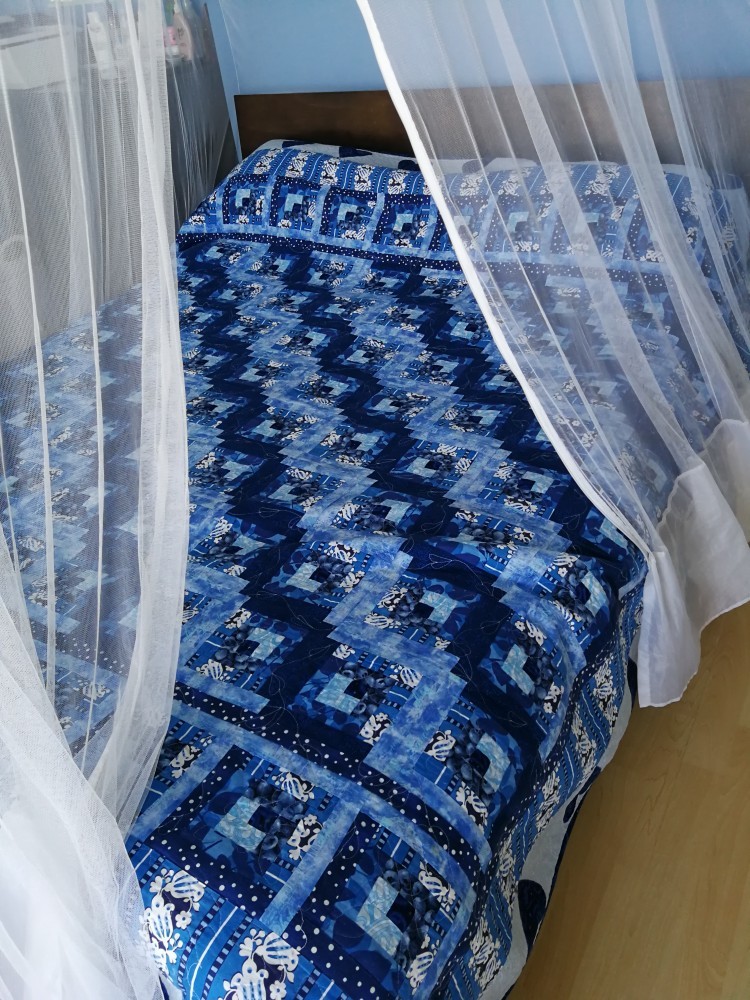 When it came to Lauren's special birthday, I was determined to make her a quilt and chose to make it in blue and white as those are the colours of her bedroom. As she is married and I didn't want it to be too girly, I chose to use the log cabin pattern and around the border, I appliqued 40 hearts.
Kate's 16th Birthday Seascape and Dolphin Quilt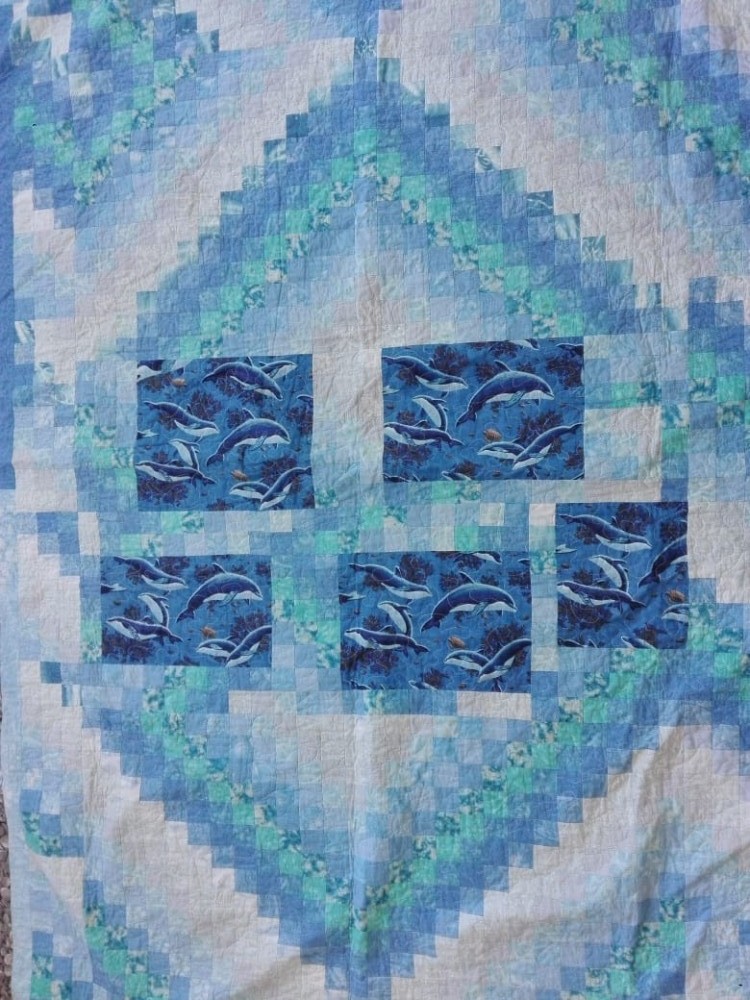 Kate is my eldest Granddaughter and when she turned Sixteen she requested that I make for her a quilt with Dolphins on it. This was easier said than done. Fabric with Dolphins and other fabric I had in my mind for this quilt was not easy to locate.
Fortunately, we had a holiday planned and it was such a pleasure venturing into all the quilting shops along the way with Kate's special seascape quilt in mind. There is something so special to wander around a shop filled with wonderful fabrics and one can get carried away. It is a good thing to go with what you really need, in mind. Despite this, it is still so easy to buy just in case it might come in handy sometime.
This is not only a problem I have. After speaking to so many quilters, I find it is a common problem and a lot of them say they don't go shopping for fabric with their husbands as they just don't understand.
Kate's quilt was finished in time for her birthday and she was delighted with it.
This is the border of Kate's quilt.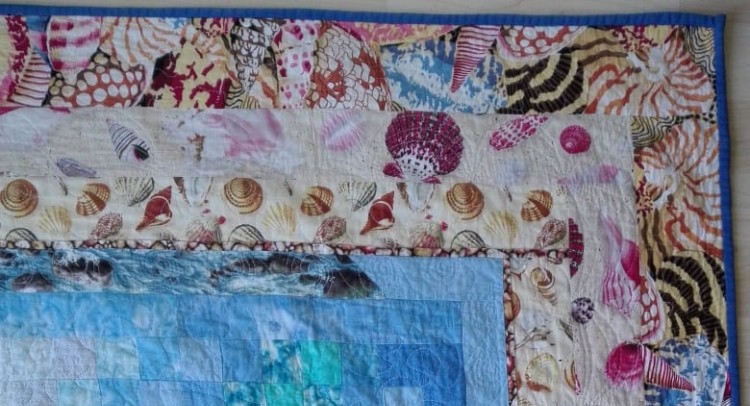 When we moved from the house to the retirement village it was such a wrench for me to part with bags and bags of fabric, patterns, lace, trimmings etc. What made it easier was the fact that it was making the recipients so happy to receive this bounty. Although I had to get rid of so much I was determined to hang on to my stash of quilting fabric and I am so glad that I did.
However, I did have a slight wobbly, a couple of weeks ago and thought I should just give the lot away. I even packed each piece into bags marked quarter, half, meter, one and a half meters, and 2meters and more in preparation of getting rid of it all. Went into a bit of a depression but thankfully came out the other side and still have the fabric.
Flights of Fancy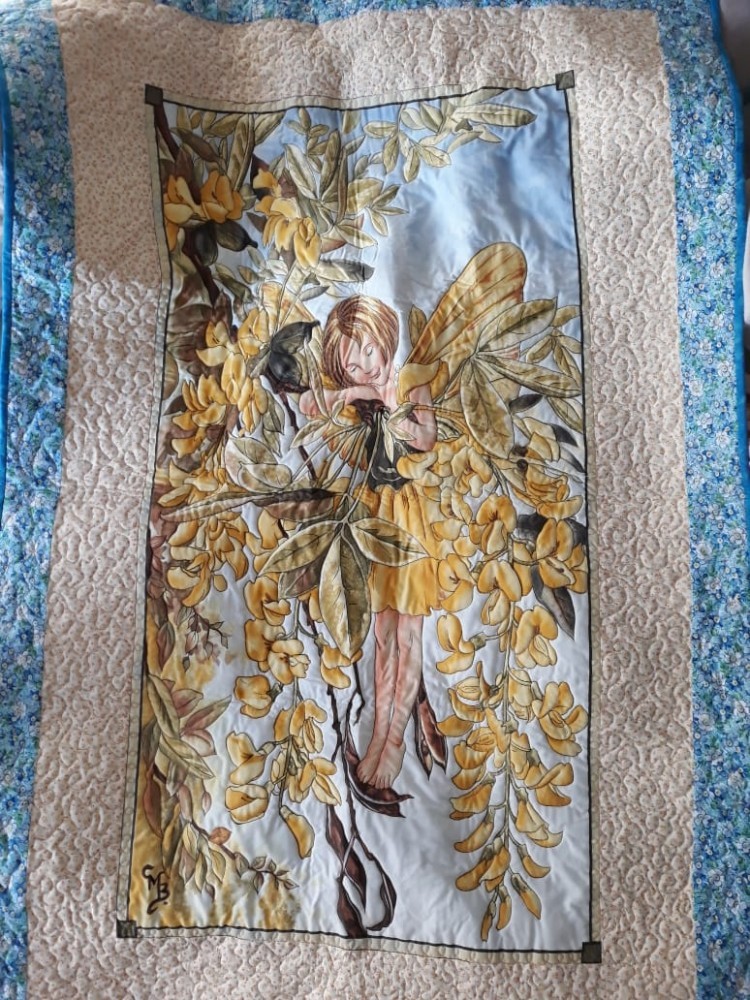 Have an order to make a little girl quilt for Alice and am so happy as I have just the right fabric which will make her very happy. She wants a fairy quilt as this is the quilt I made one for her sister, Kiara.
Creativity Breeds Content
My Bernina is in for a service at present and will be away for approximately two weeks so have time to plan the quilt and have the quilt plan ready and fabric ready to prepare, when it comes back.  Joy of joys.
Besides the handmade quilts and cushions, I did many years ago, it was only once I began making quilts for a charity and the Church that I became hooked on quilting again. So many other things had occupied me during the intervening years.
Smaller but still a pleasure
Now that my husband is being cared for and that I am essentially on my own, I can spend time and also spread myself out a little to make smaller quilts. Being assured that he is being well cared for gives me comfort and by keeping busy quilting and blogging am able to refocus my mind from worry about creativity.
No longer the King size and Queen size quilts I made for the family and for orders. That was easier when I had more space and also a carpet on which to pin the backing.
I would love to hear of the lasting memories  "from the heart"  that you are planning to leave for your loved ones.