There are many virtues one needs to have, to get through life and #patienceisthevirtue every person who sews needs above most of the other virtues.
Affiliate disclaimer: I get commissions for purchases made through links in this post.
With such a lot of preparation necessary to make anything from scratch or even unpicking stitches takes time and patience. One slip and the garment could be ruined.
This is especially true when it is not your fabric, there are time constraints etc. For everything to fall into place and for all to be happy with the results, one needs patience and care.
Introduction to Machine Embroidery
My very dear friend Kirsty, first introduced me to machine embroidery about 30 odd years ago and despite my lacking the virtue of patience, I fell in love with it. Not only me but also my Father.
Dad was the most curious person I have ever known and loved to know how everything worked. He would sit in my sewing room for hours watching the picture develop while I was embroidering on one of the many things I did. It truly amazed and delighted him, as it did and still does me.
Another interested party was my grandson George and he became quite adept at changing the thread for me. He was a dab hand at threading the Brother embroidery machine and as he was only about 4 or 5 at the time, it was pretty remarkable and a great help to his Gran Gran.
Holidays with Kirsty
The times I spent with my dear friend was so special. We both were mad about oil painting and sewing. We would spend hours together chatting happily away as we did either. When Matt and I were in our first Church in Krugersdorp and she came with her little boys to welcome us.
Our friendship has lasted almost 46 years. Sadly we are not able to see one another now due to health and distance. Kirsty now lives in Tzaneen which is a great distance from Cape Town and I can't go that far away from home with Matt in Frail Care.
Matt very kindly let me fly up to Krugersdorp for a couple of weeks now and then and my trusty sewing machine would accompany me. K and I had to remember to stop now and then for tea or something to eat.
Would always go home with garments made while "on holiday" and also often had to pay for excess baggage after falling for some new fabric etc.
My First Embroidery Machine
When Kirsty bought her first (of many) embroidery machines, she mastered it in no time at all and was able to help teach at the local sewing machine shop as well.
She couldn't wait to introduce me to machine embroidery and naturally, I took home my first embroidered garment, a slack suit, I still have the jacket and am sure it doesn't fit me but I can't bear to part with it. It is part of the history of our friendship
It was great to wear something that I knew no-one else in the whole wide world had one the same. Not only that but I had made it myself.
Matt and I drove up to Krugersdorp on holiday and to visit various friends and family. This was a common occurrence as we had made a lot of friends and kept in touch with many of them over the years.
Kirsty said not to bother to bring my machine as she now had two embroidery machines and also a machine to sew up whatever we made whilst I was there. On leaving left to return home she gifted me with the one embroidery machine. She said that the amount she would have received as a trade in for the new one was not so great and she would like me to have the pleasure of using it.
It still brings tears to my eyes when I think of her generosity of spirit. That is one of Kirsty's many virtues. Although we keep in touch a lot, it is not the same as sitting sewing together and chatting. I miss her dearly.
Years of happy Machine Embroidery
It has been such a pleasure to spend many years at this wonderful pastime. Have only been without my machines once in all the years when we had a power outage, this was a common occurrence at one stage, obviously when the power came back on it surged and blew the motherboards in both my machines. It was such a blow as it was a very expensive exercise to have them repaired buy much cheaper than buying two new machines.
There is no way in the world I can be without my machines as over the years been busy with various business ventures which involved sewing.
Enjoying the Challenge
A few years ago I was asked by a close friend here in Cape Town to make her daughters wedding dress and also the dress for the bridesmaid and mother of the bride. I had made many wedding dresses in the past but this was very special as we are close friends and I wanted it to be special and stress-free for them.
Jean wanted her dress to have pale blue elements on it and I thought long and hard and came up with a dress that she loves so much that it is still hanging in her wardrobe. For this, I was truly grateful as when we moved from our home to the Retirement Centre I had to get rid of many things and a lot of the photos were lost along the way.
Jean kindly sent me the pictures of her wedding day and the dress detail.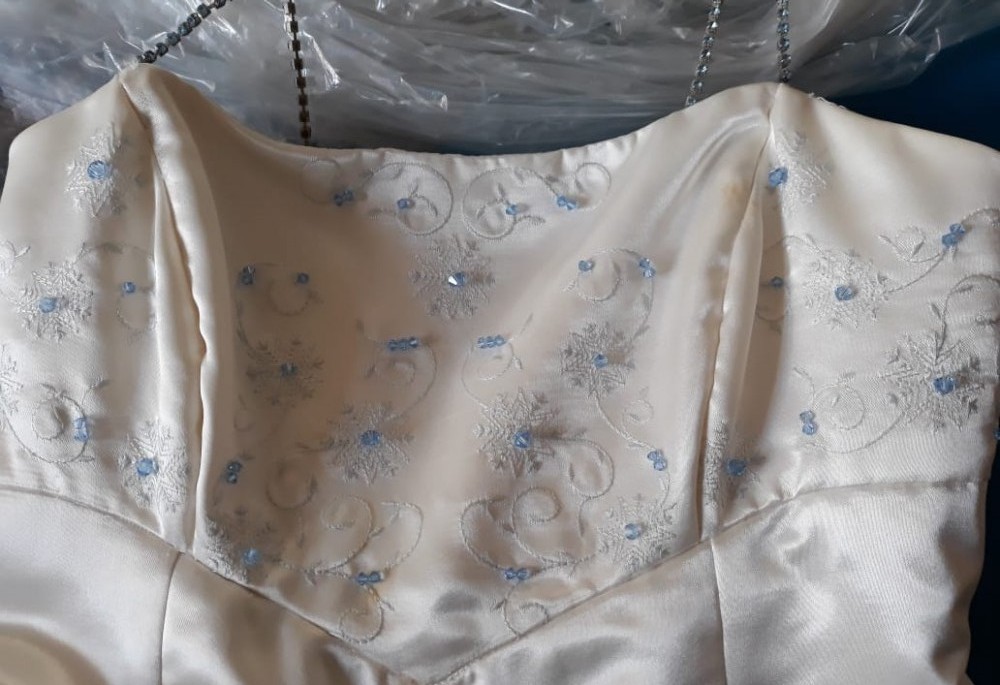 It took ages for me to choose exactly the pattern which would not be too overpowering and then to sew on all the crystal beads.
Due to my poor eyesight and need to use invisible thread, with a very fine needle with an almost invisible eye, thread it through an almost invisible hole in the bead,
My dear husband bought me a special light with a magnifying mirror which was an amazing help. I would not have been able to do this without it.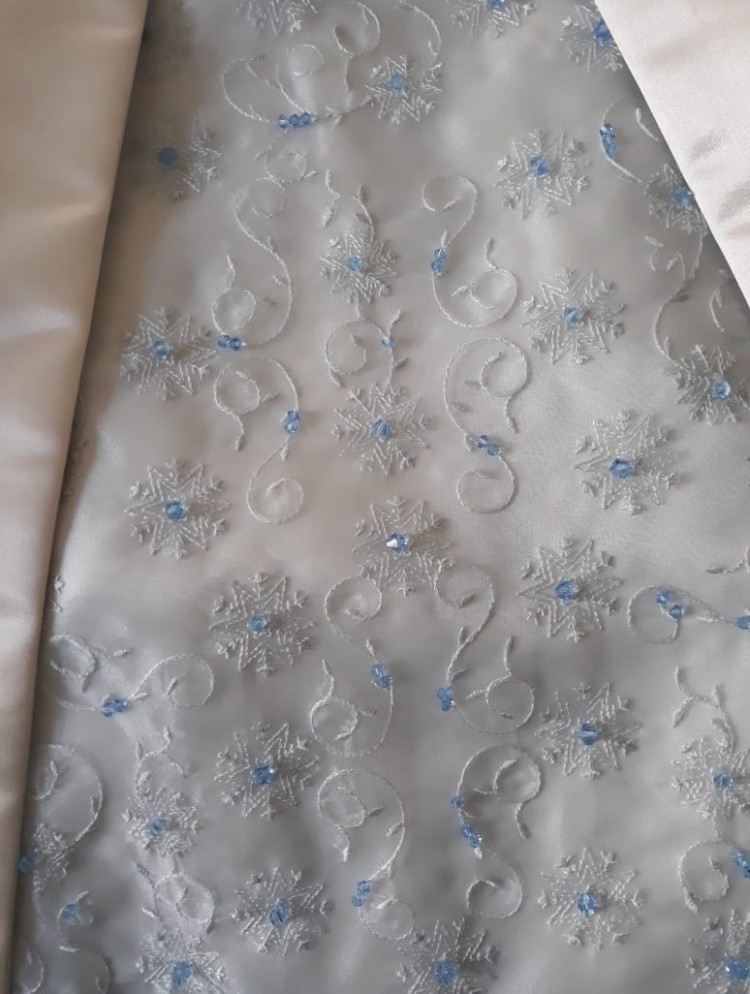 The Virtue of Learning Patience
It was an enormous amount of work but such a joy when I saw Jean's face when she saw her wedding dress. I went on to make her bridesmaid's wedding dress when she married.
Beadwork is now beyond me but at present, I am making a second quilt for the newest addition to Jean and Anton's family. This will be done with the free motion quilting method.
I have learned that when it comes to sewing, machine embroidery, quilting and painting, #patienceisthevirtue I have developed over time, as I just had to.
Questions for the day
What are you most proud of making?
What are the virtues you feel you need to learn?
Which would you say is the one you need to concentrate on?