SEW INSPIRING | Fabric, Arts and Crafts in Kleinmond, Western Cape 
What an amazing weekend enjoyed in Pringle Bay with very dear friends.   I had been told of an amazing Fabric, Arts and Crafts Shop in Kleinmond called Lu-Dal Interior, and as I needed batting for a quilt I plan to make, I popped in to have a look for myself. This was sew inspiring and after obtaining permission from the owner, Louise, I took a few pictures to share with you.
Lu-Dal Interior in Kleinmond
Louise informed me that her store is the best-stocked store in the Western Cape with quilting fabrics and I must say there was such a marvellous selection.
Besides stocking the quilting fabrics, they also hold weekly quilting classes. The Shop is well stocked, not only with items necessary for quilters but also with everything a dressmaker would need.
Related:  Quilting Tips and Hints
Sew Inspiring – Notions Galore
Beautiful huge variety of wool, embroidery thread, and plenty of sewing notions. It is a wonderful display of goodies to tempt any aspiring dressmaker or crafter.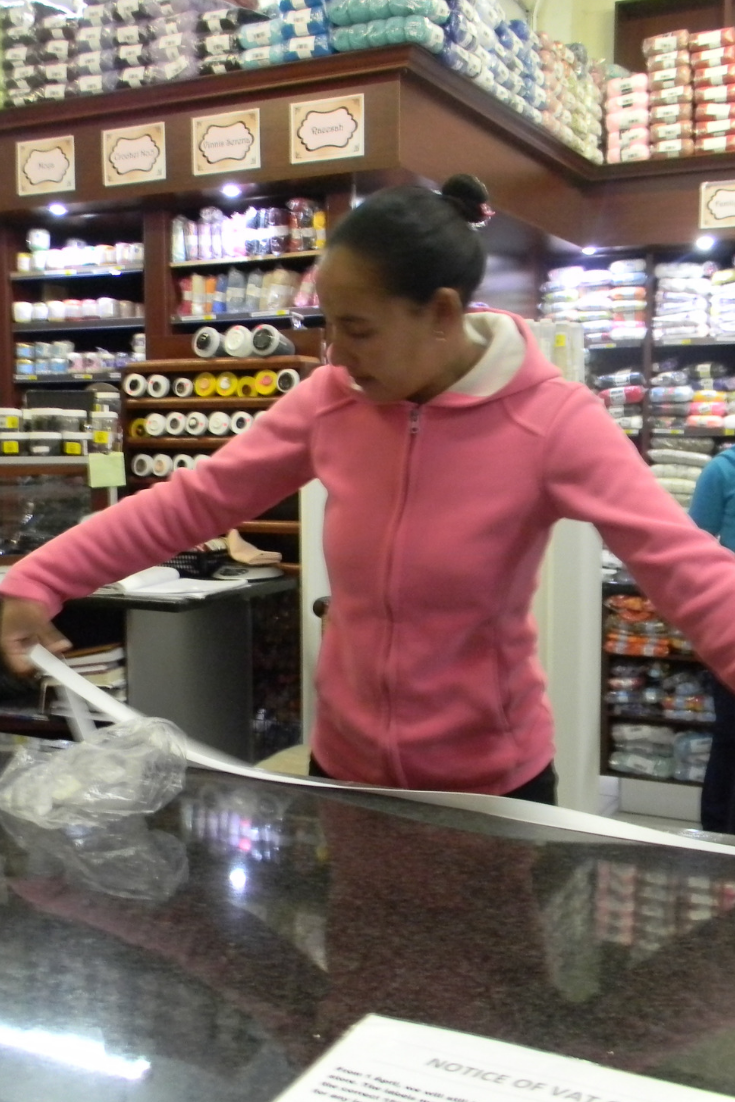 Will definitely be calling there again as, besides the wonderful array of temptations, the staff was extremely helpful.
Clarence Drive
The drive to Pringle Bay is one of the prettiest in the Cape. As you wind your way (slowly) around all the bends on Clarence Drive, it is difficult to keep your eye on the road as there is so much to see.
One side of the road is the sea, stretching out to the mountains which run all the way down to Cape Point and then on as far as the eye can see. Steep, rocky mountains rise up on the other side of the road. This road is sometimes closed to traffic after heavy rainfall due to falling rocks.
Pure Pleasure
The day I drove out was a spectacular day with a few scattered clouds which gave so much atmosphere. The sun sparkled on the sea as it played hide-and-seek between the clouds. It takes just over an hour and a quarter to drive to Pringle Bay from Cape Town. Pure pleasure.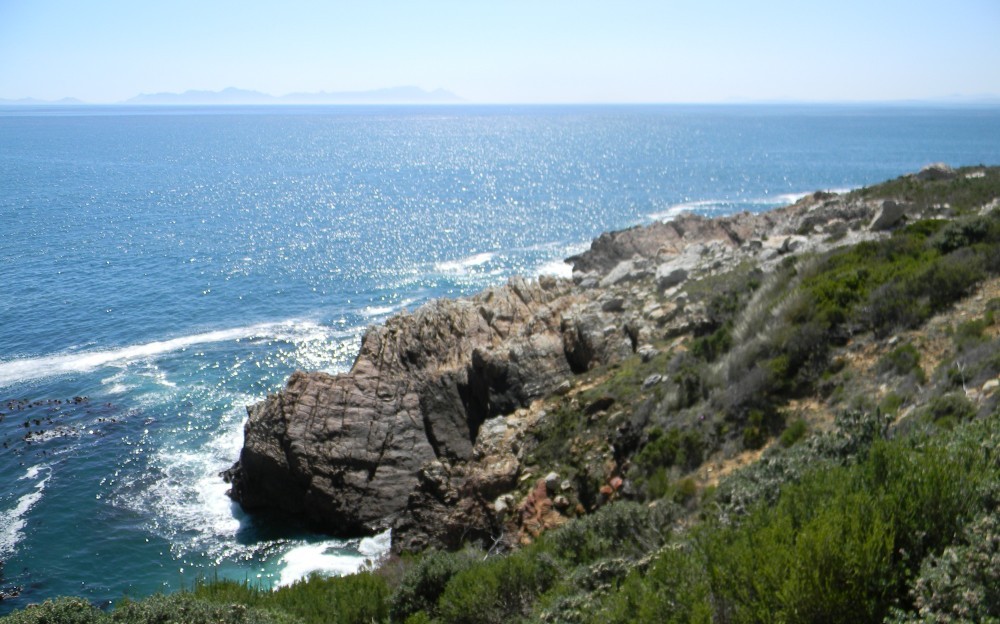 The closer I got to Maureen and Gavin, the more I could feel my stress levels going down.
The trunk of my car was filled with art supplies as Maureen and I always spend a lot of time painting together.  Getting away to have arty fun for a few days makes packing the car worthwhile.
The sound of Rain on the Roof
In the early hours of Saturday morning, I awoke to hear the magical sound of rain on the roof. If you have experienced a drought as we have, this is the most wonderful sound in the world.
It is wonderful to lie in bed and hear the rain approaching and then the first raindrops on the roof. What joy!
Saturday's Rules, according to Gavin
On Saturday, while Gavin watched the Ryder Cup, there were three rules we, Maureen and I, had to follow.
One click on the fingers was coffee was required
Two clicks, more coffee and something to eat
Three clicks, we had to keep quiet
Am not too sure how well we did at following the rules.
In our Own Zone
Maureen and I painted together while we caught up with all the family news. Isn't it just wonderful to have friends of long standing that you can discuss anything with? Share your joys and woes and are always there for you.
Perfect Summers Day
Sunday was a simply perfect day. The hottest day we have had so far and after Church, Gavin went home to cook lunch while Maureen and I went to the beach. In all the time I have been visiting Pringle Bay, this was the first time I had ventured down to the beach.
It is beautiful with lovely, soft, white sand and enormous mounds of rock here and there. Plenty of room for those brave enough to don their costumes and go into the very cold water.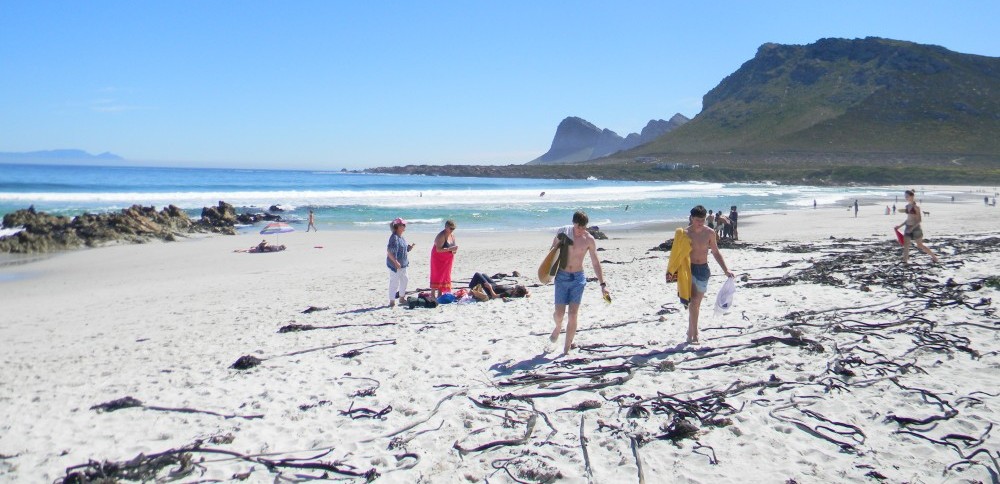 There were surfers, bodyboarders, people of all ages and sizes in and out of the water. I think some of them would have suffered a bit of sunburn after a time. It is easy to forget the suntan lotion when one's body is cold from the seawater. I would say it was truly a day to enjoy.
Replete, after a very tasty meal, it was time to repack the car and get on the road home. If left too late, the evening sun is at a bad angle for driving back. My aim was to stop and take a few photos on the way home.
A Sight to Behold
Due to the wonderful weather, every man and his dog were out on Clarence Drive. It was the most amazing sight I have seen, the sun glinting on the cars as they came along the drive. So many people had stopped either for photo shoots or to go surfing, it was difficult to find somewhere to pull over and stop.
Did manage to take some photos that I will share with you. For all of you who haven't visited the Western Cape or who are thinking of coming this way, do yourself a favour and drive along this beautiful stretch of road. You won't be sorry.
Sew Inspiring – YooHoo, Quilters, Sewers and Crafters
If, there are quilters reading this post and want to find really lovely fabrics and everything else a quilter just has to have, call in at Lu-Dal Interiors. Don't be in a hurry as it is worth spending some time, (and money) in there. It really is what I would term "sew inspiring".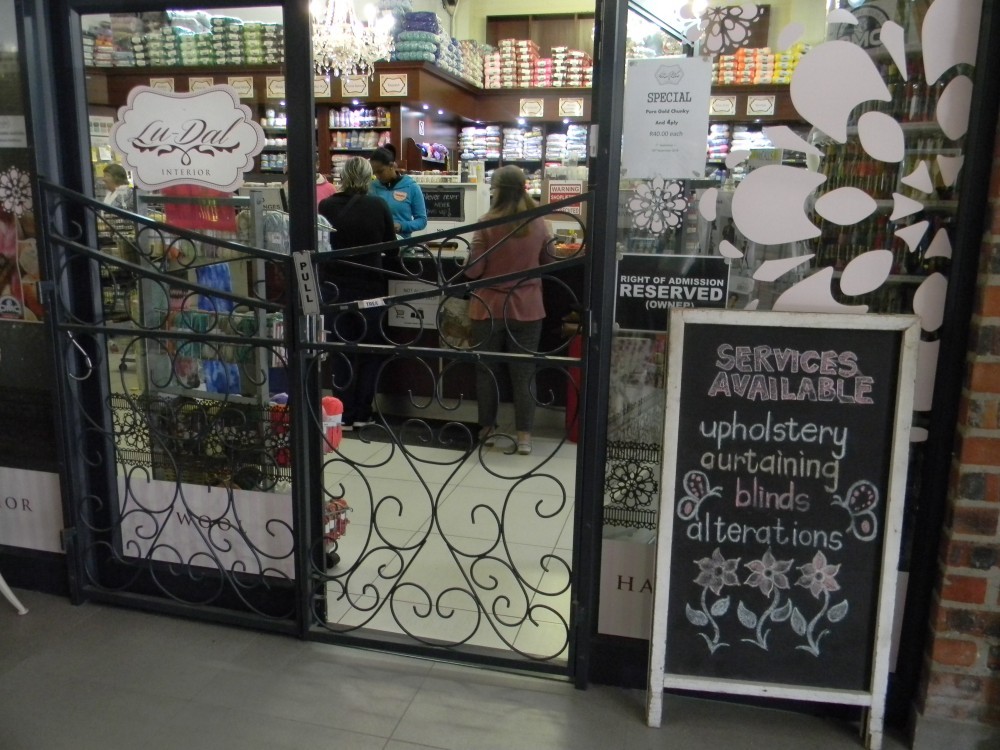 Wishing all the Quilters, Sewers, Artists and Crafters out there, a happy, productive weekend.