The Quilting Bug Bit
It has been many years that I have spent sewing and quilting so I thought that now was the time to write something on #quiltingtipsandhints which might make this exciting journey of quilting easier for people just starting out on this exciting new journey.
You will have already been "bitten" by the quilting bug and more than likely have a bit of a stash carefully stowed in a cupboard and cannot possibly go past a fabric store without finding some irresistible piece that you just have to have.
Let me tell you the story of what happened to me after being "bitten".
Through chance and good fortune, I began working at Dot's Quilts, quilting large quilts on the industrial machines. It was a challenge but I absolutely loved it.
While working there, I did a couple of quilting courses with a very well-known quilter in the Cape Town area named Helen Granville. She taught us the importance of having the backing fabric "drum tight" so as not getting creases in the back and so many other very valuable lessons in the art of quilt making.
Una Cloete, with whom I worked also gave a wonderful course and it was the quilt I did with Una that I gave to my son for his birthday.
When I think of these two wonderfully talented women I am so thankful that I had the privilege and pleasure of learning from them.
Will always think of the time at Dot's Quilts and Dot herself with great affection and gratitude.
Years of Quilting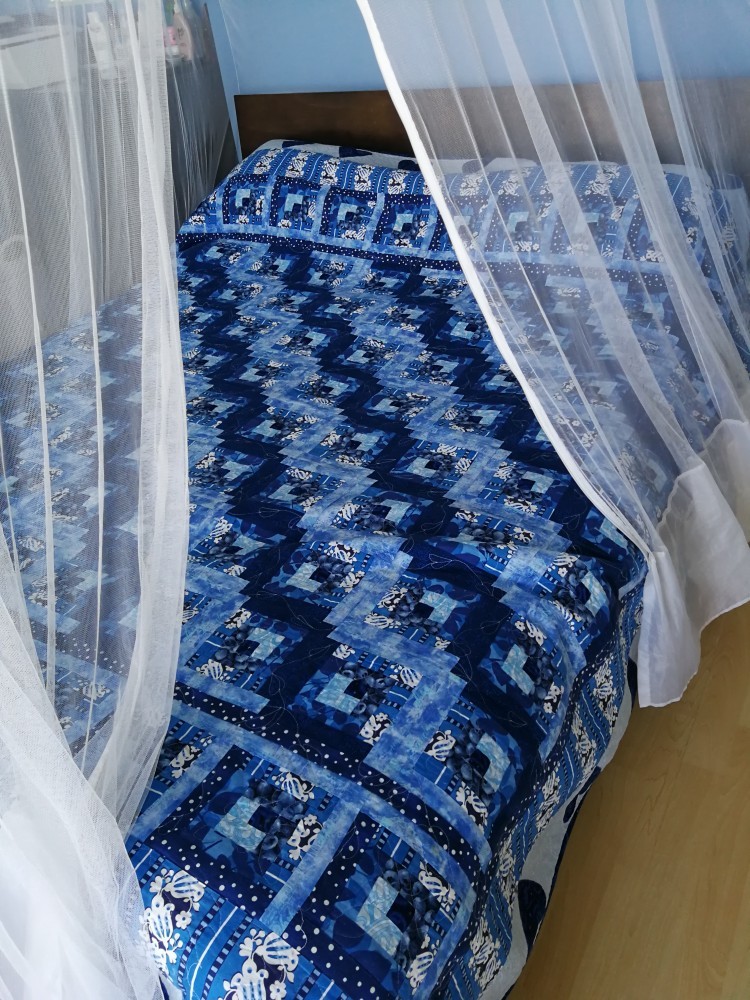 Over many years I have had the joy and pleasure of #quiltingpreciousmemories and these are some that I shall always hold dear.
These are in no particular order.
There were many others made for friends and also as orders and I enjoyed making them all.
The blue and white quilt I made for my daughter Lauren's 40th birthday gift. It is made in the log cabin pattern and has40 hearts around the border.
A brightly colored Jacobs Ladder quilt made for Greg and Kelly, my son and daughter-in-law.
My granddaughter Kate's Sea scape Dolphin quilt made to celebrate her 16th birthday
The Beatitude quilt I made for my grand-daughter Skyler.
Three baby quilts I made for my grandson Benjamin.
The quilt on my bed. How could I forget that?
A Season for Everything
The Good Book says, there is a time (Season) for everything, what truth there is to that. Now, after being down on the floor laying out a quilt, I definitely need a helping hand to get up.
I have reached the time when I no longer feel like crawling around the floor pinning the backing down to my lounge carpet, (even if I still had one) until it was drum tight.
Then spreading the batting on top, very carefully, then even more carefully placing the top of the quilt in exactly the correct place and then, heaven forbid. Tacking, row by row, the whole thing together in evenly spaced blocks.
Although I quilted all of these on my normal, trusty, old Bernina, not having a quilting machine, it was just a matter of getting used to it.
My advice would be to buy, or put on your wish list, a Quilting Machine. This would make your life so much easier.
When I began doing free motion quilting it was quite a laugh as I found my whole body moving instead of just moving my hands. How funny I must have looked to others.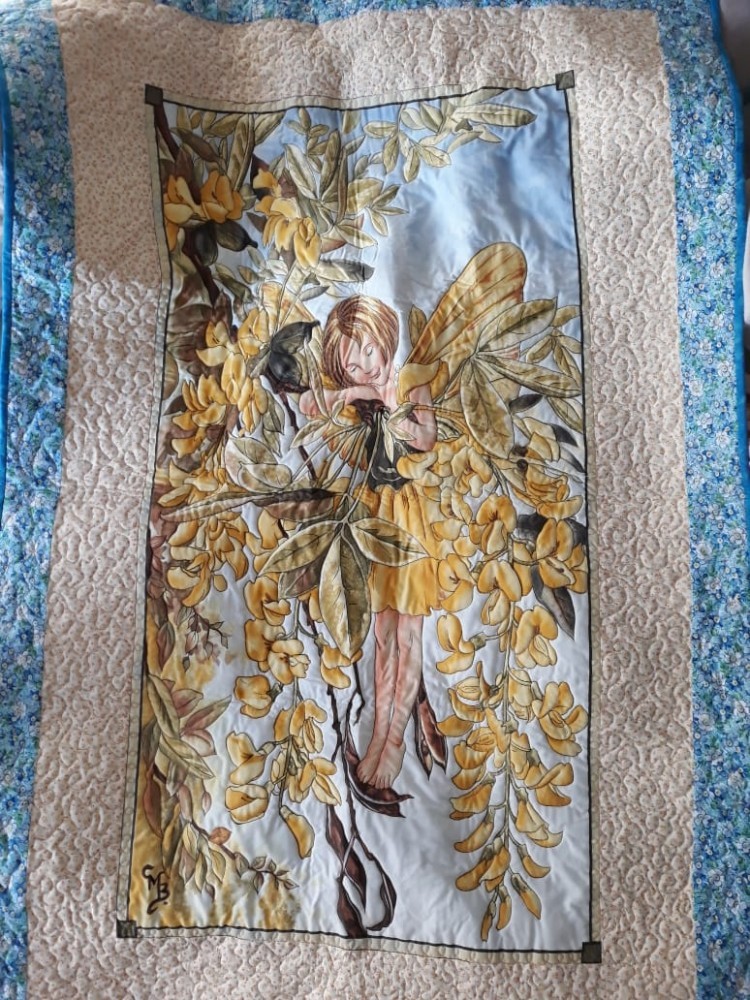 Oh well, we live and learn.
How times have changed.  When moving out of the house and into a Retirement Complex I found that although I have a lovely sewing room, it is small.
There is no carpet on which to lay out quilt pieces and pin it all together ready for tacking and quilting.
Although I realize I am getting older and need to change my life a bit, I still miss the things I was able to do.
Now the time for making large King and Queen sized quilts is over for me.
I now concentrate on Single bed and Baby Quilts.
These are more manageable in the space I have to work in.
They can also be laid out on a trestle table so no more crawling around the floor.
What a Bonus
One of the extreme joys in my life has been having a very supportive husband who has always taken an active interest in anything I have done.
Quilting was no different. On road trips around the country, it was no problem for Matt to make an unplanned stop when I spotted a fabric shop which was calling out to me.
What fun it was going into these glorious treasure troves and looking for exactly the right piece for the quilt I was busy on or was planning to make.
The people who own the stores or work in them are always so helpful and happy in what they are doing. Nothing is too much bother. One is so tempted to buy more than one needs or some of the amazingly interesting notions that go along with quilting.
Quilting Tips and Hints
When pressing the seams when piecing together, don't use steam function on iron, it could stretch the fabric.
Press as you go along and don't forget to measure your squares as you go and cut them to the correct size.
Work on a spare piece of fabric to make sure everything is going well.
The machine must be correctly threaded and the settings correct.
It is not a good idea to roll up your quilt while doing free motion quilting.  It won't work like that, it will be too thick to move to begin sewing from the middle outwards,  Then from the middle to the other side, then up, then down. This will keep the fabric from puckering
Keep your stitches an even length, which you might find  takes a lot of practice
Don't throw away the small pieces of fabric as they can be used in another quilt
Some darker fabrics may run when washed so it is advisable to soak in hot water until it is cool and then hand the fabric out to dry.
I don't wring the fabric but hang it soaking wet and let the breeze dry it. You will find very few creases if you do it this way.
It is usual to put a label on the back of a quilt. This will show the date made, for whom, message if you want to put one on. A good idea is also to put on the cleaning instructions as not everyone knows how to care for a quilt
Soak the quilt in soapy water, no detergent, then rinse out all soap. Squeeze excess water out and hang out to dry.
Store the now clean quilt in an old cotton pillowcase or old cotton sheet, these can often be purchased from Church Bazaars.
The best advice I can give is to join a Quilting Class and also Quilter's Guild, where you will meet wonderful people as well as learning from the best.
This can be enormous fun and very rewarding.
With Black Friday and Christmas around the Corner
It is a good time to make out your wish list. I know what would be on mine.
This is what mine would have on it:
A new Bernina Quilting Machine
and
my Black Friday Special on Wealthy Affiliate, can't do without that, it has saved my sanity and taught me so much.
Happy Quilting Everyone
Hoping I have been able to help with some #quiltingtipsandhints.
Feel sure you will have some to share with me too. Look forward to hearing from you all.