AND SEW ON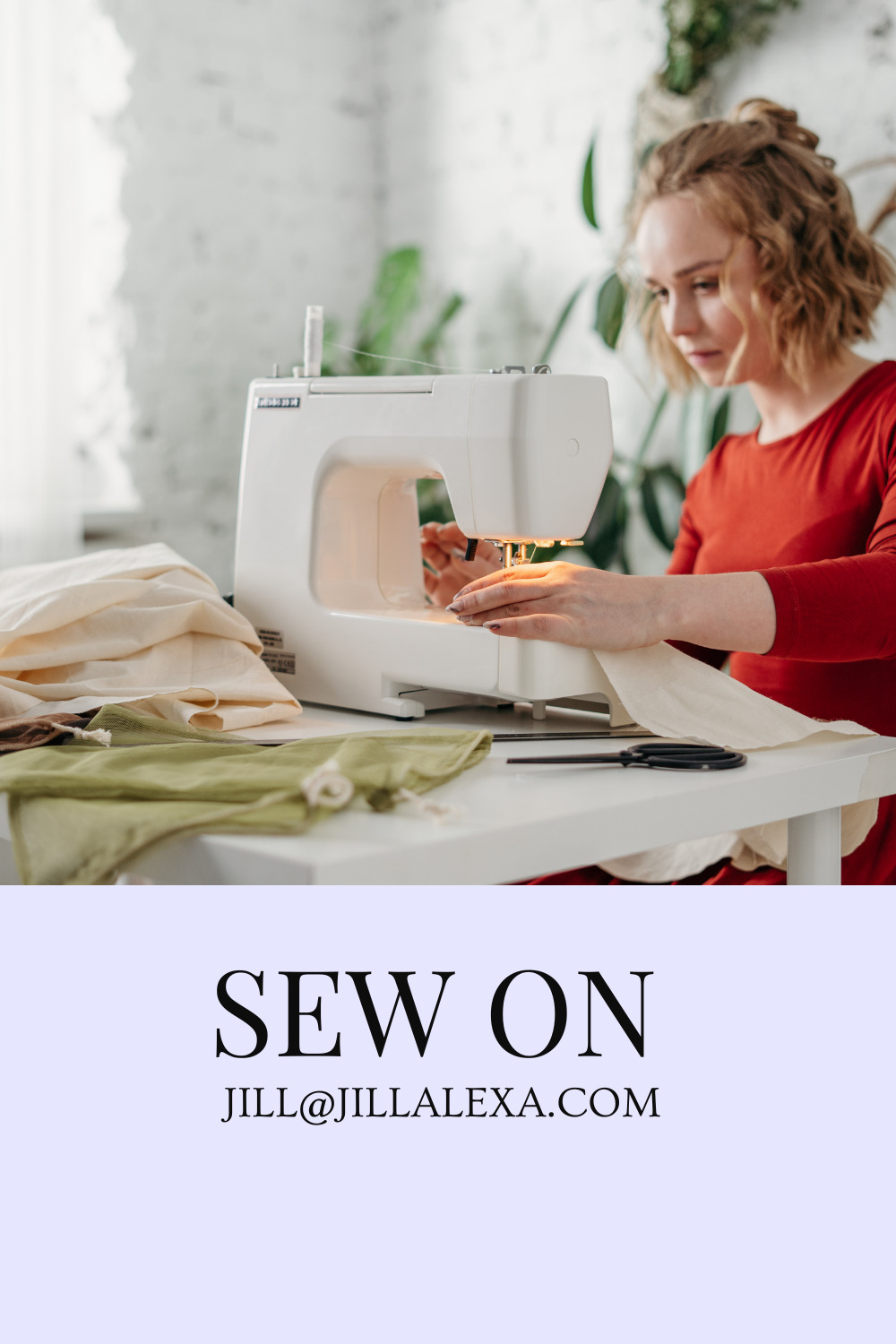 There is nothing like having a long summer holiday in the offing and a stash of fabric just waiting for you to get sewing, #andsewon, and on, and on.
The thrill of finding exactly the right piece on hand, and with the pattern on hand to get cracking. Time goes so quickly when one is having fun.
That is what sewing is for me. Fun. In fact, I find it hard to drag myself away from the machine, once I get going.
No more suits to sew, as in retirement one doesn't need them. Just great colorful summer fabric calling to be made into shorts, tops, and the like.
SEW ON IS MY MOTTO EVEN WHEN VISITING RIEBEEK KASTEEL
Many people reading this will not have heard of the lovely country town, Riebeek Kasteel. Besides, its amazing wine, olives, and really artsy cultural offerings, it also has the loveliest galleries to browse.
While I was staying for a long weekend with my sister-in-law, Hazel, we went into one which also sells, you guessed it, fabric.
The owner of the Gallery is also a dressmaker of note and was busy making prom dresses, and a range of holiday wear.
Well, despite all the stash waiting for me at home, I came away with two beautiful pieces of fabric,  and have made them up into tops for the holiday. Besides the colors, which drew me in, catching my attention immediately, it is the fabric itself that is perfect to SEW ON as it doesn't require any ironing.
Ironing is not what one wants to be doing on holiday, I am sure you feel the same way. Especially as we will be in a caravan for a month.
It will be heaven as the caravan park is right near the beach. Pure bliss.
WHEN THE STASH COMES IN HANDY,  SEW ON
After sorting through my stash I came across pieces to use for shorts. It really bugs me to have to buy shorts, especially when the pull-on ones are so quick and easy to make.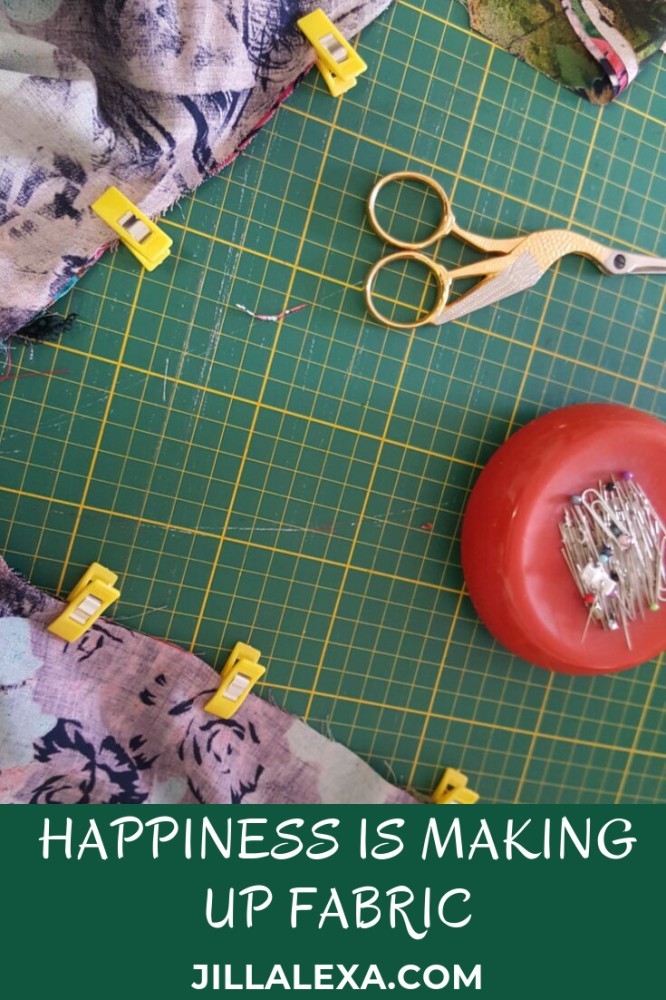 These are ideal for beachwear, and if you are lucky enough you can get away without ironing them either.
A while ago I went through my entire stash of fabric, which took quite a while, If you are a quilter you will understand completely how quickly a stash can grow. There is something that happens to a quilter when she/he finds the "perfect" piece of fabric, and cannot possibly leave the shop without it.
This happened to me quite often, as, at one stage, I worked in one of these wonderful emporiums of pleasure.
I quilted for a lady who owned the most beautiful quilting shop, which sold the most glorious range of fabrics.
Who could resist? I ask you with tears in my eyes. Certainly not me.
It was such a pleasure going into Dot's Quilts as it was laid out so perfectly.
The shop had inter-leading rooms, elegant chandeliers, quilts on display, all the notions necessary for a quilter on display, books, magazines, threads, gloves, rulers, etc. In fact a complete treasure trove.
One could spend hours in there and not become bored.
Dorothy and her staff were knowledgeable, helpful, and friendly. There was always tea and coffee on offer.
Her customers felt very special and came back over and over again. Not only to buy fabric or notions, or have quilts made up but to learn from someone who really cared about what they were doing. She showed a true interest in what they were making and would offer advice when it was required.
What glory days those were. Sadly the shop is no longer there.
WHITTLING AWAY AT THE FABRIC, OR SHOULD I SEW ON?
After much deliberation, soul-searching thought, and work, I sorted through my fabric. At one stage considered selling off some of the pieces but then changed my mind.
It was all carefully put back into the cupboard where it stayed for almost a year before I was brave enough to face it again. What to do with it all?
When a dear friend showed an interest in sewing for her granddaughter and daughters, I gave her what she wanted, then gave some to my daughter-in-law until I now have what I will be able to make up.
It seemed such a pity for these pieces to live in a cupboard and not see the light of day. I had already had the immense pleasure of finding them, purchasing them, and loving them, so why not give someone else pleasure?
The relief of finding good homes for it was overwhelming. I wanted someone who really wanted and loved to sew to have it. Not to wait until I die for my poor children to have to get rid of it.
Now it is up to me to make up the half-made garments which were also lurking in the cupboard. I am sure you all have some of those. It can't just be a problem I have.
THE NOTION OF NOTIONS
Don't you just love going into a fabric shop and looking through all the sewing notions on display? There are more and more new things coming out.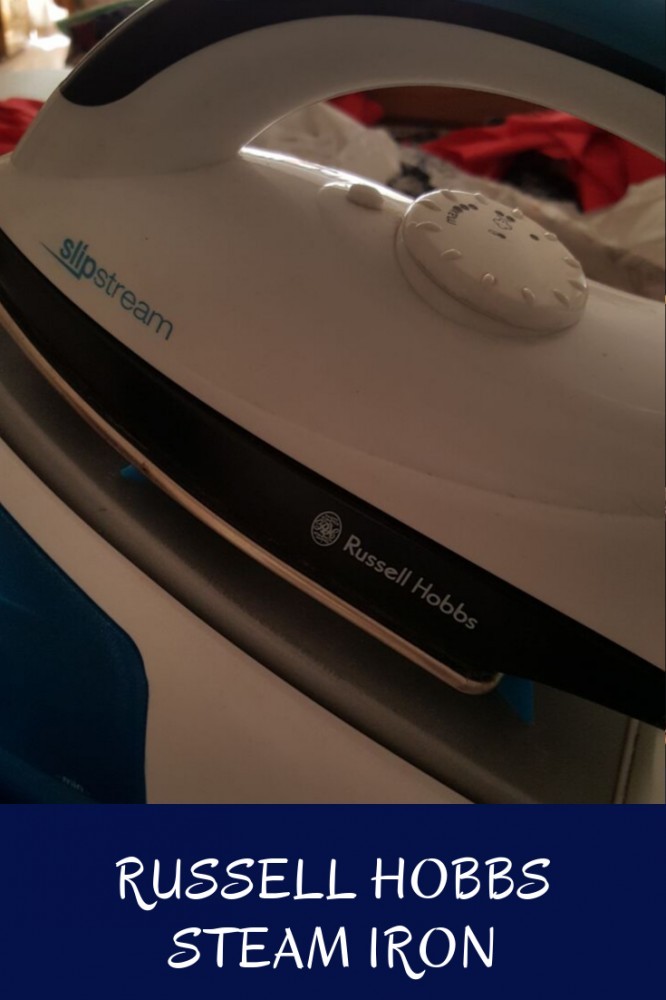 These are some of the things I just cannot do without in my own sewing room.
First and foremost my wonderful, reliable sewing machines. Yes, I did say machines. I sew on my Bernina. Embroider using the Brother, and cannot possibly live without my trusty BabyLock serger (overlocker). These machines are well over 30 years old and have served me well.
The only thing I would change, if I were able, was to get a new Baby Lock overlocker which has the ability to thread itself. My eyesight is not what it should be.
Sharp scissors, many pairs, (not to be touched by anyone else in the family). All have various uses. Curved for snipping thread while doing embroidery etc.
Umpteen pin holders, magnetic and cushions, scattered in handy spots.
The amazing clips you can see in the picture above, hold the fabric together if the pins don't stay in properly. They are really time saversIt does depend on the fabric. I found these marvels at a closing-down sale, and they only had one pack. Need to scout around for more. Very handy. I don't know how I worked all these years without them.
Quilting gloves for free motion quilting. A must.
The wonderful Russell Hobbs steam iron. What amazes me is that the temperature is so even and in all the time using it, I have not scorched anything. Love it. Especially when I was making wedding gowns it was indispensable.
There are obviously many more, but for the life of me, I cannot think of them right now.
NOW IT IS YOUR TURN
I would love to hear about the things you find indispensable in your sewing room.
What are your favorite things to use in your sewing room?
If you were able to purchase any machine you wanted, which would it be, and why?