What a joy it was for me to meet and become friends with Diane Opperman who, you will see, makes really beautiful #fidgetquiltpatterns.
Diane's late parents, Mr. and Mrs. Todd, were valued members of the Presbyterian church where my husband was minister for 30 years.
We obviously had met each other over the years when Diane visited her parents.
Diane lived away from Cape Town, it was really during the time she came down to look after her mother, and as my husband has Lewy Body Disease and is also in a Frail Care Centre, that we got to know one another better.
We both attended a Parkinson's Support Group at Helen Keller where Mrs. Todd was being cared for.
When Diane showed me the lovely Fiddle (Fidget) Quilt she made I was so impressed with her imagination and skill, and I asked her if she would be willing to write a guest post for me.
This she has kindly done, and here it is.
DIANE'S LOVE FOR HANDWORK
I have always enjoyed handwork.
In 2014 my mother suffered a stroke, and as an only child, I was obliged to leave my family in Pretoria to look after my mother's affairs in Cape Town.
In 2004 my father suffered a stroke and my mother was very worried that if she suffered the same fate there would be no-one to take care of her.
I promised her that if such a fate befell her we would deal with the issue. Little did we suspect that she would indeed suffer a debilitating stroke on 1 June 2014 and I would be compelled to honor my promise.
My Mom was placed in the Helen Keller Society in the Care Centre after she recuperated from the worst of the stroke. Thus began my learning.
HONORING MY PLEDGE TO MY MOTHER
I visited Mom twice daily and started learning about the different people in the Frail Care Centre.
There are some who are partially sighted, some who are totally blind, some who are deaf, some who have a form of Dementia, which could be; Alzheimer's, Lewy Body Dementia, Vascular Dementia, Parkinson's Disease or just plain "old age".
All types of people, each with a different need, accommodated in one place.
As I looked around, I saw agitated people who through no fault of their own, needed something to occupy busy hands. Some people had very cold hands and a need to fiddle.
PINTEREST TO THE RESCUE
With this idea in mind, I started surfing the internet and ended up on Pinterest which is a fountain of unrestrained and limitless ideas.
Lap Quilt
My first project was a lap quilt, filled with bits and bob's to keep fidgety hands busy.
Bright, cheerful, a variety of textures and buttons, press-studs, hooks, and eyes, etc., all securely fastened, because some Alzheimer's patients have a very sturdy grip and are quite strong.
They can tie very tight knots in things if the mood takes them.
This item was a success and I could see the potential in using this type of quilt in other environments outside of the Frail Care Centre.
The Fiddle Quilt
Later I was asked to make one for an Occupational Therapist with special requirements for the children she was working with.
As I continued making these quilts, a former colleague asked me to make some for her preschool class.
These were needed to help with assessing the children regarding their ability to undo buttons, buckles counting, etc., as part of assessing school readiness in preschool children.
Starting with the Fiddle Quilt is where the project started and it progressed into another version, the cushion.
This also has things on it to fiddle with, then yet a further permutation is a double-sided fiddle cushion for preschoolers.

The Fiddle Cushion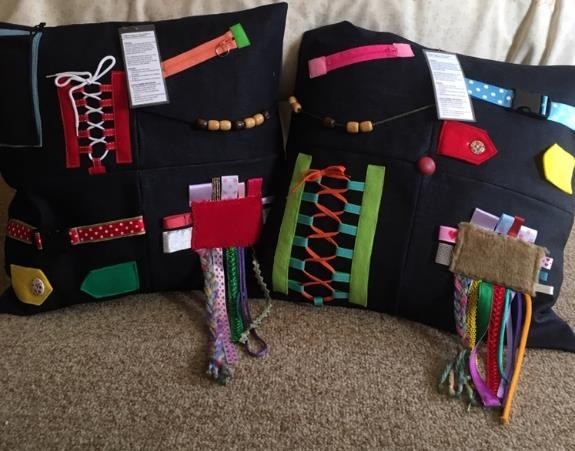 Activity Quilt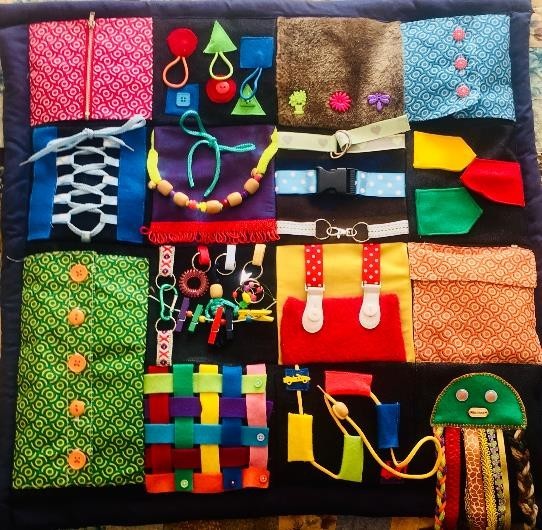 Becoming involved with different patients and the nursing staff at Helen Keller and also with the Parkinson's Support Group, I also became aware that mentally challenged adults in facilities for the handicapped also need such activities to keep them busy, and so I provided them with a quilt to keep their hands busy.
All in all, this has been a wonderful way to discover what keeps fidgety hands busy and I am always on the lookout for things that I can recycle and reuse on my quilts.
A lot of the handwork was done whilst visiting my Mom.
Hand sewing of buttons, press-studs and hooks and eyes goes much faster if you have company.
She enjoyed seeing what I was busy creating.
Fiddle Muffs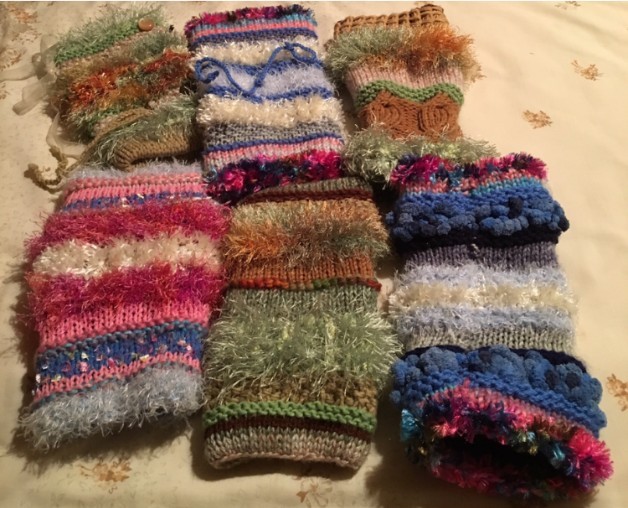 Sewing needs a machine much of the time, which I didn't have access to while sitting with Mom, so knitting was another craft to keep my hands occupied.
I started knitting "muffs" with different textures of wool to keep fidgety hands busy, with buttons and ribbons, etc., both inside and outside of the muff.
Many ideas were gleaned off Pinterest as knitting is a popular activity in the UK for elderly patients.
The blind folk enjoys these muffs, and many of these knitted winter warmers make their way back to resident's rooms, where they are hidden away to be admired or reused for selfish purposes.
The old people thoroughly enjoy this simple item.
Muffs are easier to pull onto older hands as they don't have to get it over stiff, arthritic fingers.
WHAT A PRIVILEGE
Over the four and a half years that I was involved with the Care Centre, it was such a privilege to be able to learn from the elderly.
I was even challenged by one lady to add crocheting to my skill set, while watched her crocheting blankets.
Having never managed to master the art of crocheting despite my Mom's best efforts to teach me.
A kind lady after she decided her hands were not cooperating anymore and she decided to give up her beloved hobby.
Being presented with her crochet hooks, and wool, I felt obliged to carry on her craft.
I turned to the Internet and YouTube for training. I first crocheted the "Demelza" blanket by watching the YouTube video instructions and after stopping and starting the videos many times, I finally taught myself to crochet.
After taking up this challenge I decided to complete another blanket, the Ross Poldark blanket.
Both blankets were apparently used in the TV series Demelza and Poldark. I completed the blankets and even I ask myself how I managed this feat.
When having finished the two blankets I decided to try crocheting with thinner cotton/ bamboo thread instead of wool.
I saw a Fantasy Blanket in my local wool shop and decided I really needed to make it because I was keen on trying to make crochet flowers.
This was a different experience to crocheting with wool but I thoroughly enjoyed the experience.
Keeping my hands occupied is important as I cannot sit still for long periods without a project even if it is just knitting teddies for charity.
Creativity is a blessing and a gift that should never be ignored because it gives such meaning to life, yours and to the people around you.
MY GRATITUDE
I am so grateful to Diane for writing this inspiring post with the beautiful photographs of her work. These lovely items so well made to help those less fortunate.
If people are not inspired to try their hand at either using the skill they have or be tempted to learn a new skill, after reading this post. I will be surprised.