SIX FINANCIAL STRATEGIES TO HELP GET YOU GET BACK ON TRACK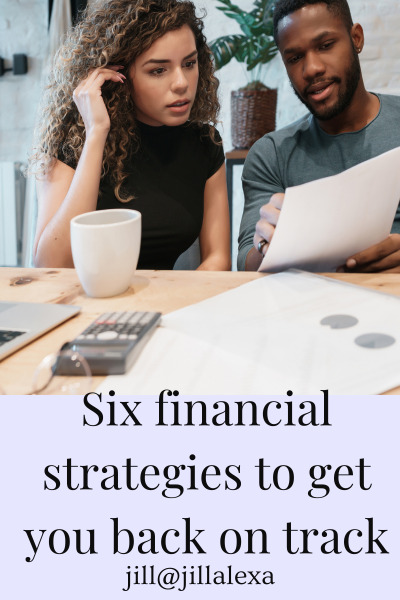 When it comes to financial woes, there is plenty of information and advice on the internet. Some may be helpful while others are somewhat unrealistic.
Truthfully, there are some adjustments you can make in your daily life that can prove to be useful in terms of your household or business finances, without necessarily having to sacrifice all the things that you find enjoyable.
It does, however, require some level of self-control, and of course, planning to get your finances back on track.
Have a look at these Six financial strategies to get you back on track without giving up too much.
1. – DETERMINE ONE BENEFICIAL GOAL THAT MAKES SAVING WORTH THE EFFORT OF MASTERING THE FINANCIAL STRATEGIES
It can be tricky to follow new financial strategies and begin spending less and start saving if you don't have a goal that you're working towards that can motivate you to keep going and prevent you from impulse buying.
It could be something like saving for a family vacation to a destination that you've always dreamt about, a new vehicle, or a home renovation project.  Or maybe you're ready to start a business, and you need funds to buy stock from KeySource Acquisition or to put toward your marketing, your website, or anything else you might need.
You can also combine these goals, or you can work towards a goal that is not directly linked to cash.
For example, spending less cash on soda or unhealthy foods to lose weight for going on that vacation you're saving towards.
2 – YOUR MAIN PRIORITY MUST BE PAYING OFF YOUR DEBT, BUT CREATE A SOLID FINANCIAL STRATEGY
Once you've managed to follow these financial strategies to free yourself from the burden of a debt mountain, you can really take charge of your personal finances efficiently.
It may seem like a strenuous and long journey, however, once you get started, you'll be surprised at how quickly it starts happening once you've gained momentum.
3 – CREATE A SOLID FINANCIAL STRATEGY FOR PAYING OFF THE DEBT FASTER AND STICK TO IT, NO MATTER WHAT.
When following safe financial strategies you don't have to deprive yourself of all luxuries but be wise about your spending and don't splurge money on things that you can't really afford.
Rather get out of debt quicker by negotiating with creditors or if your debt is out of control consider opting for a debt repayment offering with a monthly payment and low interest rates.
There are plenty of good financial strategies you can follow when it comes to doing things yourself. There are many projects in and around your home and by fixing, improving, or renovating yourself and subsequently saving tons of cash on things like new furniture, repair bills, cleaning products, decorations, etc.
Repurpose a worn-out piece of furniture and give it a makeover with some glue, paint, and sandpaper.
Most home renovation projects are cost-effective and easy to accomplish.
Being creative and focusing on something other than your finances, can help you improve your spending habits and at the same time avoid the shops altogether.
5 – PLANNING IN ADVANCE FOR SHOPPING TRIPS AND BUYING SMARTLY
Planning ahead and stocking up on food and essentials once a week or month can help you save money by taking advantage of bulk deals, it can save you money for gas.
Many online retailers offer exclusive online specials and coupons that could stretch your budget even further.
6 – COOKING YOUR OWN MEALS INSTEAD OF ORDERING IN
It is much cheaper to prepare your own meals than ordering fast food, plus it is much healthier and tastier.
You can also cook in bulk and store them in the fridge in plastic containers which will free up some time that you can allocate towards your DIY projects and you'll also save on your electricity bill
CONCLUSION
Curbing on your spending and actively taking control of your finances by following these financial strategies necessitate long-term lifestyle adjustments, but it can benefit you immensely.
With the right motivation, a solid strategy, and perseverance, you can start paying off debts, saving for something worthwhile, and becoming financially independent.
It is just a matter of getting accustomed to a new way of thinking and making better and smarter financial decisions.