LANDSCAPE DESIGN IDEAS
The glory of color combinations in nature is so helpful to any landscape gardener.
When you have the opportunity to see anything of beauty it is wise to take photographs as this can be recreated in your own garden.
As a landscape gardener, I took many #landscapedesignideasphotos which helped immensely when working either in my own garden or working for a client.
This does not only apply to landscaping however, taking photos of things that spike an interest can evolve into color changes in your home decor, finding which colors suit you best.
There are so many ideas a good photograph can engender if you are creative.
LANDSCAPE ARTIST WITH DIFFERENT LANDSCAPE DESIGN IDEAS AND CHALLENGES
My sister-in-law, Hazel, lives in a small town called Riebeek Kasteel. Which, is in the Cape Winelands.
It is a glorious little town, much visited by people from the surrounding cities and overseas visitors.
They often host special events, Art Exhibitions, Wine and Olive Festivals, and so on.
Such a fun and festive place. Very hot in summer and very cold in winter.
This makes LANDSCAPE DESIGN IDEAS and gardening here a bit of a challenge. However, they have very fertile soil which makes up for the extreme temperatures.
Living in a Retirement Complex has its challenges and one of these in the garden.
When the people initially moved into the Retirement Complex they were mostly of an age where they could make their own gardens and care for them.
However, as time went on, they discovered that looking after their gardens became more and more difficult.
Here are some of the ways they overcame the difficulties they were facing.
As there was a severe drought and water in that area was scarce anyway, they sank a borehole.
They installed water tanks and drip irrigation.
A watering schedule was drawn up. On certain days of the week, some would draw water for their gardens, and then others on a different day. This ensured that there was no squabbling over water. (As can happen, not only with the elderly.)
One of the best things they did was to ask one of the newest residents, Chris, who is highly skilled in gardening to take over the re-organization of the gardens.
He has removed many of the plants that were not water-wise and planted beautiful indigenous plants suitable for that area.
This ensures that the plants are water-wise as well.
GATHERING LANDSCAPE DESIGN IDEAS WHEN VISITING RIEBEEK KASTEEL
What a pleasure it is visiting Riebeek Kasteel, not only because of the amazing wine farms in the area, and the tasting of the wine, but also to witness the work being done in the gardens.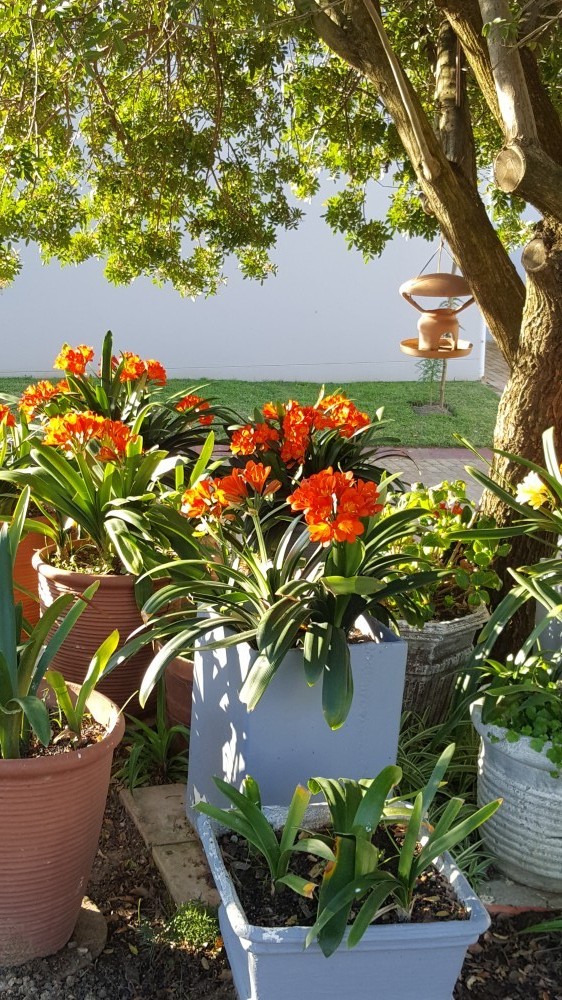 So many of the original pieces from the various gardens have been retained.
I know that the fabulous rocks were originally in Hazel's garden. She and her late husband had found them on the farm and brought them to Dei Gloria.
It would also have been foolish to throw out some of the plant pots. Any really unsightly ones were disposed of, and others repainted to give them a new life.
The changes have been dramatic. It has been so inspiring to watch the men at work and see the results of their hard labor.
ARE THINKING OF CHANGING YOUR LANDSCAPE DESIGN IDEAS?
There is something so cathartic about working in the garden. It gives one time to think even while you are working hard.
A great idea is to take a walk around, perhaps visit open gardens to get some great ideas. Take many photographs as when you get home these will remind you of what inspired you along the way.
In the Cape, we have open garden events happening in many areas. In the city and also, to my great delight, out in the country as well.
What a treat it is to visit these beautiful gardens.
Meet so many other enthusiastic gardeners along the way and then sit down surrounded by the beauty, to great meals on offer at many of the open garden venues.
One can sit and mull over the LANDSCAPE DESIGN IDEAS that the visit has inspired. Write a few notes. Buy plants and dream of just how glorious they will be in your own garden.
One can sit and chat about the gardens one has visited, and which still to visit and plan a wonderful day of relaxation and inspiration.
When last did you have the opportunity to do something like this? Having "open gardens" events is surely something that is done worldwide.
A day out that will surely inspire amazing LANDSCAPE DESIGN IDEAS.
It would be great to be able to read about your experiences and what value you have gained from "garden shopping", as opposed to "window shopping". Taking the time to suss out what others are doing in their gardens to make beautiful changes.
If you haven't done so, or even not done so for a while, I hope this post will inspire you to take time off to have some fun.
Perhaps you would like to share other gardening ideas that would help to make this world a happier and more beautiful place in which to live.