#alliwantislovingyouandfabricfabricfabric was what my bucket list consisted of for so long. (Yes, I know it should be music, music, music, and I love that too).
Being mad about sewing it was a dream of mine to own a fabric store but I did not want to work in it, only to go in and stroke the fabric.
Feel the lovely textures as they ran through my hands, from silk to velvet, what could feel lovelier.
Have you made a bucket list of all the things you want to achieve during your lifetime or even through the next year? If you haven't it is great fun to do.
Many of you will have done that sometime in your life or will do in the future.
It makes you really think about your future and what is important to you.
For me, it is really about family, friends, and fabric. Not only the fabric to sew with but the very fabric of my being, and also what makes me happy.
HAVING FUN WITH FUN FABRIC
When going through my stash, come on girls, be honest, you have one, don't you?
All you quilters, you know who I am talking to.  You know those gorgeous pieces of fabric you could just not do without.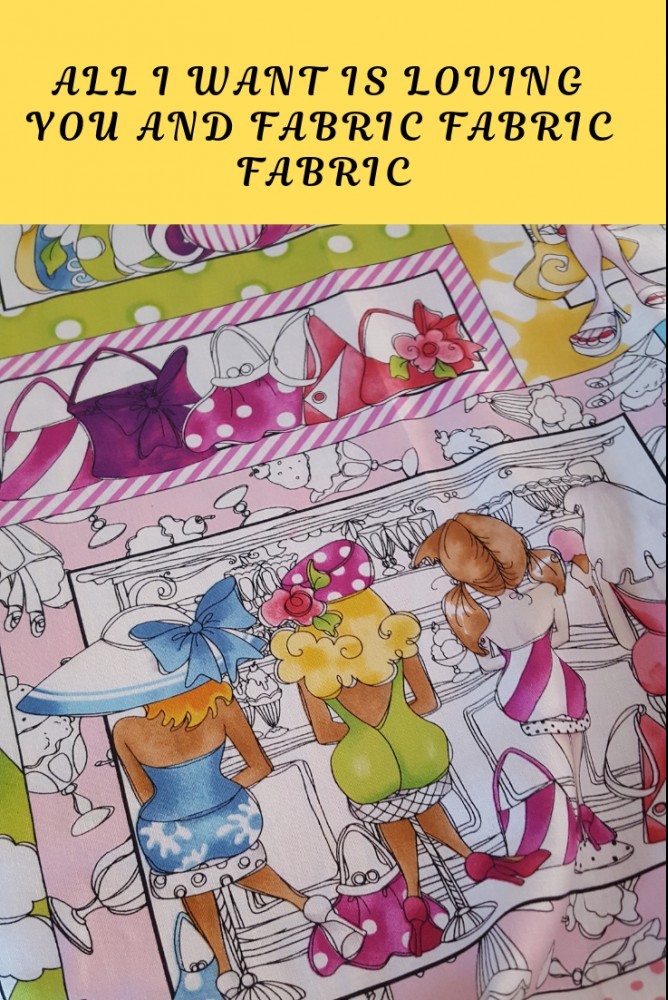 My stash was so large and I realized that I could not possibly in this lifetime or the next, be able to make it all up.
I packed it neatly into piles and gave a lot away and then looked at what I had left.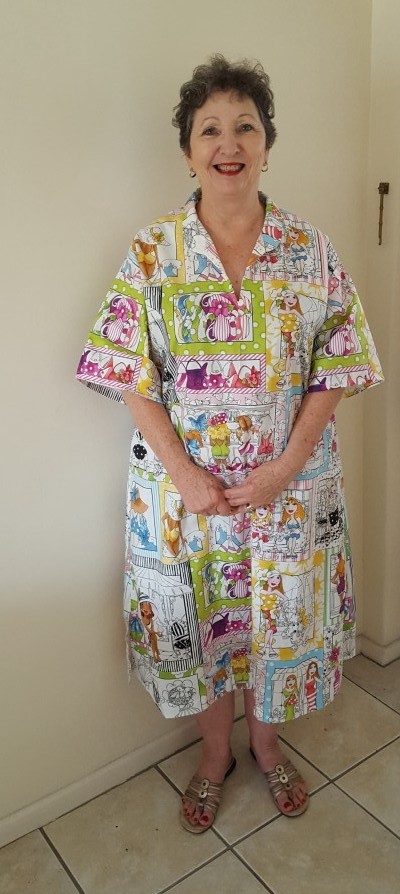 Among the pieces was the one I made up into a Caftan this weekend.
Of course, it had to be done between the rolling black-outs we are experiencing now that our electricity supply to the entire country has gone to " Hell in a basket".
I won't dwell on that, but tell you what fun I had making the Caftan which I will wear over my bathing costume to hide any lumps or bumps I don't want to show, or just to loll around in while enjoying a glass of wine with my beloved sister-in-law, Margie.
The fabric I chose is delightful as it is so colorful and is frivolous, fun and flirty, featuring lovely ladies with generous bottoms enjoying the good things of life.
This is the first time in years that I have made or worn a Caftan and I must say when I first put it on, I thought it was rather large and thought of taking it in.
In retrospect, and with my holiday coming up, I thought better of that idea and it will take the pressure off me when I reach for something delicious to eat or another glass of the good Cape wine.
This is definitely a pattern that I will be making up again. It is so easy and cool to wear in the summer months.
Durban is very muggy at this time of the year so will get the full benefit of my latest sewing project.
SHOCKING THE RESIDENTS OF THE RETIREMENT VILLAGE
Am planning to wear this Caftan when next we have a fire-drill here at the Retirement Village, I reside in.
It will probably cause a stir but will lighten the time we stand around outside waiting for the drill to be over.
WHAT DO YOU THINK OF IN THE EARLY HOURS, WHEN SLEEP ELUDES YOU?
There is no use worrying about the bills as it doesn't help. I have tried that.
Here are some of the things I think about that make not sleeping worthwhile for me:
Making changes in my garden, making a rockery – finding the rocks – what plants etc. Believe me when I say it is much easier thinking and dreaming up ideas when lying in bed than when waking up and putting this into practice.
Ways and means of changing the furniture around in my smallish flat.
Should I try out painting with acrylics or just stick to watercolors?
Now that I don't have a carpet to pin a quilt to, how should I do it? Think will stick the backing to the floor and work with quilting pins to put it all together. Have one I need to do.
What exciting things to learn about while on holiday.
All the wonderful, loving friends and family I will be seeing while on my holiday to Kwa-Zulu Natal.
Now, to my mind, these are much more interesting and productive than worrying about the bills. I can't wait to blog about all the wonderful things I will be doing and seeing and learning about.
When I get back from the holiday I shall be excited to share some of these with you, which will make it a lot easier to settle down again.
WHO HAS TIME TO BE LONELY OR BORED?
Recently I read about someone so lonely and that he has felt that way his entire life. How sad.
It made me feel that he is missing out on so many wonderful things. I don't mean sewing, knitting, gardening etc. but the simple joy of making someone else happy.
When someone doesn't have a hobby or something they are passionate about, or even if they feel they do, but then don't do anything with it, what a waste. All that talent gong down the drain.
Just by visiting someone and cracking a joke or two would make all the difference in both lives. A jolly good belly laugh does wonders for the soul.
HAVE A GOOD LAUGH, HAVE SOME FUN, GO ON – I DARE YOU
It doesn't have to take much to be happy. Don't take life so seriously, it really can be fun and it doesn't have to cost a great deal. All you need is to live in the moment.
When I was visiting my dear friend Ronwyn, in Port Alfred, we laughed so much our stomachs hurt. Neither of us can remember what was so funny but never-the-less, we had fun.
So for me, it doesn't take much to make me happy. #alliwantislovingyouandfabricfabricfabric.
WHEN SLEEP ELUDES YOU – DON'T WORRY – MAKE PLANS
Only you will know what will make you feel fulfilled and happy.  It is not for me to do that for you.
Make plans that thrill and excite you so much that you can't wait to hear the early morning bird calls for you to get up, have your cup of coffee and get on with the day.
Wishing you, fun, laughter, and happiness and perhaps, who knows,  time with your sewing machine and stash.