All Sew Crafty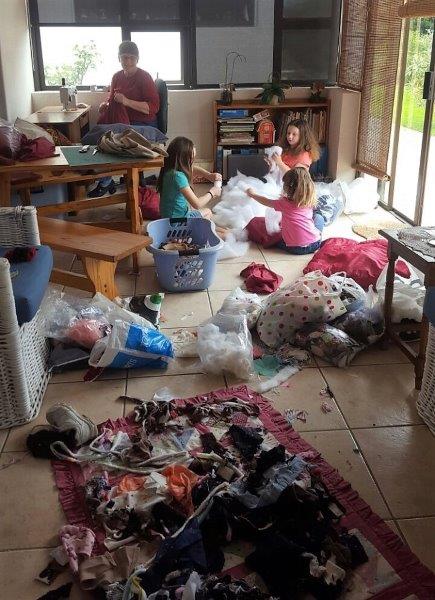 Today, I take great pleasure in introducing, to you, my second "Star of the Sew".  HAZELMAY DUNCAN. This is a must-read for all you sewers and crafters out there. It was a great thrill when she agreed for me to interview her, not only once but twice.
The first time I met with Hazelmay I was so overawed by her talent and skill and when I returned to my office, a table in my lounge but don't tell anyone), I realized that there was a world of knowledge and experience she has, that I hadn't had time to touch on.
Fortunately, Hazelmay kindly granted me another interview and back I went the following week.  (It wasn't for the cake, really it wasn't… although she is a star baker too.)  I felt that if I only put down what I had gleaned from the first interview, it would not be doing this lovely, generous and highly skilled "Star" the admiration due her.
You, dear readers, would only have learned a little about her. I do hope that what I write, will do her justice. I will be able to give you the full picture
Hazelmay's earliest memories of sewing are sitting watching her mother and grandmother sew and being taught by them.
She was an only daughter and not being sporty, spend a lot of time, not idly mind, with her mother. Her mother was a marvellous seamstress and obviously, Hazelmay inherited her gift and love of sewing from her. She would spend time doing hand-embroidery or making doll's clothes. She recalls these as treasured memories.
Her mother sewed for her until Hazelmay was well into her 50's. She made her wedding gown when she married Alan, 50 years ago in October.
Has anyone seen Lilli?
When Hazelmay turned 10 she bought a Bild Lilli doll with her birthday money. She had seen the dolls displayed in the window of Greenacres. which was a large departmental store in West Street in Durban, South Africa.  She cost all of 72 shillings and 6 pence. (£ 3.12s.6d)
The Lilli doll has quite a history of its own. It started as an adult comic strip in a German newspaper (Bild).  Then became a bar ornament and then next, it was made into a doll. That was at least 60 years ago, so she precedes Barbie (Lilli came out in 1955, Barbie in 1959).
Am not sure if anyone else out there has a Lilli doll or ever had one but I do know that Hazelmay's best friend since Standard 7 (Grade 9) has hers, still in the box. I guess it was taken out and played with but always put back in the box for safe keeping.
It was lovely to see Lilli with all the clothes Hazelmay had lovingly made for her, by hand. Hats and all. She also still has the original clothes the doll came in.
What about Rosie suck-a-thumb?
Have you seen her? Well, I did and although she does have clothes they have been tucked away in the toy chest.  We could find only the panties after Hazelmay's little grand-daughter had been playing with her.
To me, it is amazing that she still has these treasures of childhood. How many of you still have any childhood treasures?
A "Star of the "Sew" emerges
Hazelmay's mother decided that a new sewing machine was called for after all her years of sewing and she purchased a new Singer. She was informed by the saleslady that the machine came with free lessons. She felt she already had enough experience herself, but inquired if her daughter could use them.
So every Saturday morning for 6 weeks, Hazelmay would go for her sewing lessons. She was in Standard 6 (Grade 8).
At that time the Needlework Class Teacher at the School she attended couldn't keep up with helping all the children with their sewing.  So Hazelmay took on the task of helping some of the other girls. It was a wonderful experience for her.
At that time of her life, full skirts were fashionable and you can imagine how long it took to gather the skirts and put the hem up on those skirts. It wasn't only the skirts but the fully gathered net petticoats that went underneath them.
Great fun and games. The latter had to be trimmed with binding. The hems then were all done by hand, it was a huge task.  Hazelmay and her mother worked together making dresses, mother sewing the bodice and daughter hemming the skirt.
Choices to be made
When deciding on a choice of career it was not difficult for Hazelmay to make it Teaching. She studied at the Durban Teachers Training College and qualified as a Domestic Science Teacher in 1967. She taught at Montclair Junior School in Durban.
Hazelmay married Alan, her wonderfully supportive husband, in 1968.  After the birth of the first of three sons, she decided to become a stay at home Mom.
This was not the end of her teaching, however, as she taught all three of her sons to sew during their junior school years, two of the boys have made patchwork quilts. That is not the only sewing that the boys have done.
It is Andrew who has carried it on more than his brothers. While in Junior School, he decided to make a bit of money and he knitted square key rings and onto each, he embroidered the initial of the person purchasing it. He sold these for R1 each. What a bargain.
He still sews when necessary.  He has a son of 5 and knitted him a jersey which was a firm favourite of Zola's until he grew out of it.
When his parents moved from the Duncan family home into a Retirement Village, there was the question of what to do with Granny's old sewing machine. Andrew asked if he could have it. Now it is still in the family.
The sons are now all married men. Christopher and his wife live in Canada. Alan and Hazelmay are getting themselves all geared up for a holiday with them in July.
Andrew and Michael and their respective families live in Pinelands which is very handy for Hazemay and Alan having them close enough to see them and of course the precious grandchildren.
The boys are also very supportive of all that Hazelmay is involved in.
It is lovely to know that Michaels little girls can go to Granny and play dress-up with her dolls. Grace is 9 and Charlie (Charlotte) 4. Andrew's little boy, Zola (5) plays with his Thomas Tank Engine. Taken along with him to granny's house in the special Thomas Tank Engine bag that granny made to carry all the pieces.
What lucky grandchildren and what lucky grand-parents having them so close at hand.
Pine Needles
Hazelmay and Alan left Durban and settled in Pinelands, in Cape Town in 1981.
In 1982, Pine Needles was begun by Hazelmay as she was missing her friends in Durban and needed a way to meet new people.  It was a wonderful time to learn new ideas, have a good natter and grow as a community of multi-talented people.
This group met in one another's homes until it grew too big and they were finding that some had to sit on the floor. Not easy when quilting, especially when one gets a little older and stiffer.
They then moved into a room in the Pinelands Library for a number of years. At one stage they met in the Staff Room at Cannons Creek School and for a while utilized the Methodist Church Hall.
The Pine Needles ladies are still meeting regularly after all these years and are back at the Pinelands Library.
Good Hope Quilters Guild
It became apparent to Hazelmay and her friend, Sue Andrews, that there were other quilting groups meeting.  They would see notices of exhibitions, in shopping centres, on Church notice boards and in the newspapers.  These were usually seen once the event had taken place, which was such a shame.
The answer came to them that they should get together with the leaders of these various groups and see if they didn't want to come under one umbrella organization and form a Quilters Guild.
It was agreed upon and of course, it then fell on Hazelmay to run this. What a good thing this has turned out to be. Now when there is an exhibition everyone knows and they are very well supported.
The Guild meets once a quarter and has members all over the Western Cape.
The Good Hope Quilters Guild (GHQG) originally met in the Pinelands Methodist Church Hall.  This necessitated Hazelmay's sons going early in the morning and setting out all the chairs and at about 4 in the afternoon, packing them all up again. They did it with good hearts.
On one occasion, when Hazelmay was away for a few days on a Quilters Conference, the phone rang and when Michael answered it, he had a very anxious woman, asking for his Mother. When he tried to explain that she wasn't there, she became quite agitated.
Michael asked what the problem was and she said she needed some help with a quilt she was making, she didn't know what width to make the 'fires' and strips on her log cabin quilt.  He asked her to just wait a moment while he went to find out. He had a log cabin on his bed and he just measured the strips and he was able to help her. To this day, they don't know who the caller was.
Record Keeping
Hazelmay has made 201 quilts over the years, between 1978 and 2018. The information of all these beautiful quilts is all documented in three of four large lever arch files, which are themselves works of art being carefully covered in gorgeous quilting fabric or printed 'quilting' wrapping paper.
I have never seen such immense care taken with all the specifications of each quilt, pieces of the fabrics used, size of the quilt, batting used. When quilted and for whom. etc. They are truly a wonderful record and one to be proud of. Hazelmay made 6 of her school friends each a gorgeous quilt, all different, I might add, for their 60th birthdays. What a friend to have.
Relief Teaching
When you read all this amazing lady has done and is still doing, you won't be surprised to hear that she also did relief teaching at three different schools in Pinelands, eventually settling at Pinelands North (the Red School) for a number of years.
In 1997 she and a friend started Cannons Creek Independent School in Pinelands, Cape Town. She worked there for 12 years until her retirement in 2008.
She taught sewing and had a Sewing Club after school and some Saturdays for the pupils who were eager to learn sewing and other crafts. This was immensely popular.
If you have read our first Star of the Sew post featuring Ashley Rose-Innes, then you will know that Ashley was a pupil of Hazelmay's and also joined the group when she was being homeschooled by her Mom.
It would be so interesting to know just how many pupils recall these fun times of learning and am sure much laughter at the Sewing Club. Also, would be great to know how many have carried on with gratitude all they learned there.
Seeking ways to Give Back
Hazelmay has many people inspired to work in various ways to bring light and happiness to so many others. She has been a cancer survivor for 20 years and knows how others, in that boat, feel. They need to know that there are people out there who care about their well-being.  These are a few of the groups she works with.
Pink Knitting Project
This has been going for seven years. As with most of these things, they start out quite small but last year in October 60 ladies got together on one afternoon to knit pink squares. It is an act of awareness of so many who suffer breast cancer.
Each packet with pink wool is sold for R25.  There is enough to make the square, the specifications are there so they all end up the same.
The ladies have a wonderful afternoon get together, tea, cakes and chats. A fruitful afternoon for a very good cause. They gave R1000 donation to Reach for Recovery last year.
There are those who prefer to knit at home so they come and collect a packet or two and bring them back when done. It is an ongoing work of love.  The squares are sewn together by a few willing friends and are given to folk who are undergoing cancer treatment.  78 Blankets have been given out so far.
Naked Baby Project
This project is one run by the Tokai Lions and one of the ladies who is involved with the Lions, is also a member of the Quilters Guild.  She spoke about the project and the Guild decided to help by making receiving blankets and knitting beanies for newborns.
The items are given to Clinics on the Cape Flats where often a new mother will take her baby home wrapped in newspaper or paper towelling. This should not be happening in this day and age. Thanks to the Tokai Lions who saw the need and also for Hazelmay and her wonderful groups of ladies for coming to the rescue.   Pine  Needles has an annual workshop day to make blankets and jackets for the project.  Hazelmay has many people knitting baby beanies all year long.
S.P.C.A.
People donate fabric which is made into pillowcases and are then stuffed with all the scraps of fabric, batting etc, made into cushions and stitched closed. These cushions are given to the SPCA, Animal Shelters and the Animal Anti-Cruelty League. So many are needed for the animals especially as we are coming into our winter.

Habitat for Humanity
Andy, Hazelmay's second son, worked for Habitat for Humanity when he was in his early twenties. He came to speak at one of the Quilting Meetings about the work they were doing and one of the things he said, was that a house is not a home without a quilt and would they be prepared to make 20 quilts for the 20 houses being built. They loved the idea and made them for him in a very short time.
Fiddle Quilts
Hazelmay introduced the Pine Needles ladies to the idea of Fiddle/Fidget quilts.
These have been given to Old Aged Homes and children with autism and intellectual disabilities. They are used to provide different tactile inputs and a number have been made for nine centres on the Cape Flats.
They also make them for Adults with brain disorders as they often like to fiddle. I know because a kind friend gave me one for my husband, for which I am truly grateful and so are the other old people in Frail Care who have a turn to fiddle with it every now and then. They can't remember who it actually belongs to but what does it matter as long as someone is getting the joy of it.
They are made the size of a knee rug and have all sorts of different textures, plus buttons to fasten, zippers, pieces of fabric with velcro for them to open and close, rickrack, tapes of various colours and textures.  Well, the list of interesting things sewn onto these quilts goes on and on.
If you have a good imagination, then you too could make a fiddle quilt for a dear one.
When you read about all the needs that are being met I am sure you will be moved to find the needs in your own community and do something to help.
These are the items that Hazelmay cannot do without in her sewing room:
Sewing machine
Rotary cutter and mat

Quick unpick

Thimble

Good cotton thread

Music and audiobooks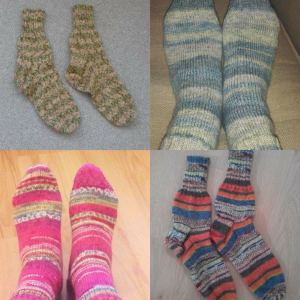 Hazelmay is a warm, lovely person who is always busy either teaching, sewing, knitting or doing hand embroidery. She is presently knitting fabulous socks. Am sure her Canadian family are going to be very thrilled about this new craft she has taken up.
Whatever Hazelmay turns her hands to is well thought out, beautifully crafted and benefits others. It was a real pleasure to write this about very talented Star of the Sew.  All Sew Crafty and Sew worthy to walk the red carpet.
Find Hazelmay Duncan
Founder Good Hope Quilters Guild