When you have become jaded with the life you are living at the moment, there is nothing like #escapingrealitytofindbeautyintravel to get you on a good footing again. You come back refreshed, having spent time exploring the greater world which could be just a hop and a step away.
My greater world was more than just a hop and step away but not too far and well worth the effort it took to get there. One thing I found very beneficial was to have a great traveling companion.
Having Marion traveling with me was a work of serendipity as when I first thought of going away, I had no idea that the very person I was going to stay with was related, my marriage, to Marion, who is a neighbor of mine.
The arrangement worked out perfectly for both of us and we had great fun and it is a wonder our jaws didn't seize up with all the talking we did along the way.
FORGING FRIENDSHIPS
My friends in Knysna were so accommodating and welcoming and got on with Marion like a house of fire.
The four of us had such fun exploring the area which Elodie knew so well.
There is something so special being shown around by someone who really knows and loves the Town in which she lives.
Of course, Knysna being on the Cape Garden Route is well-known as a great tourist destination but I am sure that with guides like Elodie and Hazel, we saw places we would never have seen had we just gone along on our own.
Naturally, no one can visit Knysna without going to the Waterfront. What an incredible view across the Lagoon and if you have the time it is well worth going over by Ferry to The Featherbed.
The shops at the Waterfront are so interesting and the merchandise beautifully displayed.
Most tempting but realizing we still had a lot of the holiday ahead of us, we refrained from going too crazy.
We really enjoyed being tourists and just browsing, certainly not breaking a sweat, just moseying gently along.
BRENTON ON SEA
Beautiful Brenton on Sea, where once Elodie and her late husband. Ronnie. had a home, was devastated by the dreadful fires endured by Knysna.
Elodie had not driven past what was once their home since the dreadful night they were all evacuated to the beach and had to watch as the night sky was lit up by the fires burning all around them.
Elodie and Ronnie s house was spared but the memories of that night, linger on.
She spoke with such emotion of the dreadful night of the fire in June 2017 when they all had to be evacuated to the Brenton Beach and watch as the houses exploded, one after the other.
No one knew whose home was exploding. They all stood around shivering on the beach in shock and disbelief.
It was a terrifying sight and one I fear she and many others will never forget.
Looking around even now, years later one can see burned-out shells of what were obviously once lovely homes. Some have been rebuilt but many have not, either due to not having had insurance or just losing heart.
It is none-the-less a very beautiful area and one well worth visiting.
TAKE A WALK
There is a lovely walk along the ridge of the mountain-side overlooking the sea which is well worth doing.
Not too arduous.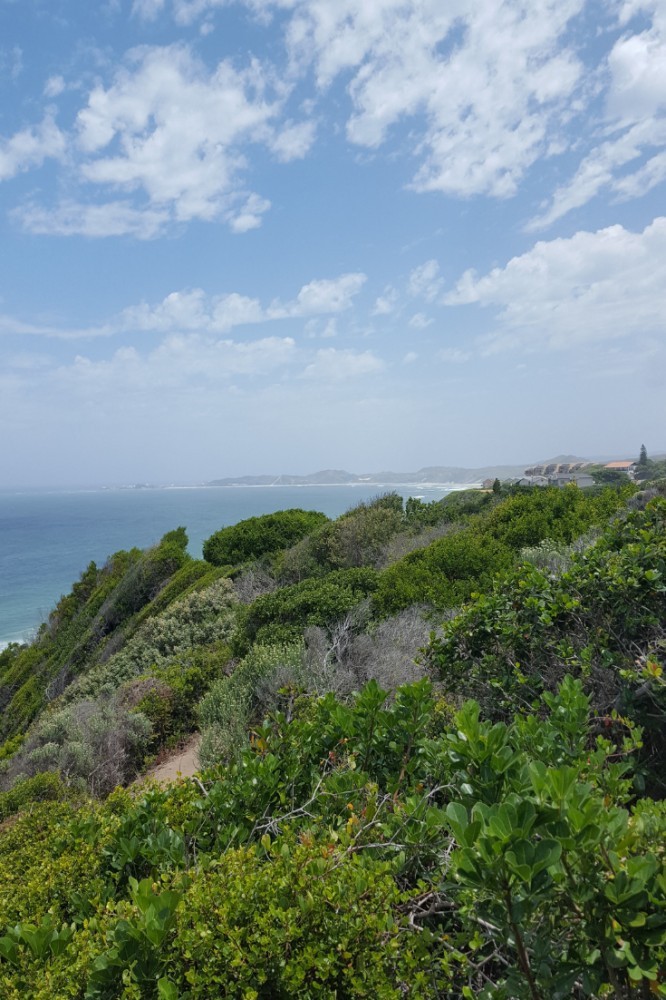 We took a delicious picnic along with us and sat and gazed out to sea on a really stunning day.
Then packed up, returned our baskets, etc. to the car and then walked along the path to the end.
Piquita, the chihuahua leading the way.
None of us felt the great need to walk on down the path to the water's edge but I know a lot of people do.
Those who have no fear of heights as I do, do this on a  regular basis to keep fit.
Great exercise if you do this at a greater pace than we did it.
DRIVE TO THE BRENTON ON SEA, BEACH
We drove to the beach, going past Elodies' home which has new tenants now.
This was very cathartic for her having her beloved sister and two friends to share this experience with.
What a glorious beach and a lovely hotel which seemed to be buzzing with trade.
Good to see all the activity as it means jobs for people who desperately need to get their lives back together again.
So many lost so much.
Over 1,000 homes were burnt to the ground in and around Knysna. Over 70 in Brenton-on-Sea alone.
Over 10,000 people in the Knysna area were forced to flee their homes and more than 600 families lost their homes.
Seven people lost their lives.
Over R4bn worth of damage occurred over the 3days that the fires raged.
It was thought that the fire was started by a lightning strike.
The fire damage was devastating to the entire environment as
natural forests, and pine forests, were burnt, people, animals. Birds and butterflies died in the area.
We tend to forget so easily and readily when things look as though they have returned to normal.
It is now for so many, a new normal.
BELVEDERE HOLY TRINITY ANGLICAN CHURCH

When one sees the devastation those fires caused in such a short time, it is with awe that we see how just by the shift and vagaries of the wind, which houses were spared.
Not only houses but also the lovely Belvedere Holy Trinity Anglican Church for which the foundation stone was laid in 1855.
To walk along the paths around that lovely building is so peaceful and it is to me, remarkable good fortune that this beautiful Church was spared.
Almost all the homes in the Belvedere Estate were spared although I do recall hearing that some did suffer a bit of smoke damage.
ON A LIGHTER NOTE
One cannot visit Knysna without enjoying eating out at some fantastic Restaurants.
As we were only in Knysna for two days on the way to Port Alfred and two days on the way back, there was not a great deal of time to eat out.
However, for those fortunate to be staying over in Knysna, do yourself a favor and try out these two Restaurants that I am about to tell you of.
The first one is at the Knysna Heads and it is well worth the visit. Not only for the food, which is amazing and mouth-watering but also for the view of the Heads.
To be able to walk down, along the very rocky and pebbly "beach" to watch the waves coming in through the opening of the Lagoon, is just fantastic.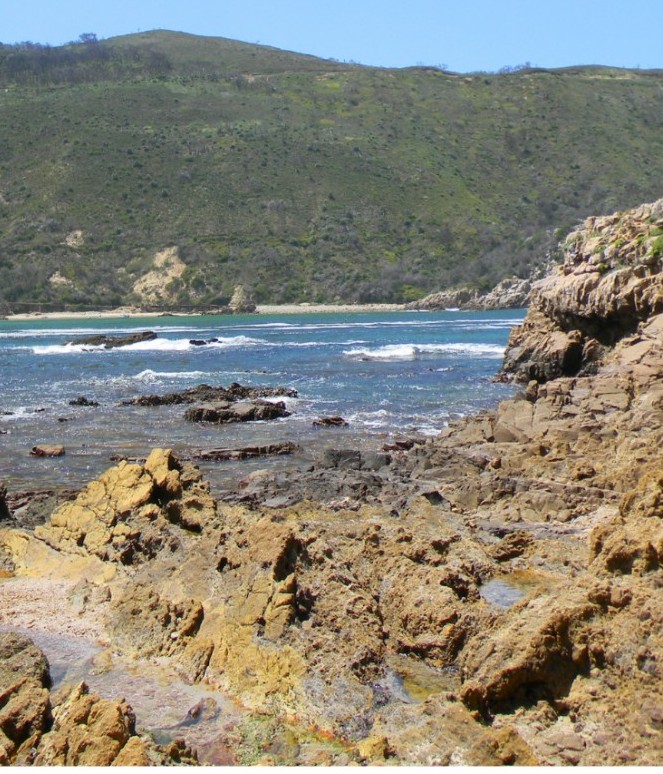 I would advise that you book in advance as there is a lovely outdoor area and on a lovely day would be perfect to sit outside.
We left it too late to book but were fortunate to find a table available inside.
Both get booked up very quickly due to the scenery and the quality of the food.
It is mainly a fish Restaurant and we all made the great choice of the fresh Hake and Chips and my word, none of us was sorry.
The other thing I would advise, especially if you choose to walk down to the beach which is worthwhile, wear comfy shoes, preferably trainers, as it is really rough going.
I found this to my cost as I had on a new pair of sandals and they were destroyed (also very poor quality, I must say). I had purchased them that day at a little shoe shop at the Waterfront.
Believe me when I say that "goedkoop is deurkoop".  This is an Afrikaans saying which means that if you buy something cheaply, you get rubbish, which will cost you more in the long-run.
AND AN EVEN LIGHTER NOTE 
Another Restaurant we visited and thoroughly enjoyed the ambiance and the food is situated closer to the Waterfront and you might need to ask directions.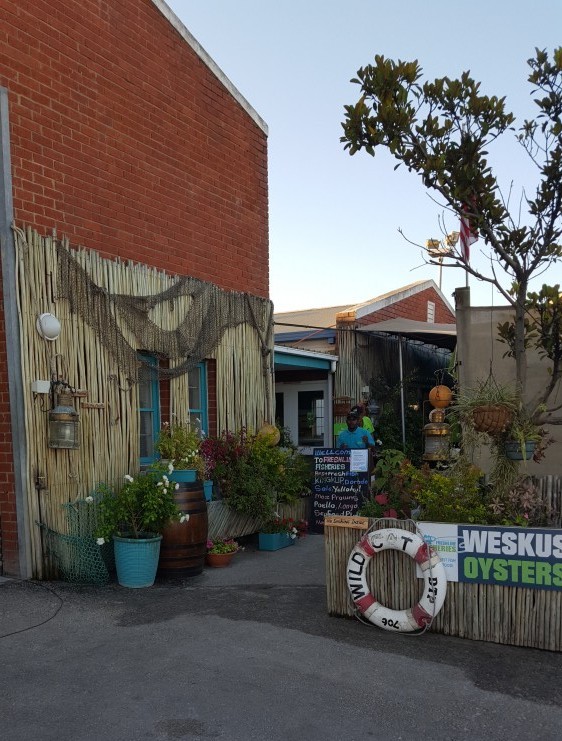 It is a much more casual Restaurant having sea sand underneath the tables. So you could kick off your shoes and just relax.
The surrounding garden is really something worth seeing.
Fortunately, we arrived on the early side as it became really busy after a short time.
The waiting at table, was excellent as was the seafood we ordered.
A very happy evening and an excellent venue for our last evening in Knysna before traveling on to Port Alfred.
WHY NOT COME OVER AND ENJOY THE  EXPERIENCE?
If you are considering a holiday in Cape Town, South Africa, and have never driven along the Garden Route, do yourself a favor and put it on your bucket list.
It is so good #escapingrealitytofindbeautyintravel and this could be a trip you will want to do again and again. There is so much to see and experience.
Go onto Google Knysna and the environment and you will see just how much there is to see and do.