You will be amazed when getting out on the open road what #excitingartandcraftideasfoundonroadtrip which can inspire either a new business or craft idea. When Marion and I set out on our road trip to Port Alfred, we decided that we would be stopping whenever an interesting place caught our attention.
The whole idea of this trip was that it would be stress-free and fun, and it sure was.
IT PAYS TO HAVE STRONG HELPFUL SONS
Marion and I packed most of the things into the boot the night before and then to take care of the stress of packing the car, we asked my dear son, Greg to come along and help with the heavy items.
My Brother embroidery machine, for example. No, don't laugh. I don't usually carry it along with me on a road trip, although I have done in the past
A dear friend Ronwyn, in Port Alfred, was requiring my help with her new Brother embroidery machine and so that is why mine went along. Only after I arrived and wanted to get busy with it did I find, to my dismay that I had unfortunately left my embroidery rewriteable cards at home. Bother!
On arrival in Port Alfred, Michael, Ronwyn's and his lovely wife Susan, were there to help with the unpacking of the car and also to take Marion to stay with them in Grahamstown. Marion is Susan's Aunt which I only discovered when chatting to some of the ladies in the garden one day. I mentioned how excited I was to be going to Port Alfred to visit my friend Ronwyn.
Marion was in the group and asked if I meant Ronwyn Webber and when I said yes, she and I were both surprised to find that there was this amazing connection. It was decided between ourselves and Susan that I would take Marion with me on the trip and gosh we had so much to talk about we didn't even need the stack of CD's I had taken along to listen to.
DASSIESFONTEIN TREASURES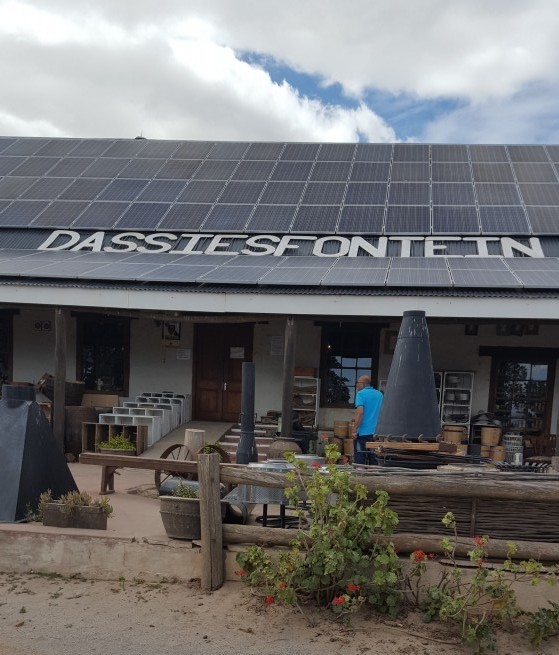 For all the unfortunate people who have not been on a road trip along the Cape Garden Route, they won't know about Dassiesfontein and all the wonderful Art and Craft Treasures to be found there.
Stopping at Dassiesfontein is a real treat. Not only for their food and good coffee but the whole ambiance is unforgettable. To get to Dassiesfontein one needs to go past Caledon and then it will be seen on the right-hand side of the road, up on a rise.
The view from the car park is stunning. One can see for kilometers across the wheat fields to the mountains. Quite breath-taking.
It takes quite a while to get into the actual building as there are so many interesting things to see on the large veranda before entering the first room. The building is made up of interleading rooms and each room has its own character.
For anyone starting up a home or wanting unusual things for their home or to take home to their friends and family or just to
remind them of  their visit, this is the place to visit
THE DINING AREA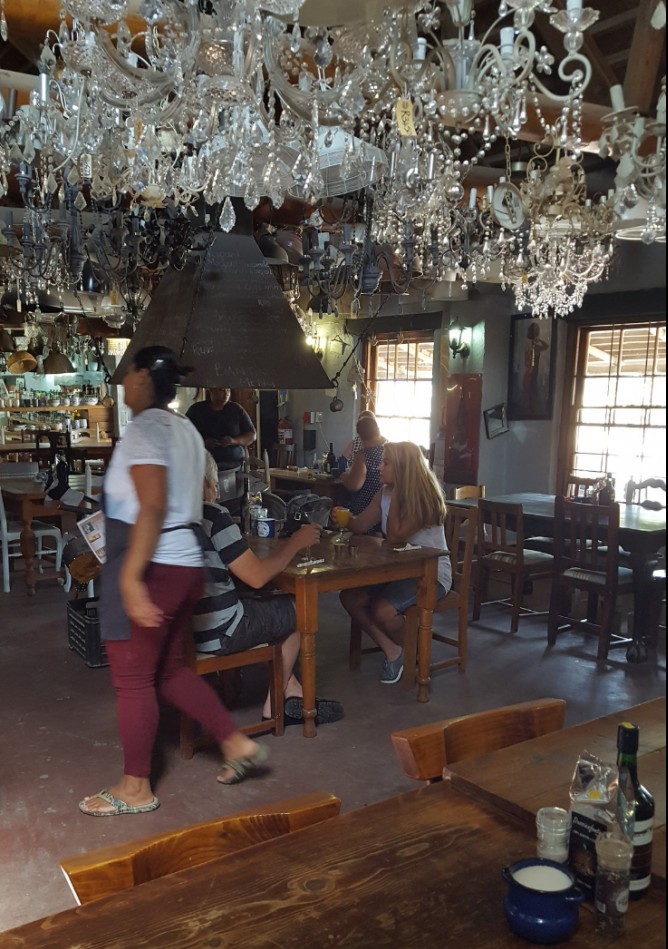 What a feast for the eyes.
As one tucks into a large farm breakfast or delicious cake, what really (takes the cake) is the vast number of stunning, sparkling chandeliers.
How I wish I was living in a house with high ceilings and not a flat. It would have been wonderful to come home with one of these treasures to give my place some pizzazz and bling it up.
Besides the chandeliers, there are other unusual items of interest. Old black coal stoves and grates. Basketwork, Knitting wool and patterns.
After feasting, both eyes and mouth, it is time to wander around and seek out more treasures.

WONDERFUL CRAFT IDEAS
We discovered one room with large wooden boxes filled to the brim with the most wonderful array of doorknobs.
They are indescribable as there are so many to choose from. What a difference using these on a chest of drawers or cupboard these would make to give a bit of character.
It gives one such inspiration for either making something like this ones-self or buying them to dickey up an old item to make it more special.
The number of leather handbags and shoes was fantastic and so tempting. Most women love both bags and shoes, so it took a lot of self-control for Marion and I to get out there without buying anything.
ART, CRAFT AND FASCINATING ITEMS
One really needs to have planned the trip carefully to take all this in and know that you won't have to rush on before it gets too late. Thankfully, that is exactly what we had done so were able to, wander and wonder, at will.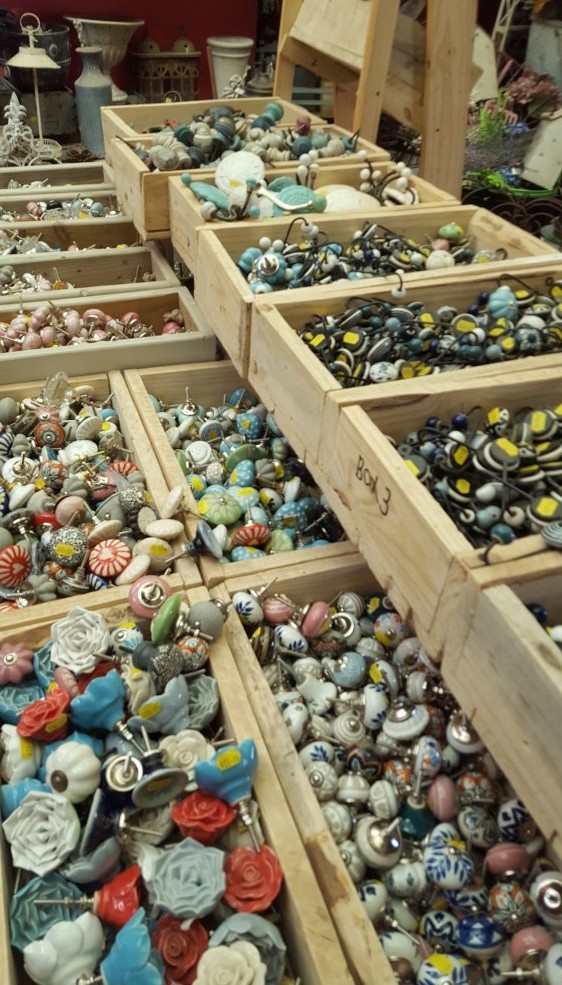 I am hoping that by showing you some of the many the photos I took, it will do this amazing place justice and tempt you to take a road trip along the garden route and enjoy the experience it all for yourself.
NEXT STOP SWELLENDAM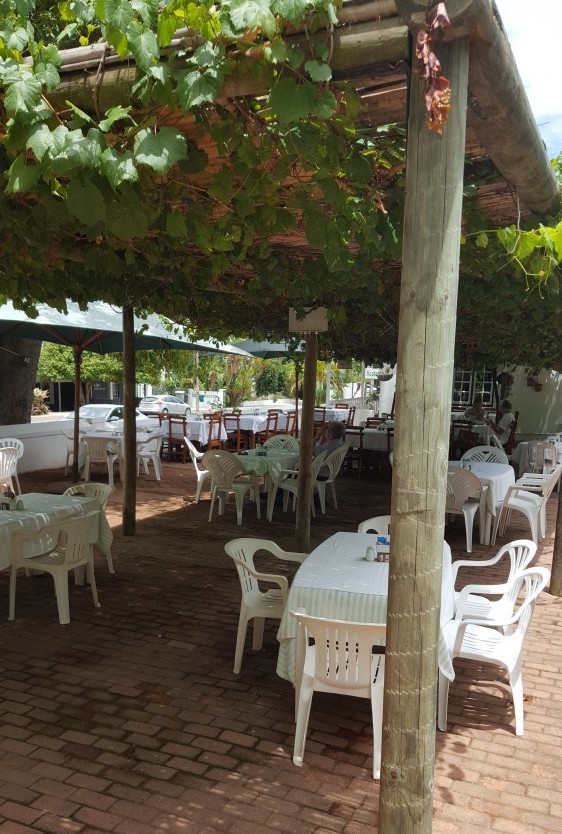 It was customary for us to stop at Swellendam for lunch and that is exactly what Marion and I did and we weren't disappointed. Our choice of food wasn't the usual but rather decadent, a scrumptious pancake with banana and ice cream. Who, of you, could resist.
What makes it so special was sitting in the shade of the beautiful pergola covered by grapevines. Very restful, especially as it was a rather warm summers day. It was the need to get on the road again that prompted our reluctantly getting up and back into a very hot car.
Thank goodness for air conditioning. Whew!
ARRIVAL IN KNYSNA
What a wonderful welcome we received upon arrival at Elodie's' lovely home in Knysna. She, Hazel and Piçquita, the chauwawa were ready for us. Áfter us our overnight bags we settled in. We had so much catching up to do as I hadn't seen these dear friends since they had both lost their husbands.
We have all been through so much together, marriages, births, loss of children, now husbands and starting over again. It is so special to have time to share our stories and take comfort from one another.
Although I know I have not lost my husband to death, he no longer knows me or our children and I have been mourning the changes in him for close on 5 years. He is being cared for in a Frail Care Facility.
How relaxing it was for us to stroll around the Knysna Waterfront, looking at the shops, the great craft ideas, and also at the lovely views across the Knysna Lagoon to the Heads. What a treat to spend a quiet time taking in the sights and just chilling together.
Before making our way homewards, we decided to have dinner at a well-known Restaurant at the Heads. What delicious food. Well fed and rather weary, we wended our way back to get in a good nights sleep.
The next day was spent doing a bit of retail therapy at the lovely shops in Knysna, took a walk around the neighborhood and just relaxed in each others' company.
PORT ALFRED IN OUR SIGHTS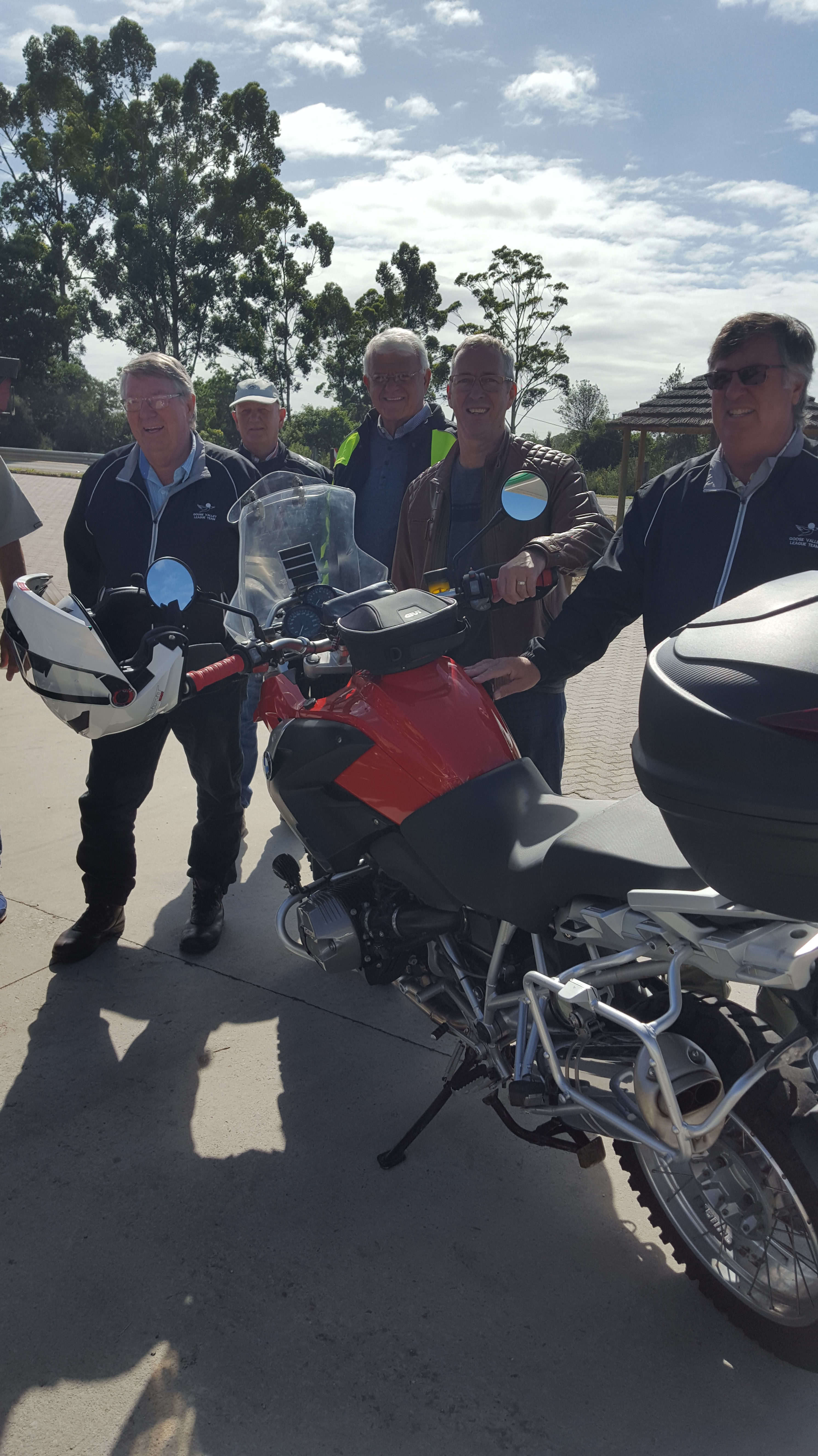 We left Elodie and Hazel around 8.30 to begin the next leg of the trip. No plans to stop off at Port Elizabeth on the way there but had an unexpected stop at the Craggs to visit with some friendly bikers for a while. It was great to reminisce about my "biker chick" days. They were on a breakfast run to Storms River Bridge. What fun!
NANAGA
Many travelers who regularly go down the Garden Route will know by now that the Nanaga Farm Stall, well known for their delicious pies and bread, etc. have now built a really big and gorgeous property at the Alexandria/Paterson
/Grahamstown/PortElizabeth Interchange.
Marion and I stopped to sample their pies and coffee and were just as thrilled to see that there was also a gas station there as my tank was getting perilously low and I was not sure if we would make it to Alexandria. Whew! the relief.
The pies were just as good as ever and the shop such a pleasure to walk through and bought the most fabulous natural honey. None of that doctored stuff with syrup and water etc.
So many lovely things to temp one and the most fantastic range of ice cream flavors (all natural) which we had on the way home.
Very substantial helping it was too.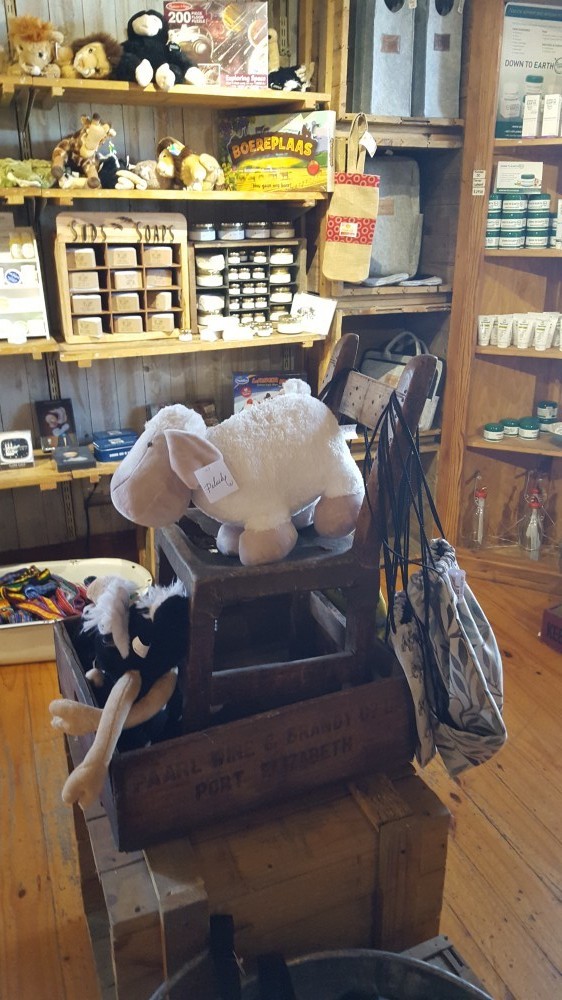 BEAUTIFUL EASTERN CAPE COUNTRYSIDE
The road through Alexandria is such a pleasure to take as it sweeps through the lush green valley where cattle graze happily and, of course, chicory is grown around there too. The trees have such a distinct shape, which is so synonymous with the Eastern Cape which has a special place in my heart.
On our arrival in Port Alfred, we were given such a warm welcome by Ronwyn and I spent three wonderful weeks with her. Seldom have a laughed as much as I did in that time. We laughed until our stomachs hurt. It was such a liberating feeling.
More of Port Alfred, my time with Ronwyn and all the fun we had will come in another post.
MY GOALS FOR GOING ON THIS TRIP WERE MET
There were a number of things I wanted to achieve by going on this road trip.
To see if I had the spunk to drive a long distance, having not done this for many, many years. My husband enjoyed driving and so I seldom drove when on our many road trips.
Visiting friends of long-standing. The friends we stayed with have been dear friends of mine for 54years. Elodie and Hazel made us so very welcome. We stayed with them in Knysna for two days on the way to Port Alfred and then two days on the way home again. What a refreshing and fun break that was and although Marion had not met them, they all got on famously. Thank you so much for the wonderful stay,  on the way to and from Port Alfred.
In Port Elizabeth, it was important for me to visit very dear friends who were members of our Congregation when Matt was the Minister there. It was wonderful to see his Pastoral Assistant and her husband and two daughters. Unfortunately, Mavis is very ill but I was so pleased to have had this opportunity of seeing her again.
Glenda, also in Port Elizabeth was Matt's secretary and a very close friend throughout all these years. Also, her daughter Jenny and little grand-daughter Hannah. Such fun and mirth were had with them.
One of the other people I saw was Hilary, whom I have known my entire life as her parents and mine were friends since before I came along. With Hilary, I had the opportunity of seeing the great work she does with recycling and teaching people to use the cardboard and plastic for making furniture. Amazing work Hilary does which get rid of these waste products and turning them into functional items.
The last couple I visited in Port Elizabeth has been close friends since Matt ministered at St. Columbas in Perridgevale. They were the first couple we became friends within the Church after our first service. Cynthia came up to me and thanked me for the invitation to tea, which I knew nothing about. Our two sons, hers and mine, had set it up. That was the start of a lovely friendship with Donald, Cynthia and their two children, Fiona and Peter.
To get some #excitingartandcraftideasonroadtrip to use at home and also to write about in my blogs.
Lastly, it was to get to Port Alfred to stay with Ronwyn. She and I met when she had Michael and II had Greg 48years ago. We have remained close friends since then and spent many wonderful times on the farm with their family. Playing tennis with Ronwyn and friends while Matt was a student at Rhodes University. Great times were had while living in Grahamstown, and, on our subsequent visits to Neil and Ronwyn.
After achieving all these goals ……………
MY NEXT TRIP IS BOOKED
This time I will be flying as the distance is too great and will take three days there and three days back. That will be a precious time I could be spending with my beloved brother Myles, his wife Daphne and their family and another beloved friend I have not seen for a while. Yippee! The travel bug has bitten.