Hermanus FynArts Festival 2018 – the Highlights
THUMBS UP  HERMANUS FYNARTS FESTIVAL ORGANIZERS
A huge thumbs-up to all who worked so hard to make the #sixthHermanusFynArtsFestival such a wonderful success. My admiration goes out to the Organizers, Artists, Performing Artists, Gallery Owners, and those who run the galleries.
It was such a thrill for me to spend a week in Hermanus at the Hermanus Beach Club and go into town each day to experience the variety of exhibitions on show.
ON THE WAY TO THE HERMANUS FYNARTS FESTIVAL
When you leave Cape Town behind you and travel on the N2 up Sir Lowry's Pass you enter a magical area called the Overberg. The scenery is exquisite so not good to rush, I usually pull over where it is safe to do so and let the faster cars pass, and then I can enjoy the drive.
On either side of the road are apple farms and most of them have roses growing against the fence which in Spring is a sight to behold. Although it is Autumn here in South Africa, it is still such a wonderful sight with amazing views. The changing colors and the aloes that bloom at this time, the mountains, make this still an awesome drive.
As I have a friend of long-standing (not old, Anita) living in Sandbaai which is on the way to Hermanus, we had set up to meet each other for coffee and catch up on each other's lives. It was great connecting again and it set the tone for a good week. Unfortunately, due to work commitments, she was unable to join me for any of the exhibitions.
I had the good fortune of meeting and making friends with two new like-minded people and on my last day, one of the new friends took time to come with me along the Hemel and Aarde Valley. More about that later.
HIGHLIGHTS OF DAY ONE
A Thread Runs Through It
My first port of call was to the Group Exhibition: Collaborative Relationships – A Thread Runs Through It.
As I entered the lovely old Synagogue, was met at the door by two smiling young women who welcomed me and answered the questions I had for them, I immediately felt right at home.
A number of people came in and out, oohing and aahing over the wonderful work. It was so inspiring to see the thought and work that had gone into each piece. Also, interesting to see how the artists interpreted the theme, "A Thread Runs Through It", which was set by the organizers of the Hermanus FynArts Festival.
Pairs of Visual Artists, a Fibre Artist, and a Painter produced the pieces on show. It was a true feast for the eye and imagination.
After wandering around the exhibition and taking as many photographs as I could it was time for me to move on so decided to find a central area to park my car and then go by "Shanks Pony" for the rest of the day. Such a good idea as the weather was glorious and I didn't want to miss out on anything. This set the pattern for the rest of the week.
MAKIWA GALLERY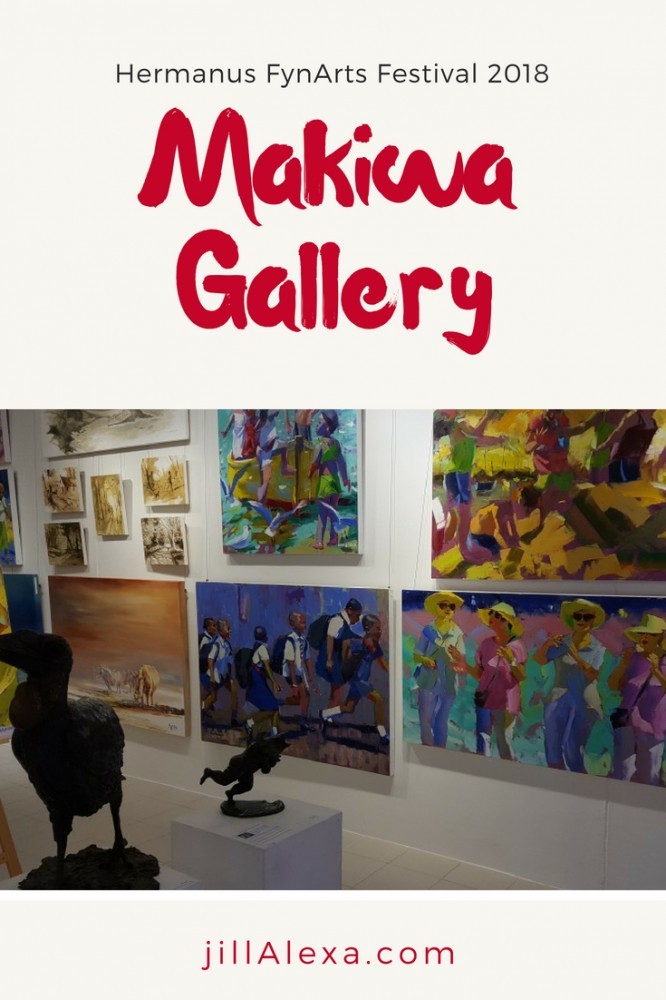 As I wandered along enjoying the sights in beautiful Hermanus,  I was drawn to the Makiwa Gallery which was not on the list I had been given as one of the participating galleries. It was, however, one of the most exciting mistakes to make.
What a warm welcome I got from the young man, himself an artist but now running the Gallery for an absolutely wonderful artist named Makiwa Mutomba.
Makiwa's work brought back so many childhood memories of Zimbabwe by the subject matter of the paintings. The color and movement he brings to his painting are a joy to behold.
There are other Artists' works exhibited in the gallery too which are also great works of Art but my heart was taken by Makiwa's work.
He is the owner of about five Galleries around South Africa and his work is bought by people from around the world. It was a memorable experience and I will certainly be going back again.
By the time I was finished clicking away, my mobile and my poor feet told me it was time to go back to recharge. It was getting late and the old girl needed to put her feet up and drink a cup of coffee.
On arrival back at my haven, my new friend Val knocked at the door and invited me to join her and Liefie, her dear little Jack Russel for a walk along the beach. On such a glorious evening who could resist? It was so lovely and relaxing to see the waves rolling in over the rocks.
DAY TWO
VISITING THE CERAMICS EXHIBITION
I awoke bright and early to plan my day. So much to see and I didn't want to miss out on anything. The brochure the Hermanus FynArts Festival put out was so well organized. They had categories for the various functions taking place, workshops, talks, performances, many things for children to do, etc.
As I was unable to be in Hermanus for either of the weekends I decided to see all the Galleries I could and knew that I could not miss out on the Ceramics Exhibition held at the beautiful Windsor Hotel.
Liz Coates the Coordinator of the Ceramics Exhibition greeted me warmly and encouraged me to take photographs. Liz and one of the other ladies working at the Ceramics Exhibition are also ex Zimbabwe so we had a lot to chat about besides the ceramics and artwork.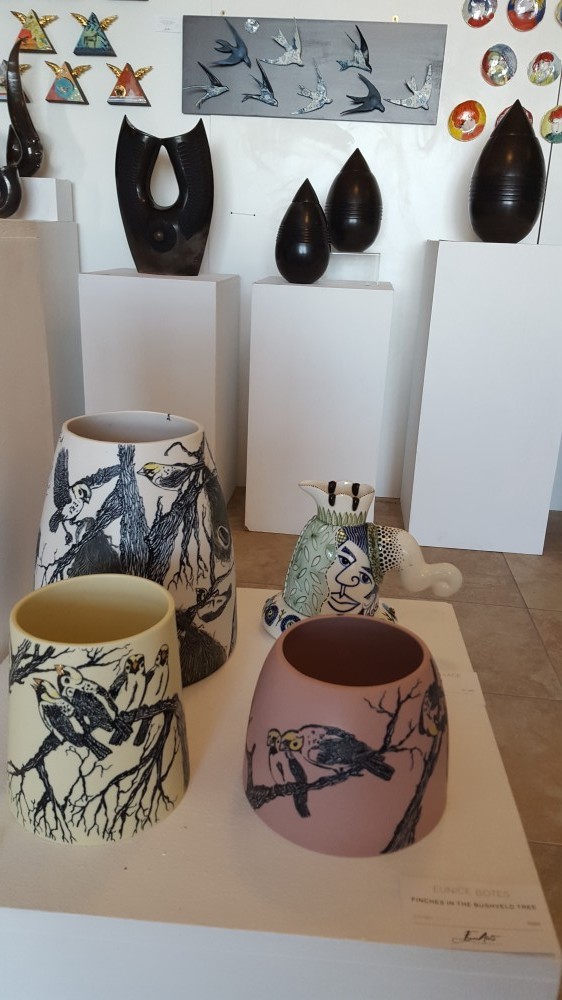 They displayed the ceramics and paintings beautifully. It was a pleasure to wander around and not be rushed. I found it hard to pull myself away but other galleries beckoned.
Besides all the Art Galleries, Hermanus is bursting with interesting architecture. Many of the original old houses of Hermanus have been converted into businesses, very successfully too.
The incredibly thick, rough-hewn walls and wrought iron staircases, so indicative of the period in which they were originally built, add such charm and character.
Thank goodness they had the wisdom to keep these when the alterations were done. You will see this in some of my photos
Along Harbour Road are a number of Art Galleries and of course the fantastic Book Shop filled with rare and collectible books. Didn't dare go in as I have a weakness for books and steeling myself, walked over the road and went along Main Road to see the Galleries. Decided to leave Harbour Road Galleries for the following day.
It is impossible to compare Galleries and works of Art as we all see everything differently but what I loved about some of them was the great variety of Artworks, sculptures, metalwork (which I fell in love with) glass art pieces, wooden sculptures, etc. Oh my! What a feast for the eyes and soul.

PURE SOUTH GALLERY
Visited Pure South which was filled with paintings and ceramics created by a variety of Artists. It was a delightful display and it was a pity my time was limited as would have loved to have spent more time in there, realizing that time was of the essence.
Will be going back to Hermanus and will make sure that I have the time to return and browse for longer in all the Galleries.
WALKER BAY GALLERY
Walker Bay Gallery was next on the list and my oh my loved it!  Not only for the stunning artwork but also for the Architecture. There were so many wonderful pieces to see, not only of well-known Artists but also of Emerging Artists.
What stood out for me was the quality of the work, the wonderful paintings, Metalwork, and Sculptures.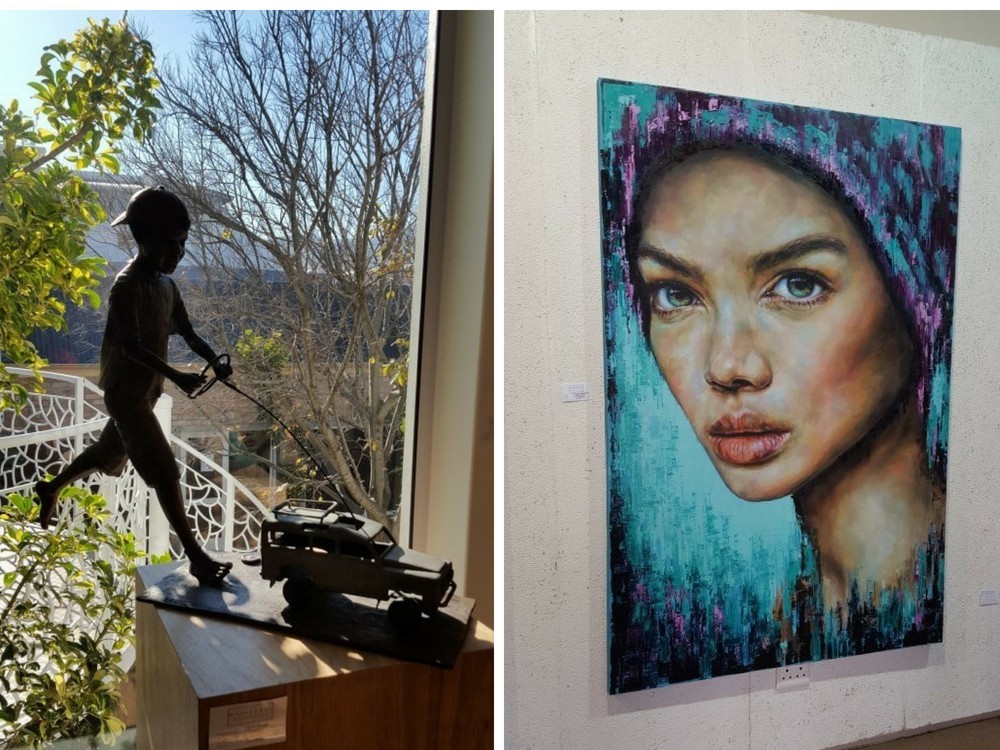 The standard of work was superb. A truly remarkable experience realizing what talent we have in this country.
This was one of the larger Galleries, if not the largest I visited, and will be going back for a further visit as there is so much to see.
There is no way in the world I can do this Gallery justice in this one blog which encompasses so many works of art and so many galleries. Each with its own character and merits.
GALLERY CHARMAINE DE JONGH GELDERBLOM
The next Gallery on the way was Gallery De Jongh Gelderblom. As with each Gallery I had been into so far, it was a complete surprise. There was a coziness in there not only due to the beautiful carpets, cushions, furniture, and sculptures but by the glorious colors Charmaine had used in her lovely paintings.
JENNY JACKSON'S GALLERY 19
Jenny Jackson's Gallery 19 was filled with color and interest.
It is a small Gallery but so artistically arranged with her lovely paintings. She has such an eye for colour and I found her delicate portrayal of the subjects very moving.
Jenny also very kindly put my phone on to charge as with all the photos I had been taking it was running down extremely quickly. I absolutely loved the time spent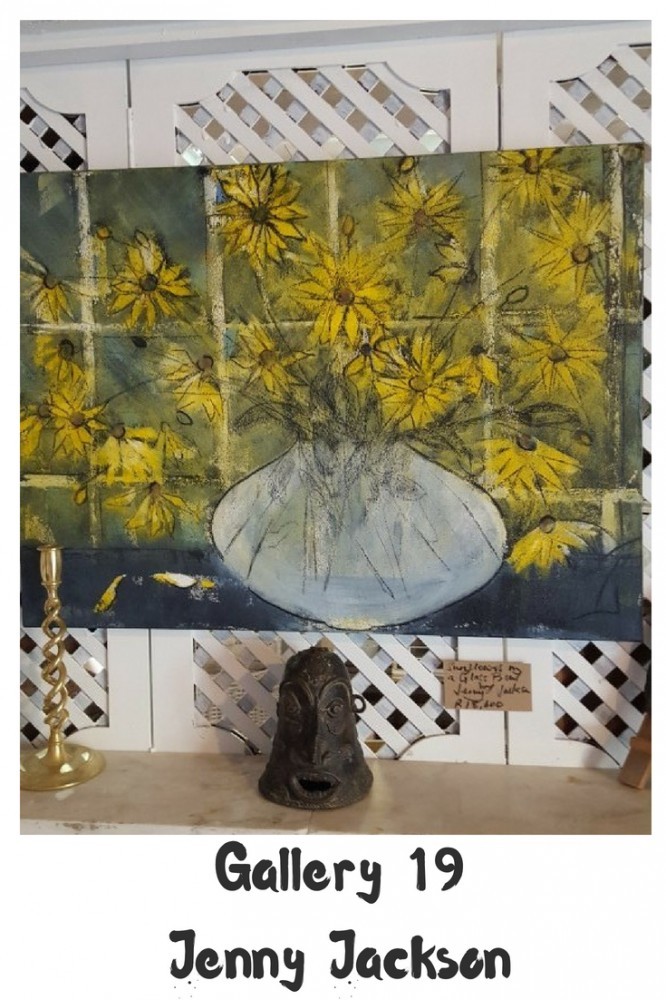 with Jenny.
The last Gallery I went to was The Art Gallery which was a group exhibition by four extremely talented Artists and I realized my phone battery was about to die. Decided it was time to move on and went back the following day.
After meeting Gallerists, Artists, and fellow Art lovers, handing out business cards. Chatting about art, milling in and out and round and about, footsore and weary off I went home for lunch.
DAY THREE – VISITS TO MUSEUMS AND OTHER DELIGHTS
There was a lovely rain storm during the night and when I ventured out in the morning it was to find it drizzling and overcast great weather to wander around the galleries not yet visited or ones I wanted to revisit.
We have been experiencing a dreadful drought in the Western Cape and all become rather ecstatic about any rain that falls.
As I wandered in and out of the galleries, taking photos with my mobile I realized that now was time to bring out the big guns so ventured into a photographic shop and bought new batteries for Matt's lovely camera which I am now using. It was rather like taking him along on this trip as he cannot move out of Frail Care.
Thanks once again to the lovely staff at the photography shop was soon on my way again.
Was so pleased with the camera as I no longer had to be concerned about running out of battery life on my mobile.
On my travels around Hermanus, I stumbled upon a wonderful fabric and craft shop which I will be blogging about at a later stage. It was really the galleries that needed to be visited as time was running out.
PHOTOGRAPHIC EXHIBITION
The Photographic Exhibition was held in a hall at the Dutch Reformed Church. The photographs were very well displayed and showed what a talented number of Photographers there are in Hermanus. It was very difficult to name the best photographs as they were of such a high standard.
EVOLVE DAY SPA
At this stage "Shank's Pony" was becoming worn out and walking along, rather slowly, I came across what I thought was another Art Gallery due to the beautiful Art Works inside, so entered and was greeted by a lovely young man who showed me the beautiful Art work they have but informed me that they are actually a Day Spa.
What a bonus that was, he offered me a back massage for the next afternoon. Bliss, bliss, bliss.
When you have walked around for so long with bags, cameras, etc. collecting information along the way, your back needs to be pampered. Christian was an absolute Godsend. I went on my way again with a much lighter heart knowing what the next day would bring.
THE ART GALLERY
It was time to go back to the Art Gallery and take some photos of the work of the four Artists I wanted to tell you about.
It was so interesting meeting Christine Henderson as she explained how her work evolved as she painted.
When she began a painting she had no idea in her head what it would be but just let the paint blend and flow into various shapes until she was satisfied with the results.
Her paintings are abstract and her clever use of colors and technique work so well.
How freeing it must be to just let the mind wander and end up with these beautiful pieces of art.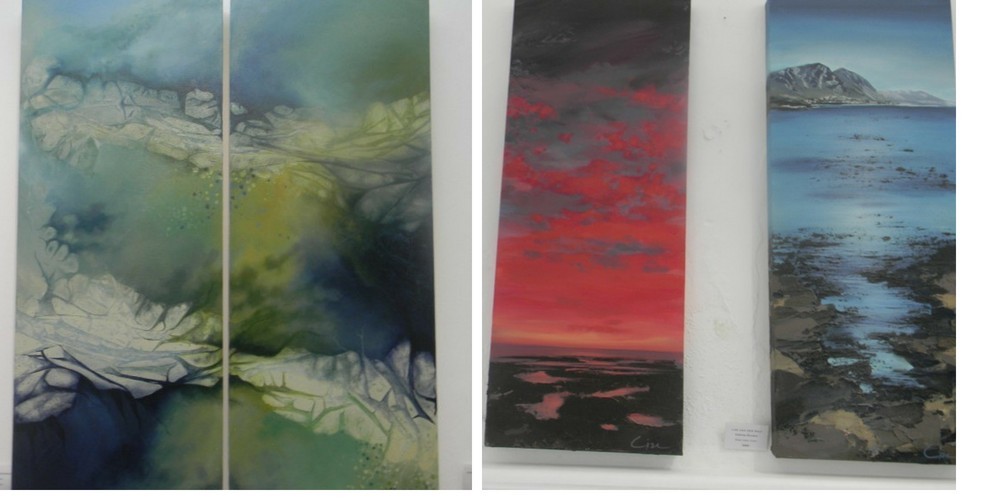 Erna Dry works in Ceramics, Pencil (can't call what she does sketches) works of Art. They are so intricately drawn and in perfect scale. She also paints. How I wish I had the pleasure of meeting her and hearing about her journey as an Artist.
The Third Artist is Lize van der Walt and she is a Seascape Artist.
Jeandre Marienier is an Abstract Artist working in oils.
By my not meeting three of the Artists I feel unable to do their beautiful work justice so I intend to return to Hermanus at a later date to interview them and tell you more about them. Am sure you won't be disappointed.
ART THIRST
My last port of call before meeting Val was the ArtThirst Gallery where Leon Muller and Petrus Viljoen work in their studios and also exhibit their work.
As you venture into the Gallery, one is struck by the large shoals of carved wooden fish hanging on either side of the front door.
They are a sight to behold. Each fish has been carefully carved by Leon and one can just imagine them moving in unison through the waves.
The walls of the Gallery are hung with works by both Artists. Their work is so different in style that they are hung in separate parts of the Gallery.
While Leon paints seascapes and abstract Art, Petrus paints whimsical colorful oil paintings, mostly dogs.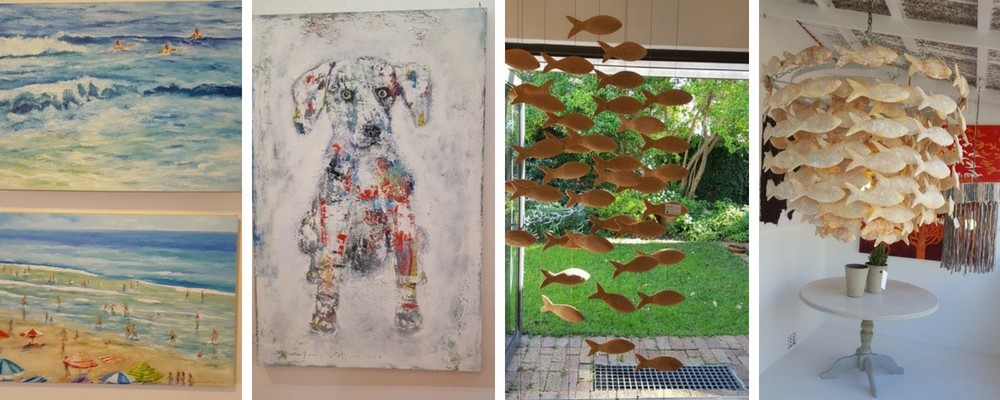 One of the most striking Artworks in the room was a magnificent hanging of carved wooden fish hanging at the full-length window which draws the eye out onto a beautiful garden. This was the perfect spot to hang the fish mobile.
On the wall at the end was an enormous oil painting and with these hanging together it was such a stunning display, I simply love it. What a welcome to a Gallery.
TRIBUTE TO THE PAST
Val and I went to the Photographic Museum, the Whale Museum, and the Old Harbour Museum, It was interesting to see and read about the history of Hermanus and the guides were all knowledgeable and helpful.
Found it rather amusing to see how the fishermen dressed in suits and ties to go fishing in days of yore, how life has changed.
Not only the fishermen's dress but also the clothing worn by other people going to the beach.
How the women must have struggled in their long dresses on the beach and clambering over the rocks. We are so fortunate in some ways.
FEET UP, SO TO SPEAK
After all this traipsing around a little retail therapy was called for and as it is impossible for me to resist Tsonga Shoes when I saw the shop I just knew we needed to sit down for a while and take in the sights.
Beautiful shoes and handbags – ladies, that is a sight we all need at times, don't we?
For those of you who don't know, Tsonga shoes and handbags are all leather and made in South Africa. They are extremely comfortable and stylish.
I met and made friends with the lovely young lady in the shop and of course, bought a pair of red summer sandals which called out to me.
Retail therapy can be draining in many ways so a bite to eat was called for and it was wonderful for the three of us, Liefie included, to sit and enjoy a meal at one of the many eating places overlooking the old Harbour and the sea.
In the hope of seeing a whale or two. No such luck but of course, it is not whale season, if it were whale season, we would have battled to get a seat at any restaurant.
After a yummy late lunch, it was time to head back to my home for the week and unpack and sort out plans for the next day.
I managed to enjoy another great walk on the beach before a lovely storm hit.
There was a lot of rain throughout the night and the next day was a bit overcast but I was still able to get about with no bother.
DAY FOUR – GALLERIES GALORE AND MORE
As Day 4 was upon me and I realized that there was still so much more to see, it was time for action. Another glorious day and more adventures on the way.
FORTY x 40
High Tea, was the theme of their exhibition this year. Such an important event and this was evident at Forty x 40.
On entering, I was immediately offered tea and cake. All are beautifully presented and so inviting.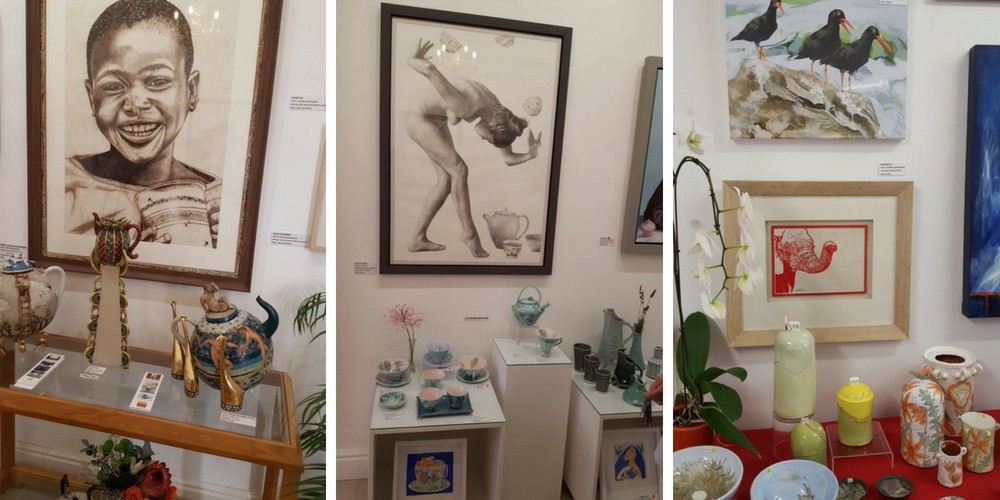 This exhibition of work was by Catherine Brennon, Elise MacDonald, Edward Bredendamp, Christa Clark, Louise Henning, and Jay Latter.
The Gallery was abuzz with people coming and going and I know it wasn't just for the tea and cake as the Artwork was simply stunning.
Am really sorry I couldn't get more shots but will be back.
ROSSOUW MODERN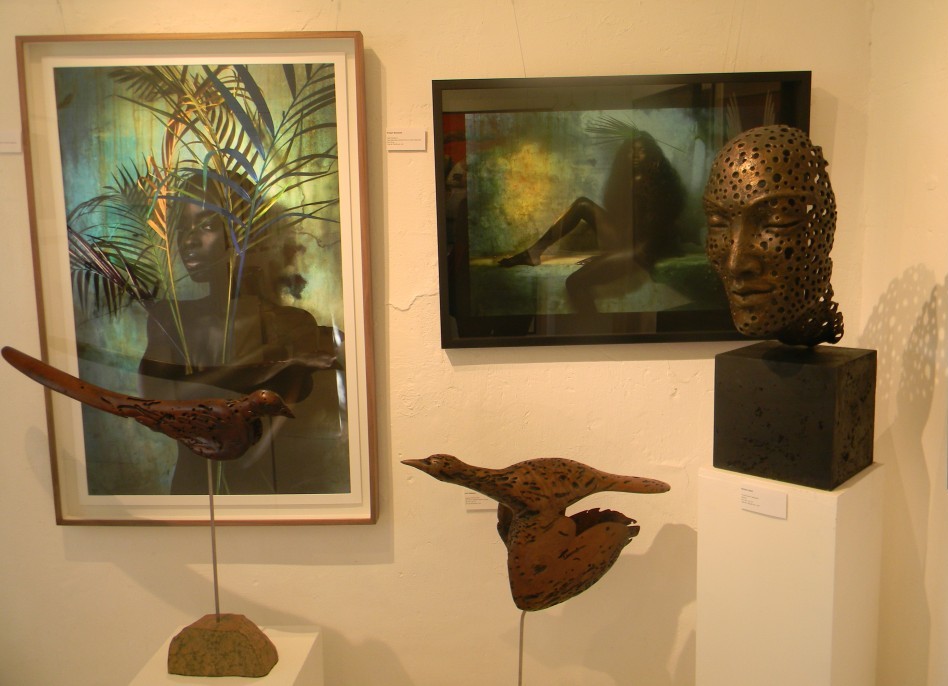 The variety of genres of artwork in the Rossouw Modern Gallery was a lovely surprise.
I had no idea what was awaiting me as I strolled into the gallery.
One needs to spend a lot more time than I had available to do this gallery proud.
There were so many paintings and artworks to choose from and I urge all Art lovers to go in and spend time taking in what is there.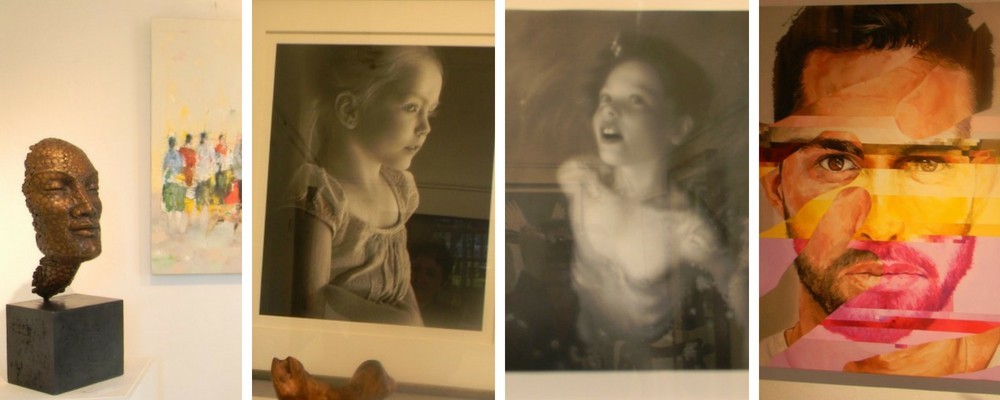 FORTUNATE MEETING
As I was exiting Rossouw Modern, I met up with an Artist friend Sheila Walwyn from Cape Town with two of her friends, one of whom was the Artist, Monique Day-Wilde. Both of these talented friends had exhibited in the "A Thread Runs Through It" Exhibition which I enjoyed on day one.
It was a happy coincidence as I wanted to interview both of these lovely ladies and they immediately agreed for me to do just that.
Will be contacting them soon to make the arrangements.
It seems I will be having to go out of town quite a bit in the next couple of months
LEMBU
Today was the day to revisit some of the more varied Galleries and visit new ones missed out on during the past few days.
Lembu was not to be missed as has the most wonderful range of Art Work and various genres of Art and Craft.
This entailed lots of walking and meeting very interesting and helpful people along the way.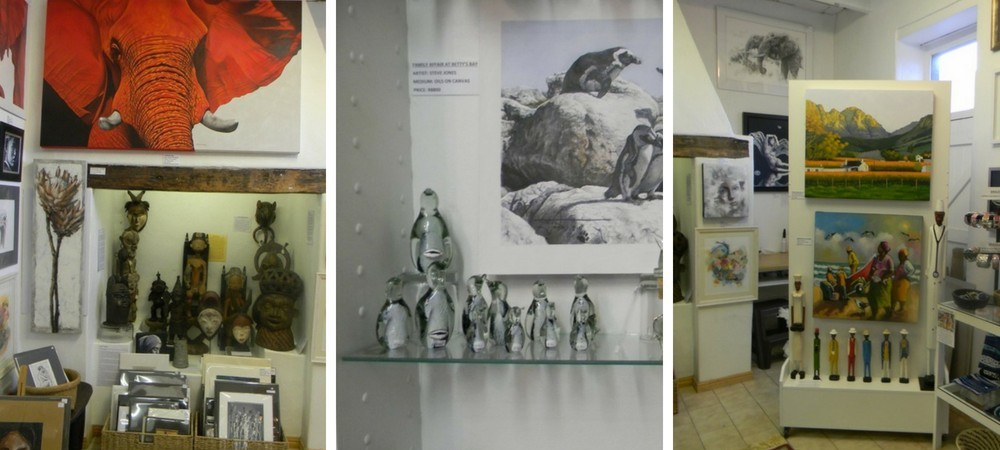 It was a great pleasure to meet Ed Bredenkamp the Artist and Ian MacDonald,  the owners of Lembu, and also to learn that Ian's sister, Elise MacDonald, and her son Jay Latter, have work displayed in the gallery.
What a talented family. Christa Clark, Louise Brennon's sister's work is also exhibited at Lembu.
A number of other Artists also exhibit in this gallery and I feel sure that I will hear from some of their fans that I left them out. So sorry but when the feet get sore, the brain seems to shut down a little too.
Lembu is a Gallery you definitely should not miss out on.
The Artwork is stunning and so varied. Everything is beautifully arranged to be shown to its best advantage. It is colorful and tempting in the extreme.
Here you will be certain to find something irresistible.
ORIGINALS
Terry Kobus's Originals Gallery was so inviting with the paper seagulls and crystals in the window and of course, the wonderful painting of the family paddling in the sea.
It was one of the galleries I went into a couple of times as felt the paintings spoke to me. Perhaps it was the theme, Silent Wings, which was so imaginatively depicted in his paintings and other artworks.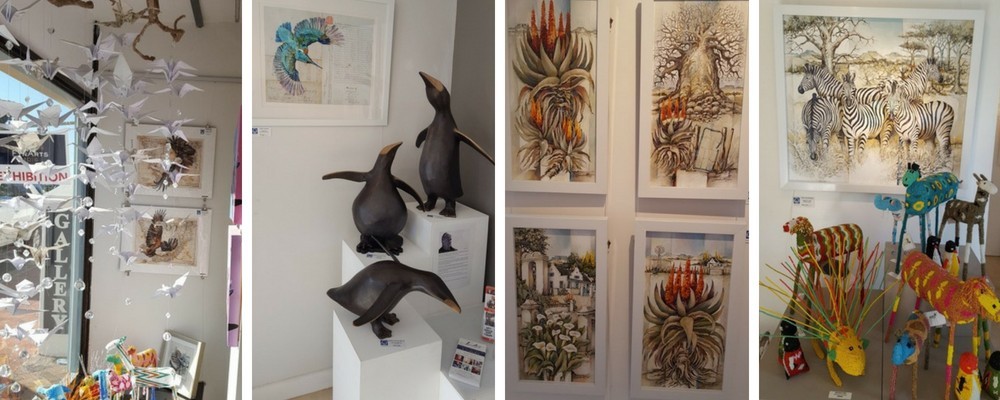 It had a calming effect on me as well as holding me in awe at his creativity.
As with the other galleries I visited on this trip to Hermanus, the welcome was warm and friendly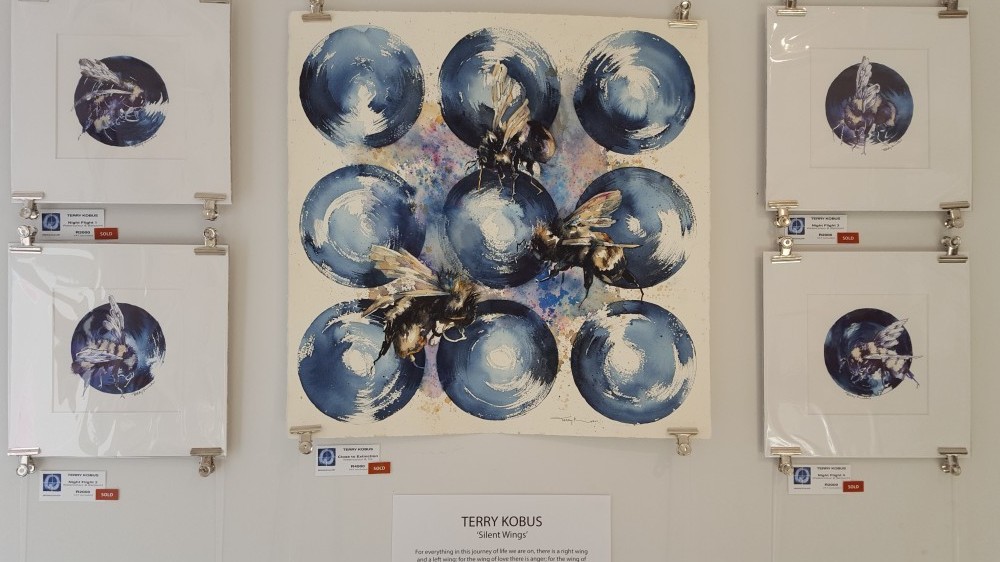 Am so privileged and grateful to have seen all this wonderful creativity.
NOSTALGIA
Another interest I have is antiques as well as Textiles, Sewing, and Art, on my rounds I came upon a magnificent shop. Nostaltiques, selling Art as well as antique furniture and Collectibles.
Venturing into this shop was a joy, I met a multi-talented man named James and look forward to setting up a time in which to interview him for a future blog. This will mean travelling back to Hermanus but am sure it will be well worth the time.
TIME TO RELAX AND UNWIND
The timing was perfect, after chatting with them it was time for my back massage. For any of you reading this post and able to go to Hermanus, do yourself a favor and book a massage at Evolve Day Spa. They offer just about every treatment one can think of and it is all very professional.
Christian gave me a very relaxing and thorough back massage and I felt like a million dollars when he was done. Now able to carry on with my mission to see all I could.
The Evolve Spa is conveniently situated amongst a number of galleries in Harbour Road. Don't miss out on pampering yourself.
DAY FIVE
Rainy but another beautiful day, filled with possibilities.
When I stopped to fill up with petrol (gas) at Engen and in the pelting rain, a wonderful smiling attendant came to help me. His name was Sean, he had a broad smile on his face and was such a pleasant man. What a way to begin another journey.
This time along the magnificent Hemel and Aarde Valley. Oh, I feel so sorry for all of you reading this if you haven't had the opportunity of being here to visit. If you ever have a chance to do so, jump at it. You won't be sorry.
Arrangements had been made for me to meet a mutual friend of my dear friend Lesley Downie.
What a meeting it was. Deyesia (Dee) is also ex-Zimbabwe and like-minded when it comes to so many things, Art included. Off we went along the Hemel and Aarde Valley stopping off at various Galleries.
GILLIAN HAHN ART GALLERY
As I had popped into the nearest Gallery, Gillian Hahn Art Gallery, the day before and met her husband who was overseeing the exhibition for Gillian that day, we skipped it on Friday.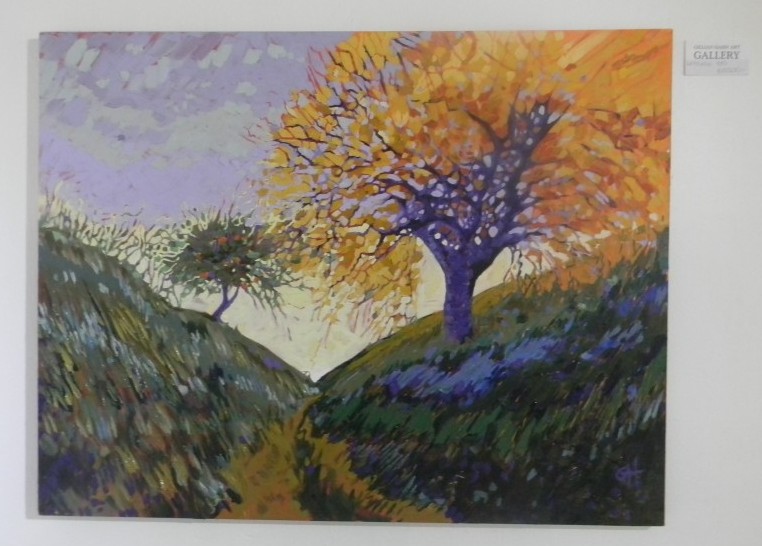 Must tell you though that I loved Gillian's work which is Oil Painting on Canvas.
She paints impasto-style en plein air. She is obviously inspired by the scenery around her and shows it wonderfully in her colorful exuberant Art.
Loved it. As with a number of the Artists I came across on this trip, Gillian is self-taught.
BOUCHARD FINLAYSON WINE CELLAR
Dee and I decided to stop at Bouchard Finlayson Wine Cellar first, not to sample the wines but to see the exhibition of art which are all round works which are displayed on the end of wine barrels.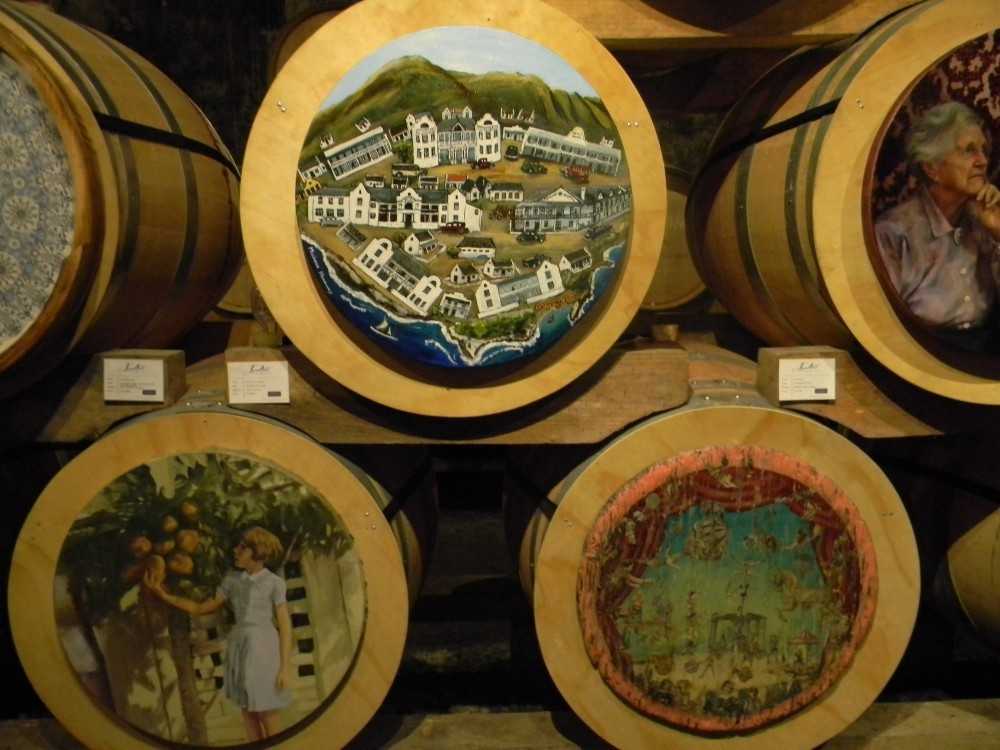 The Theme of this year's competition is "Vintage" and although numerous Artists enter the competition only a certain number are chosen.
Most types of media are accepted which makes for a very varied and exciting display.
LA VIERGE
Time was getting on and we stopped at La Vierge to see Carole Carr's unusual and striking Mobiles of vine leaves, birds, and fish.
They are made from intricately molded resin in opaque or clear tints and move gently in the breeze. A joy to behold.
She works mainly on commission and her work is stunning.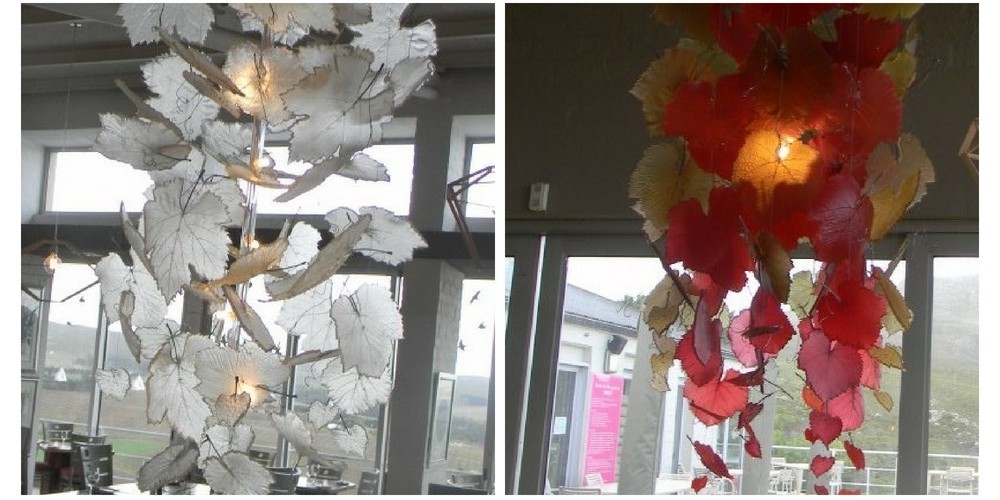 SUMARIDGE
The next stop was Sumaridge to view the works of Learners from all schools along the Cape Whale Coast. The Artists had the freedom to interpret a wide variety of subjects. Dee and I left impressed with the standard of the work.
THE ART ROOM, VELMOED
The last stop was at The Art Room, Volmoed. The subject they chose was Light. We met Alyson Guy, the Artist who runs art classes at the Gallery.
We were pleased to meet a couple of the Artists and saw a number of really lovely paintings. They were thrilled by the turnout of people coming to view their paintings.
HEADING HOMEWARD
This was my last stop before heading back along the Over-strand road going via Kleinmond and Betty's Bay to get to Pringle Bay, where I spent the weekend with my dear friends Maureen and Gavin.
Had I left a little earlier, would have had time to trawl around a fabric stop in Kleinmond which I have been told is very worthwhile. This will be a joy for another outing.
The drive from Pringle Bay to Gordon's Bay is along Clarence Drive, one of the most beautiful you can find anywhere in the world. Mountains are covered with indigenous plants and enormous rocks on one side and the sea on the other side.
Taking this drive lifts the spirits and makes one realize just how great life is.