Isn't it just amazing how many ways there are to experience pleasure?
Some people live very mundane lives and don't know that #theartofexperiencingpleasurecomesinmanyforms perhaps they are experiencing the art of pleasure without even realizing it, while others find the most incredible things that give them pleasure.
For the Fantastically Fit
Iron Man and Woman Competitions
Climbing Mountains – Everest, Kilimanjaro
Open Water Swimming in freezing temperatures
The Light of Heart
Terri was intent on spoiling her Aunt on this long-awaited visit to Durban and she took her parents, (my brother and his wife) and I to dinner at a super Italian Restaurant before taking us on to a Burlesque Show which was held at the Rhumbelow Theatre. It was a first for the three of us oldies and we thoroughly enjoyed the evening.
All very tastefully and well done and the audience was very appreciative and responsive. Unfortunately, folks, no photos allowed, sorry.
It was especially enjoyable for Terri, Myles, and Daphne, watching and having to help me out of Terri's car. She has an Audi 2 door sports car. Well, the getting in wasn't too bad but getting out of the back was a totally different experience.
I managed, with some difficulty and help, at the Restaurant but after the Burlesque Show and upon getting home we were all laughing so much and this made it more difficult for me to emerge from the confines of the back seat. Why we didn't think of putting the hood down, I just don't know.
After a lot of pushing, pulling, hysterics I finally made it out.
TRIP ALONG MIDLANDS MEANDER – BLUEBERRY FARM CAFE
Eating out – Terri, my niece, kindly took her Mom Daphne and me on the Midlands Meander and we stopped at the most glorious place. The Blueberry Farm Cafe.
Having had the experience the evening before, it was decided that I would sit in the front passenger seat. All went well.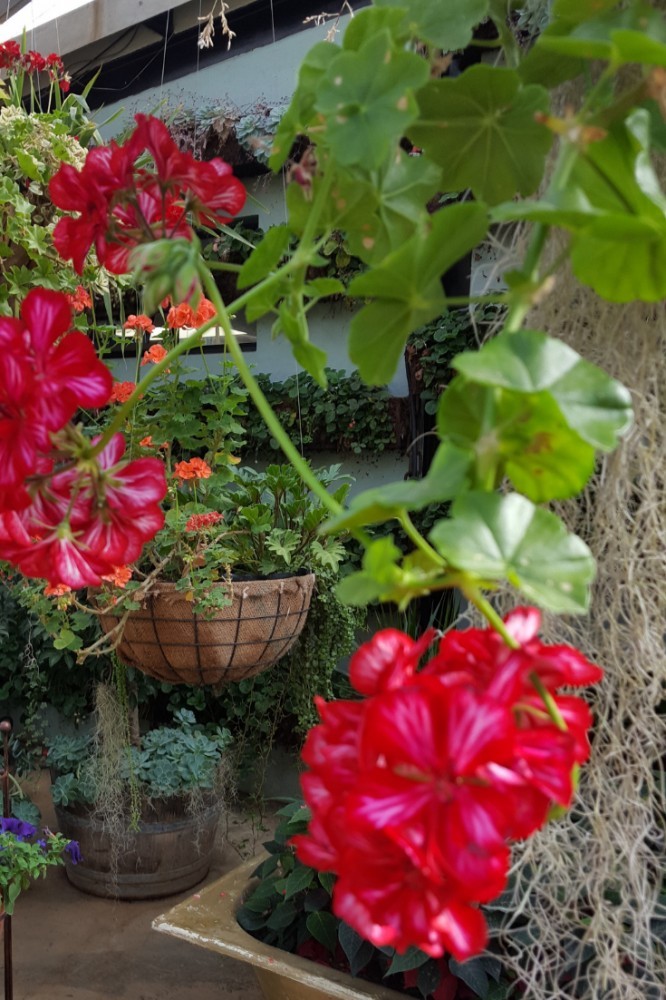 The entrance to the Blueberry Farm Cafe is really lovely.
What an amazing display of plantings. Great ideas and a feast for the eyes.
There is a shop selling gifts for every occasion and painting and various other Artworks.
On the way to the second Restaurant,  are display cases of old model cars.
A visit to the Blueberry Farm Cafe is a must for all who love great food, fabulous blueberry gin, and the most beautiful gardens and surroundings.
It is definitely on my to do list for when I next visit Durban, which hopefully will be soon.
One could spend hours at Blueberry Farm Cafe as they have the most amazing gardens.
There is also a natural formation of rocks to explore which is just outside the Cafe. We enjoyed walking out there after relaxing and eating our meal.
Another very important stop we made while on the Midlands Meander was to shop for shoes at the Tsonga factory shop. This is something I do each time I go to the Midlands Meander as I love their shoes.
They are leather, long-lasting and beautifully styled. Naturally, they also have handbags.
If you ever go along the Midlands Meander, do yourself a favor and stop off to see and buy their wares.
TO EACH HIS/HER OWN – PARTYING AND DRESSING UP
Terri is living her life to the full and takes the greatest delight it just having fun.
These are just two of her favorite things. She is passionate about her two dogs, Stitch and Eeyore and loves to dress them up too.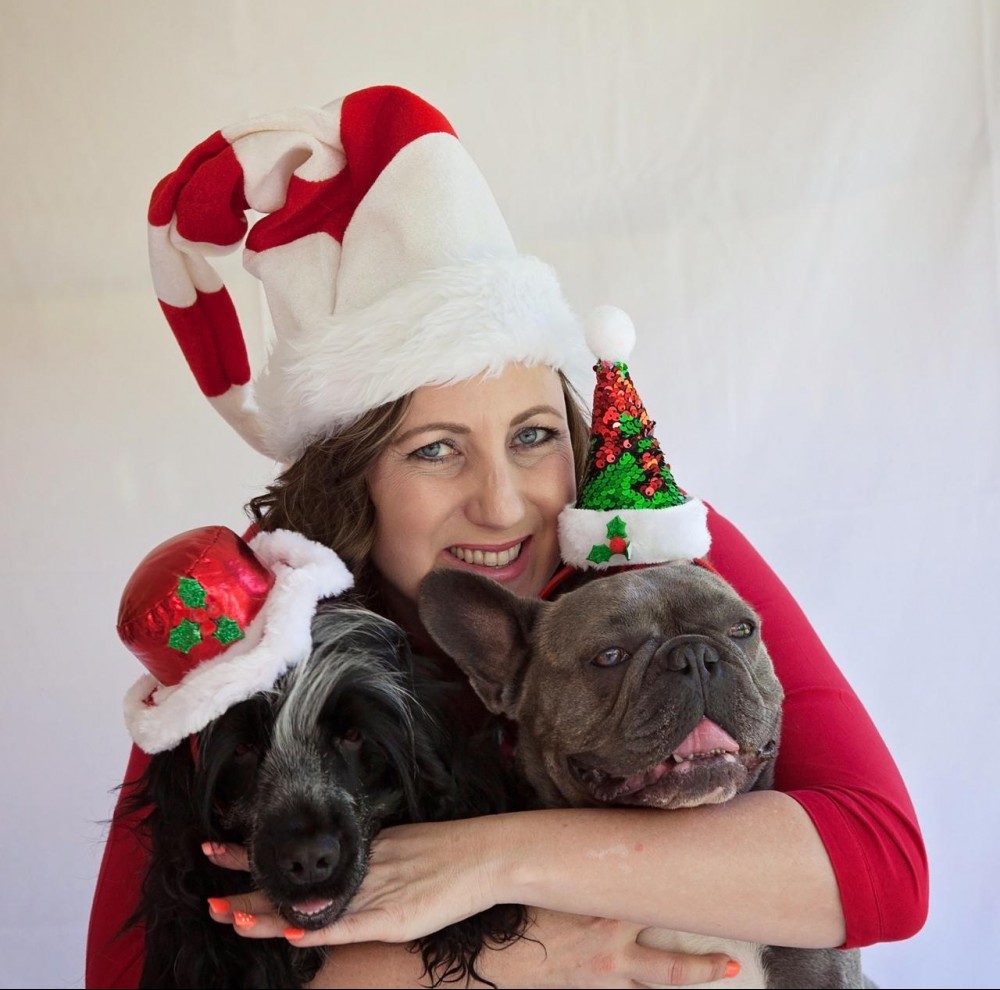 My favorite pleasures are a bit more sedentary
Enjoying time with the people I love
Spa days with friends
Road Trips
Gardening
Painting
Sewing – all sorts – quilting, machine embroidery, etc.
Cooking
Aromatherapy treatments and pedicures
THE PLEASURE OF EXPLORING NEW PLACES WITH A FRIEND
There are so many things that give one immense pleasure and while I was away in Durban, visiting my brother, I had the greatest pleasure exploring places I had not been to before.
A very dear friend kindly took me out to breakfast on many occasions and we would plan our days outing while enjoying chatting and eating.
The places I was taken to, opened my eyes to the wonderful beauty of the nature in Durban and further afield. It was also good to view these places through someone else s eyes who knows the area so well.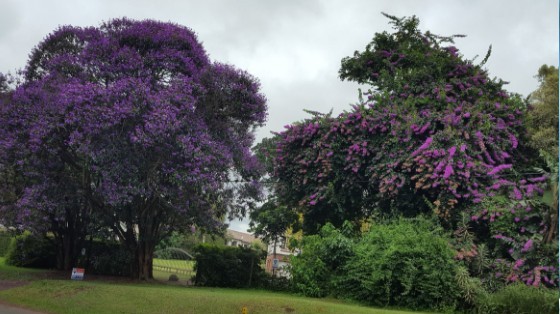 Just driving around Durban is a pleasure with the glorious trees in full bloom. It was lovely to stop and take numerous photos to remind me of this very special time.
What fun we had exploring our many options.
SOME OF THE PLACES WE VISITED
BALLITO BAY –
We enjoyed watching Dolphins just off the coast. They were clearly having a good time chasing fish. Catching their breakfast, I guess.
Sadly, the lovely Restaurant, Al Pescatoria, where we had such great coffee and cake at was hit by a freak storm two days later and almost destroyed. Am sure they will have it up and again soon.
MITCHELL PARK – This was a family outing and the children had a great time playing on the swings etc. while my friend and I took pictures of the white peacocks and sat in the shade, catching up and watching the passing parade.
FERN GULLY – One of my favorite places to visit, and we visited there a few times. It has the most stunning views of the Valley of a Thousand Hills.
On one of the occasions the Hills and the valley, across from the Restaurant were covered in thick mist and it was lovely watching the picture change as we ate scrumptious, yummy, sticky chocolate cake and ice-cream accompanied by the noise of monkeys bounding across the roof above our heads, leaping with great dexterity into the surrounding trees.
We had a wonderfully friendly service and went back on numerous occasions.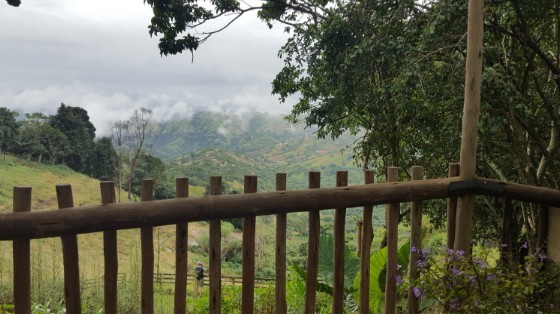 SHONGWENI – The Restaurant at the Summerveld Stud Farm was unfortunately closed when we thought of having lunch there but it is such a beautiful drive to get there and also the Farm is stunning. It was worth just going for the drive.
The amazing rock formations were awe-inspiring as we drove along to Shongweni. Alas on the last three days of my time in Durban we experienced torrential rain and some of those very rocks came down onto the road, fortunately not falling on anyone but causing a lot of damage and road closure.
MONTESEEL VIEWPOINT – This was such a special outing and despite the number of very large ants crawling over my feet and up my legs, being helped over the rocky area and having a fear of heights, you can see from these pictures, it was very well worth it.
We spent some time in the shade of a tree, with the breeze blowing through the grass and cooling us off, just sitting in awe of the stunning beauty of the scene before us.
It was great to spend time with a dear friend in this quiet place, catching up on the past and chatting about the future.
WHAT PLEASURE LOVING AND CARING FOR ANIMALS GIVES
While away it was so encouraging and uplifting to visit my family and friends who are animal lovers. Most of the animals they own are rescued and now live in the lap of luxury.
While staying with my brother Myles and his wife Daphne and their family I got to know their menagerie of five dogs, Tommy, Oddie, Lucky, Sheba and Roxy, and two cats, Jasmine and Fluffy.
The dogs each have their own kennel but spend most of their time in the house making themselves comfortable on the couches and chairs. They are a great company and very loving.
Not only those but also living on the same property is their daughter Diane, her husband Georgie and two granddaughters. Haley and Jessica plus their enormous Great Dane Chloe. Chloe and Jessica are inseparable.
What a beauty Chloe is, she has the most unusual coloring being white with large pale brown spots and one blue eye and one brown. She has a very deep bark but skittish, timid nature.
Being greeted at the gate each time we returned from an outing was quite amazing. There would be five large dogs and one little one barking their welcome. Two very excited little girls telling us about their day. What a lovely way to end a day out.
One night I had Tommy ( very large dog, mostly bull mastiff) on one side of the bed and a dear little cat on the other. In fact, the cat spent most nights snuggled up to me. The other cat was more stand-offish and only came into my room the night she couldn't get into the house another way but through my open bedroom window.
SHARING SOME OF MY PLEASURES EXPERIENCED
These were just a fraction of the wonderful things I experienced on my trip to Durban.
New and unimaginable things to do and see if you just open yourself up to them.
DO YOU OPEN YOURSELF UP TO NEW EXPERIENCES?
The whole wide world waiting out there for you to explore.
Remember #theartofexperiencingpleasurecomesinmanyforms
You don't have to go far, just allow yourself to be open to become aware of the beauty that is around you. Don't become stuck in the mundane.
Life is so short – live it to the fullest.
My hope is that you enjoy each and every moment.