Many people in the world, probably some right this minute may be working away on their trusty embroidery machines bringing to life amazing embroidery designs. My wish is that you enjoy it as much as I have for many years.
I have no idea how you became passionate about machine embroidering but this is my story, and how it became one of my creative passions.
MY INTRODUCTION TO MACHINE EMBROIDERY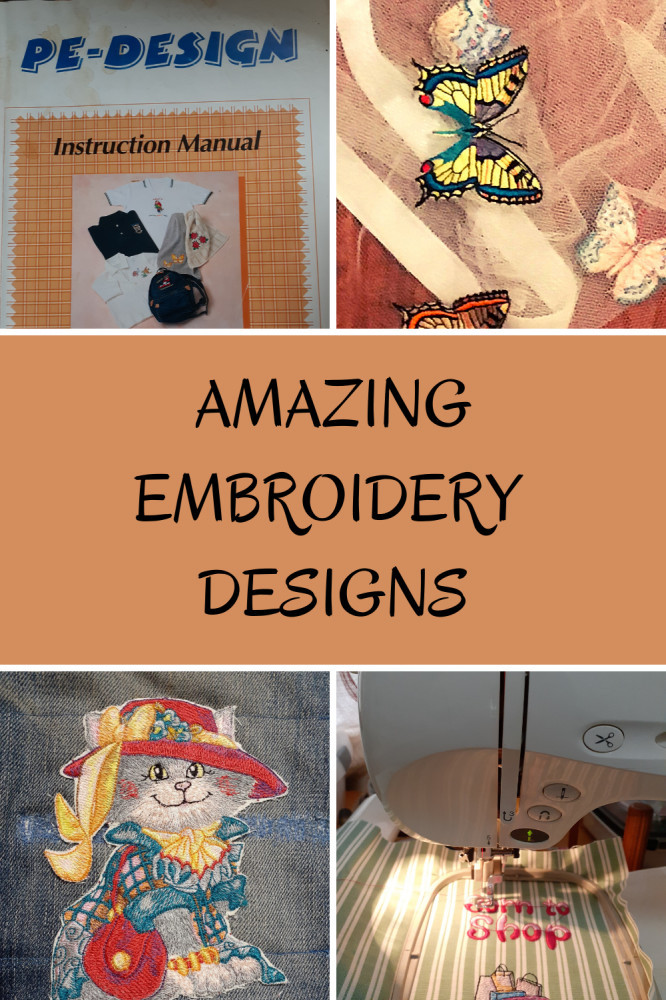 One of the many things minister's wives have to get used to is packing up and moving to various parts of the country. This is very exciting while daunting at the same time.
I met one of my best friends, Kirsty when my husband started out in the Ministry.
And though we moved far away a few years later, we kept in contact on the phone.  We, as a family, also visited Johannesburg, and Kirsty and her family regularly.
Kirsty purchased a Brother Super Galaxie 2100 in 2001. When I visited her, one time, she showed me her amazing machine.
Her enthusiasm for her new toy and all it could do was apparent. As I have said before, it was all or nothing with K.
Kirsty's passion for embroidery was apparent in her home, and according to her four sons, if a thing wasn't bolted or stuck down, it was embroidered.
Oh, my word, what a lot of fun we had shopping for all the amazing threads, fabrics, stitch-and-tear, and all the other paraphernalia that goes along with machine embroidery.
We spent hours choosing the pattern we wanted for each item we made. I learned how to convert the patterns using the Embird Conversion Program. This worked so well. It was all so exciting.
The visits went by far too quickly, so for my birthday, my husband gave me an air ticket from Cape Town where we were then living to Gauteng, to enable me to visit with Kirsty and enjoy spending time with her and her family.
Shopping for embroidery supplies took up much of our time. We sat for many happy hours at the sewing machines. Kirsty would embroider, and I would finish sewing the item she had embroidered, on her other machine.
Kirsty was much more technologically minded than I was, so it was a case of "monkey see, monkey do". Her patience and careful tuition eventually won out, and I learned to master the machines and the program.
To my surprise and delight, when it was time for me to return home, Kirsty gave me the Brother Embroidery machine as she had decided to upgrade to the newest model. According to K, she would rather I had it than trade it in for the new machine.
It hardly came as a surprise to find that my luggage was hugely overweight, what with the machine and with all the fabrics and threads that came with it.
That was a small price to pay for having such a precious gift to take home.
CLEARING THE DECKS TO GET ORGANIZED
There are so many steps to take before beginning an embroidery project.
Make sure you have everything necessary before beginning any sewing project.
Clear away all other sewing and bits and pieces that may get in the way.  Free up space in your workroom.  A bit of dusting would be a good idea at this point to keep your current project perfect.
Find a suitable pattern for the item you have chosen to embroider. (This can take a while.)
If you are working on toweling or fabric with a nap, use Solvi which will stabilize the embroidery and wash away when it is done. The use of Solvi will ensure that the embroidery will not disappear into the fabric
Do not use Stitch and tear when working on toweling.
Using Embird or whatever conversion program, you use, convert the pattern to suit the machine you intend to use.  Set the size. Back with stitch and tear to stabilize the embroidery.
Select the thread colors and set them out in the order required
Secure the fabric into the correct size frame
Make sure you are using an embroidery needle and that you have enough bobbin thread
Follow the prompts on the machine.
Now begin, and watch the magic happen
Many people think there is not much to machine embroidery but that is not so. It takes hours to choose the right pattern required for the item you want to embellish with embroidery.
Some of the patterns use very dense stitching which takes a lot of time to do.

SEW MUCH FUN
My late father was so fascinated by the embroidery machine and when I was busy with a pattern he would come and watch as the picture appeared bit by bit.
He could not get over the magic of it all. Whenever I sit at my embroidery machine I think of my dad and the joy it gave us both watching as the pattern emerged.
Many years later it was my grandson George when he was a little boy who would also have the same sense of wonder as he watched the picture developing.
Fortunately,  George also has wonderful eyesight and was a great help threading the needle with the various threads.
As I had a small business designing and making wedding gowns and matric dance (prom) dresses, the embroidery machine was utilized for many and varied items over the years I have had the machine.
So many gifts for family and friends were made with the use of my embroidery machine.
TIMES CHANGE
For the past number of years due to reasons beyond my control, sadly embroidery was put on the backburner, but recently I received a call from my sister-in-law asking me to make some items for a small craft market.
Hazel, my sister-in-law, is organizing a craft market to be held at the beginning of December,  at the retirement complex in which she lives. This will give us all the time to make items for sale.
Out came all the fabric, and now to decide what to make? The list of ideas is endless but the first things she asked me to make are book covers for small notebooks. In the past, these have sold really well at the craft market. I am also planning to make peg bags and shopping bags.
This has got me going again but not without a few difficulties. You see, I am what one would describe as a "Tech hesitant".
Normally, I would have WhatsApp Kirsty and discuss this all with her. We would have had a great discussion as to what to make, and what patterns to use.
Laugh at my ineptitude with all things technical.
In fact, she would have given me the push in the right direction on all counts.
Sadly that could not happen, Kirsty passed away last year.
AMAZING EMBROIDERY DESIGNS  FOR ANY PROJECT
I can spend hours looking through all the amazing embroidery designs I have amassed over the many years of collecting designs. It appears that one can never have too many. Well, that is what Kirsty and I believed.
Naturally, I have my favorites and I am sure there are thousands of designs that I have not used over all these years. There are just not enough days in the year, or even hours left for me to try them all.
Make sure you have the time to scroll through the designs. Although it is a pleasure it is also very time-consuming.
Here are just a few examples of the amazing embroidery designs I use,
Oh my, there are so many more. What fun we have had over the years using so many of these wonderful designs.
TAKING UP THE CHALLENGE
My embroidery machine is a really old model that uses an old laptop with the correct version of Windows for the Embird program to work.
Using the old laptop which has my conversion program on it had me tearing my hair out. It had been so long since I last used it as with most things, the more you use it the better you get.
My confidence hit a really low point.
Oh, to be blessed with my unflappable and capable daughter Lauren. Hearing the desperation in my voice, she came over to visit with me and helped to sort out the problems I was experiencing.
Whew! All is well again.
Although I have learned to use a computer in the past number of years, it doesn't come naturally to me, as I skipped the computer age by a mile.
When I took over running the business side of my married life due to my husband's illness, it was time for me to learn.
At that time my daughter encouraged me to join Wealthy Affiliate so that I could learn more about the online world, and this gave me the courage to conquer my fear of using my laptop.
The training I have received and am still receiving has enabled me to blog, not only about the things dear to me but also about business. I am now able to earn while I learn. It is a wonderful feeling of fulfillment.
HANG IN THERE
Perhaps you experience feelings of frustration, self-doubt, and unworthiness.
Ready to tear out your hair due to mechanical failure, or any other failure (forgetfulness, etc.)?
I want to encourage you to hang in there. It is so worthwhile.
If you, like me, have rather ancient, albeit great machines to work with, that need not be the end of the world or your sewing and embroidery endeavors, so I encourage you to carry on with gusto.
Find the help you need to get your machines working really well.
In my case, it took some time, especially getting to grips with the old laptop.
My son-in-law steered me in the right direction and I can't tell you how amazing the fellows at Matrix Warehouse were.
They scrounged around until they found all the correct fittings to enable me to set up not only my Brother's reader-writer but also the one for my even older Husqvarna.
It has not been used for so many years, the next task is to learn to use it once again.
The list for the Craft Market is growing longer. What fun it will be and what a feeling of achievement we shall all feel once it is over.
I do hope reading this has inspired you to get busy with your embroidery machine and have great fun in the process.
Embroidery business
If you like embroidering and want to take it to the next level, then starting your own business can be a great thing to do.
This path would take you into the fashion industry, specifically into textiles and apparel, or even design, depending on your preferences.
You will need to not only set up your business model and business plan but also equip yourself with everything you need.
If you start a business and want to scale it, you will quickly go from your machine and software at home to having a dedicated space, such as a warehouse, where you can hire employees to help with all other parts of the process and invest in bigger equipment and high-quality professionals to help you.
For example, you may need the help of laser cutting services that can utilize their technology to support designers in creating patterns and cutting fabric with intricacy and precision.
If you want to take things a step further to combine various decoration techniques to achieve diverse visual effects, consider combining embroidery with Puff HTV. This allows for a mix of textures in a single design. You can achieve this using puff heat transfer vinyl to create a unique design that will stand out to your target market. Exploring the various colors and textures the Puff HTV can create will help you settle on the best one for your embroidery business. 
If you decide to go into business for yourself, there is a lot to think about, but it can be a fun journey, and you can even get your family involved!
For some, it may be an activity that you keep as a hobby.
WHAT SEWING OR EMBROIDERY PROJECTS YOU ARE BUSY WITH DURING THIS TIME OF ENFORCED LOCKDOWN?
I have just begun to teach three little girls, aged 9, 10, and 11, to sew. This is something very new to them and the excitement is so good to witness. What a privilege to share my joy of sewing with them.
What has been the most worthwhile embroidery project you have ever tackled?
Where have you found your most amazing embroidery designs?
Are you working through your stash????
It would be great if you would like to share some ideas with me and with anyone else reading this post