Exterior Home Design Ideas
While driving around our neighbourhood a while ago, my husband and I became aware of the changes being made to many of the homes. We decided it was about time to update our own home.
Once this decision had been made we then sat down to plan what new and exciting Exterior Home Design Ideas we could make to our home that would look good and at the same would fit our budget.
We set up a "Home Improvement Budget", then made a list of wants, needs and desires, that helped in our decision-making,
Another thing we found helpful was viewing the houses that had been transformed and what made the most impact.  Of course, colour changes were obvious, but more striking still was the use of PVC decking which had been used in a variety of ways.
Either as siding on the walls, decks for outdoor entertainment areas or porches to extend the living area of the house.
Related:  5 Reasons to Remodel Your Bathroom
My Top 4 Exterior Home Design Ideas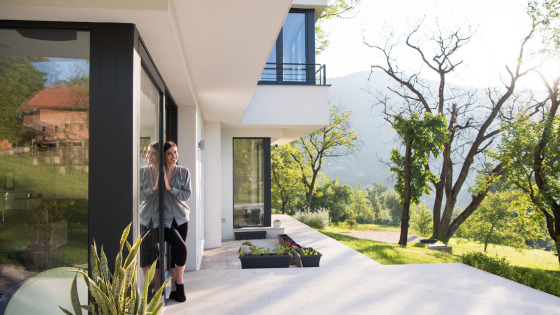 In this post, I am sharing with you some of the top exterior home ideas my husband and I came up with to update our home, which didn't cost a fortune but made a huge difference. It was such a transformation, made our living conditions so much better, and was great fun to accomplish.
1. Focus on New Exterior Home Design Ideas
Making a list of Exterior Home Design Ideas helped us to focus on what was really important. What would have the most impact, not only on the look of the house but especially on creating the space we needed for a growing family?
The first thing we needed to do was plan any landscape changes we wanted to make.
How these would impact the area we would use for entertaining. Retaining existing large trees and planning the pathways for easy but interesting access to the entrance of our home was important.
We wanted to really improve the curb appeal of our home as this would be an investment in our property if we were ever to consider selling.
The changes to the landscape would only be done once the other work was complete so that there was no chance of precious plants being destroyed.
2. Transform and Enhance
What a pleasant surprise it was for us to find that decking comes in such a variety of colours and patterns, This gave us a chance to choose exactly what we wanted, which would go with the transformation and decor ideas we had come up with.
As we live in an area which gets rather a lot of rain in the winter months, it made perfect sense to use the cladding on the walls, as this would be easy to keep the walls stain-free, and also free from mould.
It was a great relief to know that all these Exterior Home Design Ideas changes would prove to be low maintenance while still having the wow factor.
3. Entertainment Area
Outdoor living is so important when one has a family and for entertaining. We decided that the addition of a large decked porch was essential.
Since we found working with the decking so satisfactory, we decided to have the outdoor furniture made with the same material and the overall effect was stunning.
The sliding doors out onto the newly enlarged porch would make such a difference in the way we entertained.
By keeping the deck level with the indoor living area there was no chance of tripping down any stairs while entertaining.
4. Garden Revamp
With the house now looking totally different, it was time to tackle the landscape revamp. With the trees still intact and nothing having been trampled, this made it all a lot easier
Now it was time to visit the garden centres. What a lot of fun that was.
There must be many keen gardeners out there who will testify that visiting a garden centre is almost as good as going on holiday. It is not only the colour and variety of the plants but also the wonderful decor available.
Not to mention that most of the nurseries have really good restaurants and play areas for the children, everyone is catered for, we really are spoiled for choice.
I hope you enjoyed these exterior home design ideas. Perhaps you have some ideas to share. It would be lovely to hear about them.